Marine biology is the study of
the world's marine environments.
Marine ecosystems cover more than 70% of the Earth's surface which provides fascinating diversity of animals and plants for you to investigate.
Marine biologists study all types of sea life ranging from large ocean animals to microscopic organisms. Your B.S. in Marine Biology will provide you with a strong foundation in biology as you explore the vast diversity of marine species. You will apply your understanding of marine communities to global challenges, such as climate change and sustainable use of natural resources.
Original Research
Beyond course work, marine biology students work with marine biology faculty on independent studies, research projects, off-campus expeditions, scientific conferences, and other activities.
Outdoor Learning
With our close proximity to Lake Hollingsworth, all your marine biology courses will have a strong outdoor component—you'll be in the field observing and collecting data.
Central Florida Location
Florida Southern is located within driving distance of both the Gulf of Mexico and the Atlantic Ocean and we bring our marine biology students to these very diverse environments.
Marine Science Symposium
Each year we sponsor a Marine Science Symposium, bringing students and faculty from Florida universities together to share their research. Past keynote speakers have included Jean-Michel Cousteau and Jeff Corwin.
Prepare For Grad School
Side by side with your professors, you'll tag sharks, identify invasive species and study the life cycle of parasites. Gain invaluable experiences that will make you a top candidate for graduate programs. These experiences have allowed our graduates to transition seamlessly into top programs at Duke, U.C. Santa Barbara, and Hawaii Pacific University.
Study Abroad
As a marine biology student, you will travel to places such as Costa Rica, Jamaica, and the Bahamas to further your explorations.
Engaged Learning. Undergraduate Research.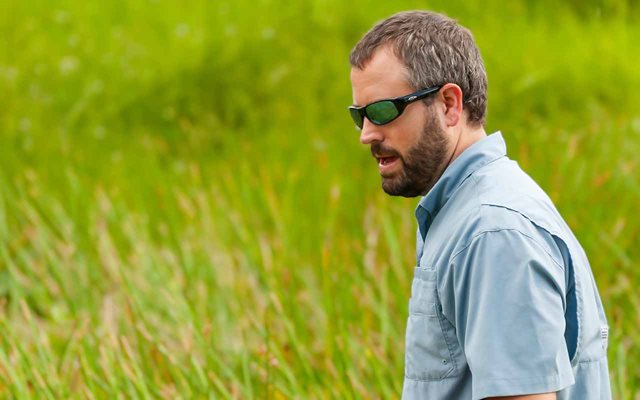 Featured Faculty
Gabriel Langford
I feel that using an interactive approach allows students to start asking questions about biology instead of just memorizing scientific facts, enabling them to have a broader understanding of the subject matter. I also feel strongly that ecology and environmental studies courses should be transported into an outdoor classroom whenever possible. I believe that field-based courses are the best mechanism for teaching ecology, and in my experience students excel when presented with real-world challenges.
Clubs And More
FSC's Biology Department sponsors chapters of
Beta Beta Beta
, a national society for students in the biological sciences,
Alpha Epsilon Delta (AED)
, the national Health Preprofessional Honor Society, and
Rho Rho Rho
Marine and Atmospheric Honor Society.
Admission Requirements
First-Years
All freshman applicants to Florida Southern Colleges full-time degree programs must submit the following information:
An official high school transcript
SAT and/or ACT scores (unless applying Test-Optional)
Transfers
Applying to Florida Southern as a transfer student is easy.
Personal statement
All official college transcripts
If transferring less than 24 credits, we also need your:
Official high school transcript
SAT and/or ACT scores
Internationals