Undergraduate
Transfer Students
FSC Welcomes 100+ Transfer Students Annually
With flexible credit transfer student policies, financial aid and scholarship opportunities just for transfer students, Florida Southern is the right place for you.
You are considered a transfer applicant if you have taken any university/college coursework after graduating high school.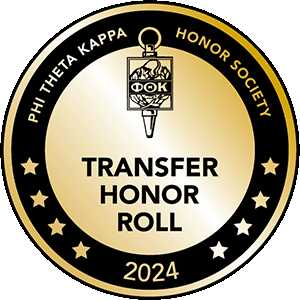 We are proud to offer qualifying Phi Theta Kappa members the Phi Theta Kappa Award which provides $2,000 per year. This award may be combined with the Transfer Academic Recognition Scholarship Award.
To qualify you must:
Be a Phi Theta Kappa member
Maintained a 3.2 cumulative minimum GPA
Please note: This award is only available to qualifying Phi Theta Kappa member transfer students.
Phi Theta Kappa Recognizes FSC
Jackson, Mississippi — Phi theta Kappa Honor Society (PTK) has named 150 colleges and universities to its' 2021 Transfer Honor Roll in recognition of the dynamic pathways they have created to support transfer students.
Read More
Will My Credits Transfer?
Courses with a
C
or better.
Up to
62
credits from a community college.
Up to
93
credits from a four-year college or university.
TES
Florida Southern College has partnered with CollegeSource to provide students with an up-to-date library of established equivalencies from institutions that we have previously received transfer credit from. To view the comprehensive list of established transfer equivalencies across the country please visit FSC's personalized TES® site.
If you are searching for a course, or courses, in TES® that have not been evaluated, this does not mean you will not receive credit upon transfer. We have not had the opportunity to evaluate every course in the country; TES® is an ever expanding database every day. If you come across a course that has not been evaluated please request an Individual Transfer Credit Evaluation.
Request an Individual Transfer Credit Evaluation
To request an individual evaluation of your credit, please complete our Pre-Admission Transfer Credit Evaluation request form and submit all college transcripts along with the form.
Fast TRACC Guarantee Program
The Florida Southern College Fast TRACC Guarantee Program is designed to ease transferability and admission to Florida Southern College for transfer students. This includes transfer students from community colleges as well as four-year programs.
Experience FSC From Home
We've moved our visit events online. Take advantage of these informative webinars to learn more about how Florida Southern can help you achieve your goals.
Step 1:
Start Your Application
Florida Southern College supports the most popular application platforms in higher education. Use the one that works best for you.
Florida Southern Preferred Application
One of the best ways to apply to FSC is to use our own Florida Southern Preferred application. It provides all the tools you need to quickly and successfully apply to Florida Southern.
Other Ways to Apply
If you are already using the Common App or the Coalition App in your search process we also support these popular application platforms.
Check Your Application Status
Log in to your Applicant Status Page using your username and PIN to review your personalized checklist. Once we receive all of your documents, your application will be presented to the Admission Committee for review.
Step 2:
Rolling Admission Dates
Students choose the application timeline that meets their personal goals. Transfer students are accepted on a rolling date basis but we strongly encourage you to apply before the priority deadlines to maximize your scholarship and visit opportunities.
Transfer Admission
Rolling Admission dates mean transfer students receive decisions approximately 2 to 3 weeks from the date their application and all credentials have been received.
Spring
Priority Date:
December 1
Notification Date:
2 to 3 weeks from the date their application and all credentials have been received
Deposit Date:
December 15
Fall
Priority Date:
June 1
Notification Date:
2 to 3 weeks from the date their application and all credentials have been received
Deposit Date:
July 1
Academic Recognition
Scholarships Available
Florida Southern recognizes the academic accomplishments of transfer students who have earned at least 24 transferable credits.
Up to $20,000* with a minimum 3.75 GPA
Up to $19,000* with a minimum 3.50 GPA
Up to $18,000* with a minimum 3.25 GPA
Up to $16,000* with a minimum 3.00 GPA
Up to $15,000* with a minimum 2.75 GPA
Up to $14,000* with a minimum 2.50 GPA
* To receive the total amount you must live on campus.
Learn More
Step 3:
Send Supporting Materials
Submit the following as soon as possible to help us get you your admission decision.
Transfers
If transferring less than 24 credits, we also need your:
Official high school transcript
SAT and/or ACT scores (unless applying Test-Optional)
Send your materials to:
Office of Admissions
Florida Southern College
111 Lake Hollingsworth Drive
Lakeland, FL 33801-5698
Fax:
863.680.4120
E-mail:
fscadm@flsouthern.edu
Step 4:
Next Steps Once Admitted
Congratulations! We can't wait for you to join us on campus!
Submit Your FAFSA
We encourage all families to complete a FAFSA. Be sure to include Florida Southern (001488) as a school of choice.
Pay Your Enrollment Deposit To Hold Your Place
Your enrollment deposit saves your place at Florida Southern, makes you eligible for scholarships and financial aid, and secures your residence hall room. The enrollment deposit is $500 if you plan to live on campus and $300 if you'll commute. You may pay online or by phone at 1.800.274.4131.
Complete The New Student Enrollment Forms
These forms review emergency contact information, insurance coverage, and provide a place to indicate your housing preferences. They must be completed by both commuters and residential students alike. Due ASAP after submitting deposit.
Complete All Medical Forms
To avoid delays with moving in and starting classes, submit all medical forms as soon as possible.
Students and parents are also required to read our Student Health Center's notice of privacy practices, which outlines student medical information disclosure.
Submit Final Official College Transcripts
After you have completed your current semester courses, be sure to request your final official college transcripts to be sent directly to FSC from all colleges and universities previously attended. FSC cannot accept college credits from unofficial transcripts. Be sure to also submit any official AP, IB, AICE, or CLEP examination scores so we can grant credit for examinations completed with an acceptable score.
Provide Proof Of Student Identity
We have recently updated our policies for verification of student identities. You will need to complete this process prior to beginning coursework at Florida Southern College. To satisfy this requirement, you must provide a copy of your government issued photo identification. You are encouraged to provide this identification in advance of your arrival by uploading a copy via your Student Status page. You will be required to provide your official ID when you arrive on campus in order to receive your FSC ID. Due ASAP after submitting deposit.
Acceptable forms of ID include: state issued driver's license, state issued photo identification card, or unexpired government issued passport.
Submit Social Standing Requirement Form
If you have not completed already, be sure to submit a Social Standing Form, to be completed by a college official at your most recent college or university attended. For more information, visit our Social Standing Form information page and send the link to your college official to complete the form. This is required to be completed prior to enrolling at FSC. Due ASAP after submitting deposit.
Finalize Financial Aid Awards
Accept or decline your student loans, review terms and conditions, and complete other important next steps to finalize your aid package.
Register For Transfer Advising Days
Enrolling transfer students will be required to register for an appointment to meet with an academic advisor to create your schedule.
Looking to Enroll at FSC as a Transfer Student?
View our recording of our Transfer Admitted Student Webinar to learn more about academic advising, class registration, housing and community living, and making FSC your new home away from home!
Transfer Student Housing
Florida Southern has partnered with Lakeland's Holiday Inn Express & Suites to provide incoming transfer students the ultimate in community living. 24-hour concierge, free breakfast, heated outdoor pool, fitness center, and housekeeping to keep your room fresh, are all perks associated with staying in this unique facility.
If you are a School or Independent Counselor looking to connect with one of our team members, send an invitation for an upcoming college fair you are hosting, or you would you like to have a representative from Florida Southern College visit your school, please e-mail fscrecruitment@flsouthern.edu directly and we would be happy to assist you.