Florida's Premier
Leadership Program
Earn your M.Ed. in Educational Leadership and gain the skill set and credentials to lead your academic community to success. As an administrative leader, you'll be able to foster positive growth and change in your Pre-K–12 school, your district, and beyond. This M.Ed. program offers both a practical curriculum and professional networking opportunities so that you can apply your studies in a real-life setting with the guidance of other educational professionals.
The Educational Leadership master's degree is designed for educators who currently hold a Florida Teaching Certificate. This program will also prepare you to earn your Educational Leadership certification so that you can transition into an administrative role after completing your degree.
Florida State Certification
The M.Ed. in Educational Leadership program is fully approved by the Florida Department of Education. Before you graduate, you'll be required to pass the Florida Educational Leadership Examination (FELE) so you can receive your Educational Leadership certification in the State of Florida. Being certified will qualify you for school-based and district level administrative positions.
SACS Accredited
Florida Southern College is accredited by the Southern Association of Colleges and Schools Commission on Colleges (SACSCOC). The SACSCOC grants accreditations to diverse, degree-granting higher education institutions in the Southern states.
Accelerated Program
The Educational Leadership master's is offered in an accelerated format that integrates the required internship into each semester so that you can complete this program in a shorter time — as few as four semesters.
Flexible Coursework
Coursework is offered in a flexible, hybrid format with a combination of online and in-person classes. Typically, you'll have one course online and one course in person, on campus, every other Saturday.
Professional Networking
As part of your curriculum, you'll have the opportunity to connect with and learn from experienced, educational practitioners. FSC partners with local schools to set up network partnerships.
Small Class Sizes
Your curriculum is tailored to your needs and interests with small class sizes and engaged faculty. You'll be able to collaborate with your peers and get one-on-one guidance from your dedicated professors.
Become a Changemaker in Education
With your master's degree, you will have the skill set to enact positive curriculum-wide changes and student outcomes, furthering the growth of schools in your district. You will also gain a bigger voice in the national conversation on education. As you further develop your understanding of teaching techniques, classroom management strategies, and professional resources, you'll become an essential member of the educational community.
School districts recognize the time and effort you put into your graduate studies and your work as an educator, which is why you'll be rewarded for your accomplishments with career opportunities.
The Passion to Get Ahead
Dr. Howard Hepburn '20, Instructional Superintendent, School District of Palm Beach County, explains why Florida Southern was the right school for him to advance his passion for education and professional goals.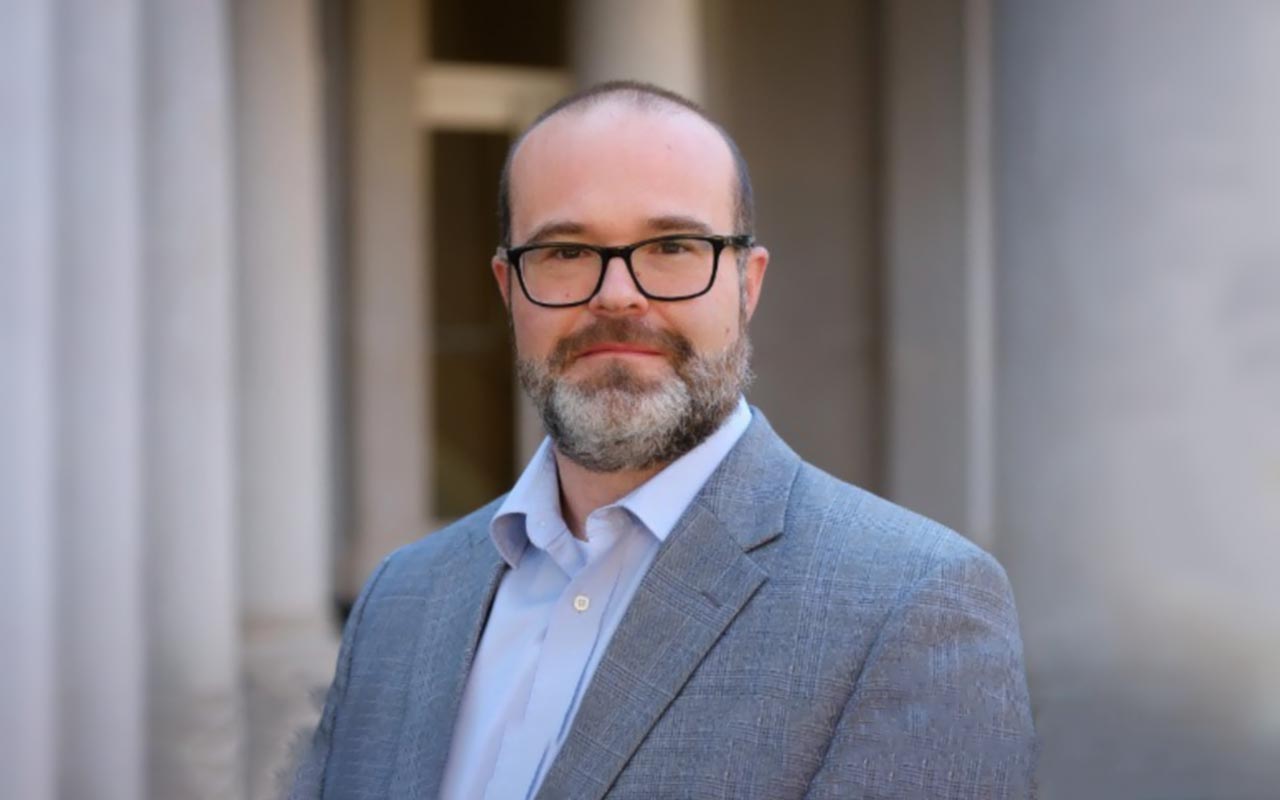 Featured Faculty
Christopher Harrison
Today, more than ever, the continued well-being of our communities and nation depends on the work of dedicated educators ready to make an indelible mark on the lives of their students. To ensure that our graduates are ready to take up that charge, our task is to create rich learning experiences that allow our future teachers and school leaders to develop deep professional identities, to delve into the theory and research underlying educational practice, and to apply what they learn to real school and classroom settings.
Recognized Accomplishments
School districts recognize the time and effort teachers spend in graduate school, and want these individuals to stay in the district to help direct future growth of a school. Master's degree holders are the best chance schools have to enact positive curriculum-wide changes and improve student outcomes. As an added benefit of earning a master's degree, you gain a bigger voice in the national conversation on education. As educators further develop their understanding of teaching techniques, classroom management strategies, and professional resources, they become more valuable members of the educational community.
Admission Requirements
An earned baccalaureate degree from a regionally accredited institution of higher education as verified by an official transcript from the conferring institution
as verified by an official transcript from the conferring institution
Cumulative GPA of 3.0 overall or a composite score of 297 on the GRE or 393 on the MAT
Applicant must provide proof of a valid Florida Professional Educator Certificate
FLDOE Teaching Requirement Form completed by supervisor verifying 2+ years of effective teaching experience
Current Résumé
A personal statement of your expectations of a graduate program (your personal and professional goals)
Course Delivery
Hybrid
Courses are offered in a hybrid format, a combination of online and in-class meetings.
Curriculum
| | |
| --- | --- |
| EDU 6100 | Educational Leadership for Change |
| EDU 6150 | Resource Allocation for Student Achievement |
| EDU 6200 | Ethics and School Law |
| EDU 6300 | Leading in a Diverse Society |
| EDU 6400 | Program Development: Teaching, Learning, and Assessment |
| EDU 6450 | Strategic Faculty Development for P-12 Administrators |
| EDU 6550 | Student Achievement, Accountability, and Standards-Based Instruction |
| EDU 6600 | School Finance |
| EDU 6700 | Instructional Leadership |
Program Costs
2023-2024
| | |
| --- | --- |
| Base Required Fees | Cost |
| Tuition Per Credit Hour | $475 |
| Technology fee per semester is based on credit hours enrolled | $25 to $100 |
Frequently Asked Questions
What is the program delivery?
The program consists of nine courses. Five courses utilize an online format. Four courses meet on campus for seven Saturdays each semester. The Saturday classes meet from 8:00 a.m. – 5:00 p.m.
Does this program lead to Educational Leadership certification?
Is there a practicum required?
Field experiences are integrated into each course. The student will receive feedback on all field experiences from a school administrator mentor and the professor.
How will my course schedule be determined?
The program coordinator will assist students in registering for courses each semester and will ensure that you are completing all requirements throughout the program.
What roles will this degree prepare me to perform?
This program prepares students to become school and district level leaders.
Explore the Educational Leadership Doctorate
Interested in earning your doctorate after you acquire your master's? Florida Southern College has been preparing a wide variety of educators for more than 100 years. The Educational Leadership doctoral program will build your expertise and knowledge base even further and help you advance professionally and grow academically.
Upcoming Events
Learn more about the program with these in-person and virtual admission events.