Funnel Your Ideas and Passions for Learning by Diving into New Research to

Make a Difference in Education on a Societal and Academic Level.
The Doctor of Education in Educational Leadership (EdD-EL) from Florida Southern prepares teachers and administrators to grow both intellectually and professionally for professional advancement in the field of education.
This degree will increase your knowledge and build your skills to become exceptional leaders in primary education to grade 12 administration, school districts, policy development, or public, private or college/university teaching. Students engage in research and collaborative projects, providing a rigorous academic program geared toward enriching leadership, management, and motivational abilities. Outstanding and passionate faculty bring a wealth of research and practical experience to courses, preparing you to navigate today's most complex and challenging issues in education.
P-12 Focus
With a requirement of students possessing a Master of Education or full professional teaching certificate, this program focuses on the P-12 sector and learner.
Outstanding Faculty
Composed of credentialed professors and scholars whose research and practitioner experience delve straight into today's most complex and important issues in education. These faculty members are attentive, available, and committed to your academic success.
Nationally Recognized
Florida Southern College ranked as the No. 1 Regional College in the state of Florida by the prestigious college guidebook U.S. News & World Report.
Engaged Learning
You will experience unparalleled robust, active, and hands-on faculty-led collaborative projects that provide a rigorous academic program geared toward enriching your leadership, management, and motivational abilities.
Accredited
Florida Southern College is accredited by the Southern Association of Schools and Colleges
Small Classes
Coursework is made up of twelve classes of 4 credits each. Classes are offered face-to-face and online. There are seven face-to-face classes and five online classes. Most classes are made up of cohort members of less than 15 class members. When ready to move to dissertation credits, all students are required to complete a concept paper. Coursework prepares students with a strong academic foundation for writing this concept paper. The concept paper is rigorous paper students are required to complete to show competency in skills needed to being dissertation work. A School of Education committee does a blind review of each student's concept paper looking for what theories contribute to a student's area of interest. They are also looking for valid methodologies that are used and what applications of theory and research that can assist tin working with problems in a certain area identified by the student. Finally, the last step in the concept paper is to help in identifying a good fit between the student's research topic and a chair for the doctoral student.
Cohort Groups
Students move with an established cohort group during the 12 hours of doctoral coursework. Each assignment has been vetted by professional scholar-practitioners to deliver the knowledge, content, and credible evidence-based learning required for successful alignment. Being linked to members in a cohort group serve to build collaboration among student to student and serve as a support group for one another in their specialized fields.
The Passion to Get Ahead
Dr. Howard Hepburn '20, Instructional Superintendent, School District of Palm Beach County, explains why Florida Southern was the right school for him to advance his passion for education and professional goals.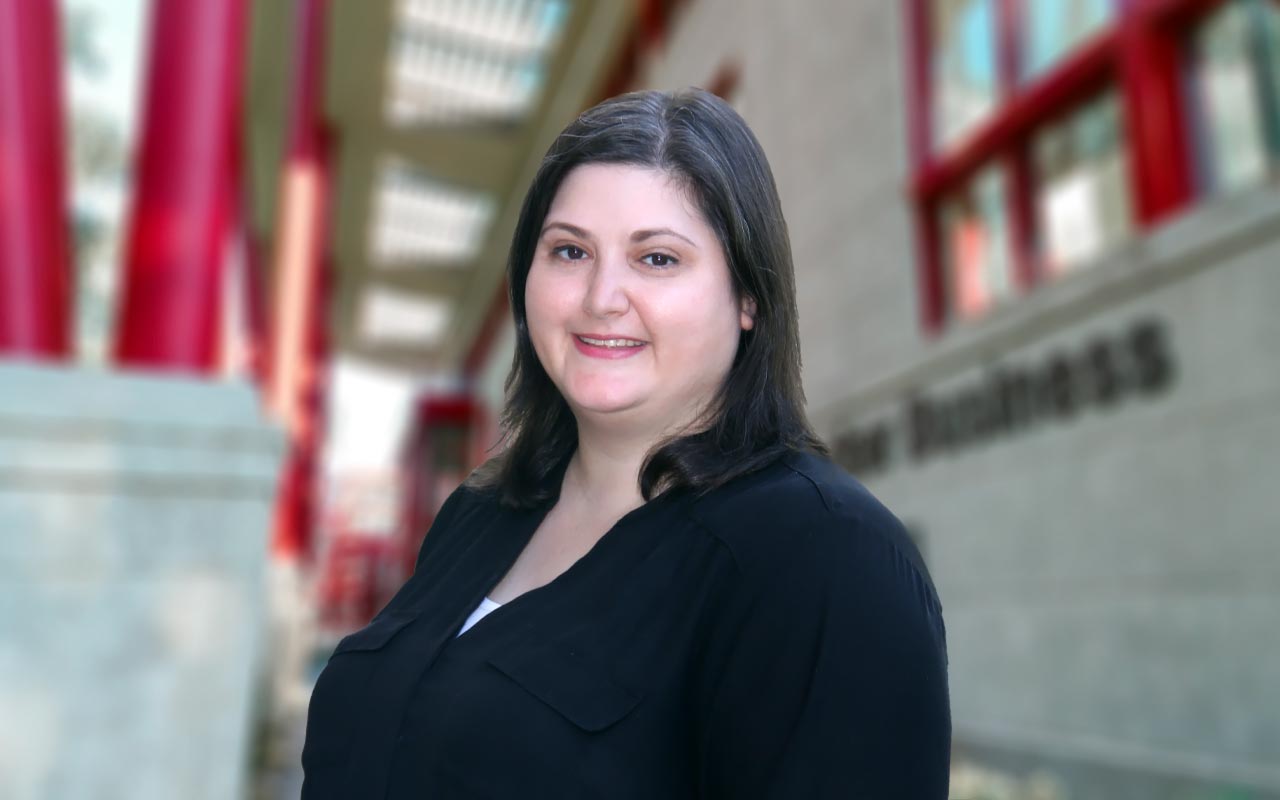 Featured Faculty
Caitlin Byrne
FSC's doctoral program in educational leadership offers a degree to change lives together by linking cohorts of students, providing a curriculum staffed by globally qualified doctoral professors, and creating opportunities to learn from and with field-expert professors. Geared to maximize students' personal and professional potential through a wide range of experiences, students will examine evolving educational issues to facilitate positive change in their organizations and communities. This degree is designed to help you manage organizational effectiveness in many educational settings for a life-changing and rewarding career.
Admission Requirements
An earned baccalaureate degree from a regionally accredited institution of higher education as verified by an official transcript from the conferring institution
An earned graduate degree from a regionally accredited institution of higher education as verified by an official transcript from the conferring institution
Earned grade point average of 3.0 in accredited master's degree program*
Applicants to Florida Southern College's Doctor of Education program are required to submit a personal statement as part of their application materials. In no more than 500 words, students should address the following in their personal statement:

How will the pursuit of a doctoral degree help you in achieving your personal and professional goals?
Why are you pursuing a doctoral degree at Florida Southern College?
Describe any related research experience, professional presentations, or major projects you have completed

Recommendation Form or Letter of Reference
Current Résumé
Valid Florida Professional Teaching Certificate or an earned Master of Education
Official Graduate Record Exam (GRE) scores taken within last five years**
Personal Interview
* If you do not have at least a 3.0 cumulative GPA from your graduate degree, please submit official Graduate Record Exam (GRE) score.
** If you have at least a 3.0 cumulative GPA from your graduate degree, then you meet the requirements for a Graduate Record Exam (GRE) exemption.
Additional International Requirements
Official Translated Transcripts With Course By Course Evaluation**
Bank Letter Verifying Funds of Sponsor***
Valid Passport
Official TOEFL/IELTS Score****
** SpanTran (discount available), Academic Evaluation Services, Inc., Josef Silny, or World Education Services or another similar approved transcript evaluation agency.
*** A bank letter is a written statement on bank letterhead and signed by a bank official.
**** Must have completed an English language training program or at least one year at an English speaking institution to waive the TOEFL/IELTS testing requirement.
Course Delivery
Hybrid
A combination of online and in-class courses are offered to meet the needs of your busy schedule. By enrolling in our EdD full-time, you will complete all of your coursework in two years, plus a dissertation.
Curriculum
| | |
| --- | --- |
| EDU 7010 | Educational Leadership and Theory |
| EDU 7020 | Curriculum, Learning and Instruction |
| EDU 7040 | Organizational Theory and Behavior |
| EDU 7050 | Educational Politics, Policy and Current Issues |
| EDU 7060 | K-12 Law and Governance |
| EDU 7070 | Curriculum Analysis |
| EDU 7080 | Finance and Resource Allocation |
| EDU 7090 | Quantitative Analysis |
| EDU 7093 | Advanced Quantitative Research |
| EDU 7120 | Qualitative Methods of Inquiry |
| EDU 7123 | Advanced Applications of Qualitative Research |
| EDU 7130 | Policy Analysis, Implementation and Evaluation |
| EDU 7138 | Dissertation Seminar A (2-credit hour course) |
| EDU 7139 | Dissertation Seminar B (1-credit hour course) |
| EDU 7140 | Dissertation (9 hours) |
| | *Courses 7010-7130 are four credit hours each. |
Program Costs
2023-2024
| | |
| --- | --- |
| Base Required Fees | Cost |
| Tuition Per Credit Hour | $535 |
| Technology fee per semester is based on credit hours enrolled | $25 to $100 |
$250 Non-Refundable Enrollment Deposit (Upon acceptance and applied toward your first semester tuition balance)
What is the program delivery?
Our program uses a cohort model wherein students move through the program with the same group of students throughout the two years of coursework. Courses are delivered via a hybrid model where a typical semester is comprised of one face-to-face class typically meeting every other Saturday and one online class each semester. Summer courses meet for 7 consecutive weeks. During your first summer term you have the opportunity to make meaningful connections with other students in your cohort by meeting face-to-face for 7 consecutive weeks. One class meets every Saturday (8:00 A.M. to 5:00 P.M.) and the other meets every Monday and Wednesday (5:00 P.M. to 9:00 P.M.). Students' first summer term is the only term that students enroll simultaneously in two in-person courses.
What are the hours of the Saturday classes?
Classes are scheduled every other Saturday in the Fall and Spring from 8:00 AM to 5:00 PM. In the Summer, classes are 8:00 AM to 5:00 PM over seven Saturdays for during the 12-week C term.
Is financial aid available?
Students seeking financial aid should complete the FAFSA to determine eligibility.
What is the cost of textbooks?
Textbook costs vary each semester, by course, and by professor.
How many classes is considered full time?
At the doctoral level, you are considered full time when you are enrolled in 8 credit hours.