From Shakespeare to modern shows,
you will experience the theatre like never before.
At Florida Southern College, Our Theater Performance program is a highly competitive, hands-on theatre program with dedicated theatre faculty and devoted students. We promote a healthy environment that fosters diversity, inclusion, and civility.
When you pursue a B.F.A. in Theatre Performance, you'll take courses in acting, stage movement, improvisation, and creative expression. You'll dive into script analysis, directing, and vocal techniques. You'll also learn the history of this expressive profession. All of this culminates in a NYC Industry Showcase, placing you front and center with national agents, casting directors, and other industry professionals.
Additional Audition Requirement for Theatre
Students may be accepted into the Theatre Arts: Theatre Performance BFA or Theatre Arts: Musical Theatre BFA programs only through an audition in their area of expertise.
Get Noticed
A BFA will get you noticed. Buff up your résumé or prepare for entry into graduate school with this degree!
One on One Instruction
Individual attention, professional mentoring, and our wholistic approach to the art of theatre. We offer small class sizes and individual coaching sessions in acting and voice production with our award-winning professors.
Performance Experience
From your first semester, you will have the opportunity to perform in our productions, immediately taking skills from the classroom, and applying to them to the stage.
Expert Faculty
Study with faculty that include recipients of the Kennedy Center/American College Theatre Festival award as well as design awards from the Orlando International Fringe Festival.
Hone Your Skills
Because theatre is a performance medium, your work in the major is entirely engaged. All of your courses are based on active involvement and performances.
Study Abroad
Gain real world experience with faculty-led study abroad trips to England and our junior study trip to New York City.

"... The Play's the Thing..."
Holistic Approach to Design and Technical Training
Our approach to training begins with the final product – the play. We emphasize a collaborative approach to our training, so that the production is the aim of the entire company – not just the scenery, lighting, or acting, but the whole product. Theatre requires the technical/design elements to support the acting and directing. All of these elements are necessary to produce a successful and artistic creation. Our training emphasizes the value of each component of the creative process, rather than concentrate on individual area. We aim to create a mutually supportive ensemble of producing artists, while honing skills in a chosen specialization.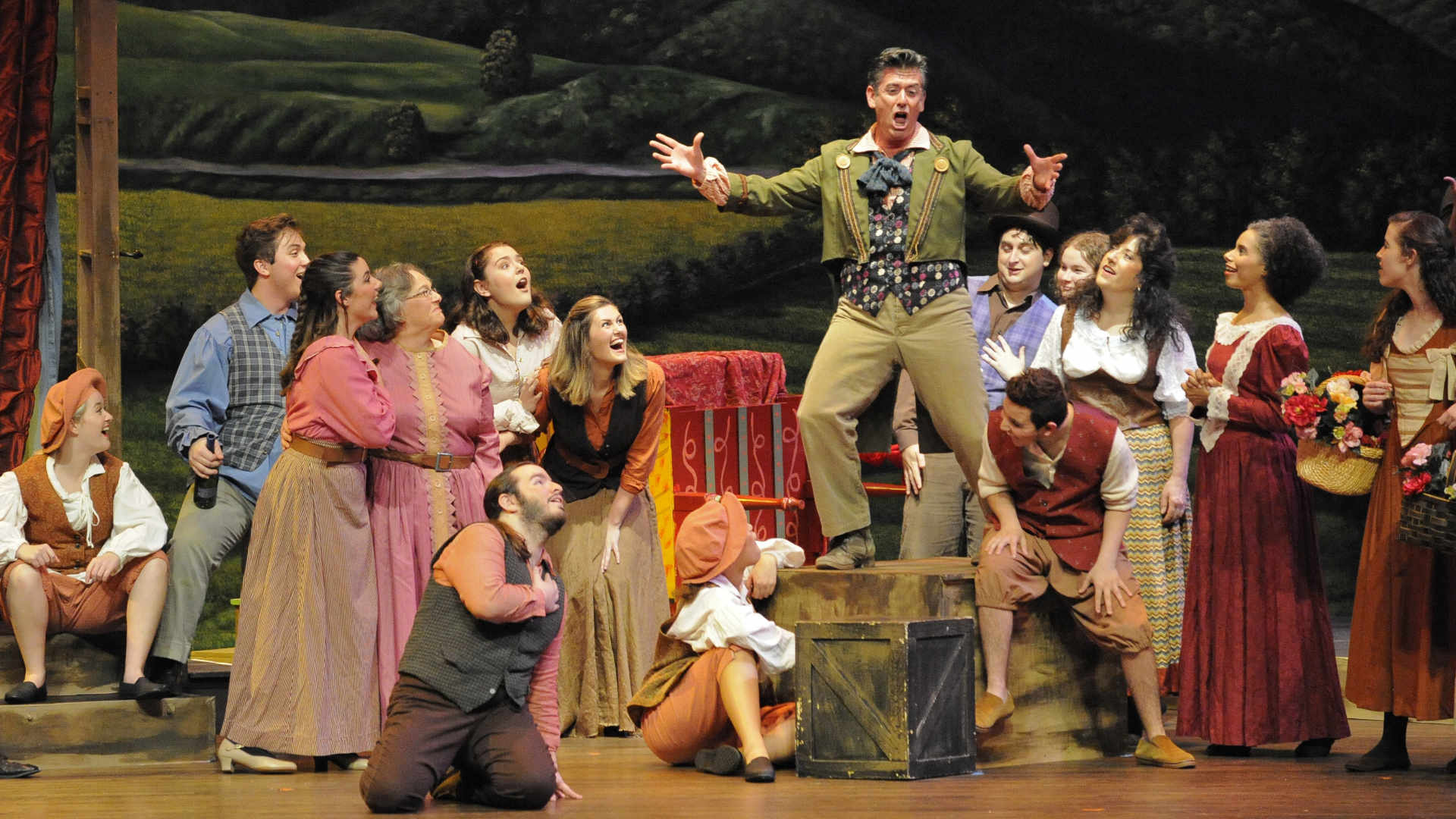 Get an Inside Look at Theatre Performance
Applied Production Experience
THE 2153 affords the student the opportunity create practical production work for mainstage shows, applying the skills introduced in basic classes and honed in design area-specific courses, in a live setting. Having student worked produced and viewed by live audiences provides direct application for the student's work and immediate feedback from audiences. Students have the opportunity to participate in major and significant ways from the earliest semesters on campus, through full and realized production designs as they progress through the program.
A Visit is the Next Step. Online or In-Person
Schedule a campus tour or take our video tour of one of the nation's most beautiful campuses. Participate in our daily online Admission Info Session or a MocTalk webinar to learn more about Florida Southern.
Performing on Stage is not for Everyone
We also offer a BA in Theatre Arts program that does not require an audition for entry into the program!
Learn From Award-Winning Faculty
The industry regularly recognizes our faulty for their artistic achievements. They include recognition multiple times for scene designs and theatre technology by Broadway World Orlando, and the Orlando Frings Festival, and a three-time recipient of Kennedy Center/American College Theatre Festival awards, as well as a finalist in BBC's Voice of Musical Theatre International Competition.
Clubs And More
The Vagabonds Theatre club
is the oldest running student organization on campus and remains active with fundraisers, organizing annual staged readings, producing a biennial ten-minute play festivals, and fully staged studio productions. In addition to the Vagabonds, the college hosts an improv troupe called "Studio Box" who perform regularly for enthusiastic sell-out crowds on campus.
Admission Requirements
First-Years
All freshman applicants to Florida Southern Colleges full-time degree programs must submit the following information:
An official high school transcript
SAT and/or ACT scores (unless applying Test-Optional)
Transfers
Applying to Florida Southern as a transfer student is easy.  
Personal statement 
All official college transcripts
If transferring less than 24 credits, we also need your: 
Official high school transcript 
SAT and/or ACT scores
Internationals
---
Additional Admission Requirements for Theatre Performance
Students may be accepted into the Theatre Arts: Theatre Performance BFA program only through an audition in their area of expertise.
Scholarships are awarded based on an audition and interview by the theatre faculty. BFA auditions will automatically be considered for scholarship eligibility.
Learn More

about theatre auditions