Academic Catalog 2023-2024
The following items are inside the catalog:
General Information
Undergraduate Programs
Academic Policies
Undergraduate Program Requirements
Undergraduate Course Descriptions
Graduate Programs
Graduate Course Descriptions
College Personnel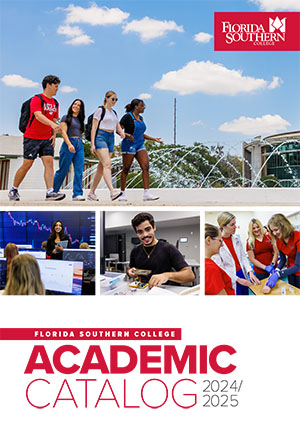 In the Florida Southern College Catalog – both print and web versions – the College has attempted to provide information which, at the time of publication, most accurately described policies, procedures, regulations, and requirements of the College. However, the information in the catalog is presented as a guide and is not the offer of a contract. Florida Southern College reserves the right to change, without notice, any fee, provision, policy, procedure, offering, or requirement in the Catalog and to determine whether a student has satisfactorily met Florida Southern College's requirements for admission or the award of a degree. Every effort is made for the version on the College's website to contain the most current information.