Linking the Psychological and
the Biological
The minor in neuroscience is an interdisciplinary program linking psychological and biological perspectives to broaden one's understanding about human and non-human behaviors.
The Neuroscience minor also emphasizes the rapid expansion of the field following key experimental findings across many fields or sub-disciplines and the novel application of these findings to solve real world problems. Students are supported in their exploration of interdisciplinary questions, contributions to research projects, and development of skills valuable for future professional endeavors (e.g., graduate school, medical school, employment in the field).
Cross-Departmental Learning Opportunities
The minor initially was a collaboration between the Departments of Biology and Psychology, from which students gained perspectives ranging from molecular/cellular to anatomical/behavioral approaches. The minor continues to expand and now includes elective courses in Exercise Science, with further collaborations across the college possible based on student interests.
Novel Research Opportunities
Students interested in pursuing a career in neuroscience will need to acquire a background in research methodology. Faculty aligned with the Neuroscience minor have the ability to collaborate with students to actively pursue topics in the field, including investigations of mechanisms in neurodegeneration and explorations of strategies that are used to improve student pedagogy within the interdisciplinary science of neuroscience.
Additional Opportunities in Mentoring and Professional Development
The Neuroscience Minor faculty provide tailored mentoring to support students in their chosen career path. Faculty help students compete for national fellowships and intensive summer research internships. Faculty also encourage students to present and network with others at regional and national conferences in the field. Students have opportunities to gain leadership experience in undergraduate teaching assistant or peer mentor positions for courses they have successfully completed, contributing to competitive applications for graduate or professional programs.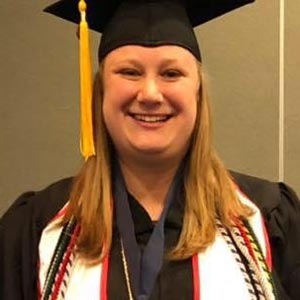 Jordan Howard and Her Journey to Pharmacodynamics
Since her first year, Jordan Howard was interested in Neuroscience. She was able to thrive in her classes (including those in the minor), and she quickly became a peer mentor as early as sophomore year. She spent three years as a peer mentor in both Psychology and the Natural World and Behavioral Neuroscience, during which she helped students with their comprehension of content, scientific writing, and identification of nervous system structures. She also collaborated with numerous faculty, and her efforts led to fifteen academic meeting presentations and three peer-reviewed, published manuscripts. Jordan's hard work also resulted in two summer fellowships at the University of Buffalo and Kansas State University. She is now in her third year at the University of Florida (on fellowship) pursuing her doctorate in Pharmaceutical Sciences (with a concentration in Pharmacodynamics).
Admission Requirements
First-Years
All freshman applicants to Florida Southern Colleges full-time degree programs must submit the following information:
An official high school transcript
SAT and/or ACT scores (unless applying Test-Optional)
Transfers
Applying to Florida Southern as a transfer student is easy.
Personal statement
All official college transcripts
If transferring less than 24 credits, we also need your:
Official high school transcript
SAT and/or ACT scores
Internationals