An Elementary Education program that
works best for working adults.
Tailored specifically for busy schedules, this program is designed for working adults who want to advance their careers through courses that build solid foundations in elementary education.
This Elementary Education degree has all the tools you need to make a positive impact as a highly effective educator. Our curriculum includes the latest pedagogies, research-based best practices, and full access to SMART technologies. As education majors are required to pass all parts of the Florida Teacher Certification Exams, you will be immediately eligible to apply for your Florida Professional Teaching Certificate upon graduation.
Next term start date 1/9/2024
Connected
Florida Southern College has partnered with local Polk County schools as Professional Development School Partners designed to prepare future teachers.
Personalized Advising
Your academic advisor works with you from the moment you are accepted to create a roadmap to graduation, creating a custom schedule specific to your needs.
ESOL Certification
Through the infusion of ESOL (English for Speakers of Other Languages) techniques into the curriculum, you'll learn to work with students whose native language is not English, earning you a State of Florida ESOL endorsement upon graduation.
Affordable and Accelerated
A timely completion of your degree is critical to your total tuition cost, which is why we offer accelerated courses, providing you a quality education at a fraction of the cost.
Learn More
Extensive Preparation
As an adult elementary education student, you'll put all this learning into practice in real-world classrooms by completing clinical experiences within the Polk County public school system including the final internship.
Be Prepared
You'll be fully prepared for the 21st-century classroom through our extensive training in instructional technology, including SMART© technologies, preparing you to teach in today's state-of-the-art classrooms. You will also be exposed to a wide variety of classroom field experiences, and lab school opportunities.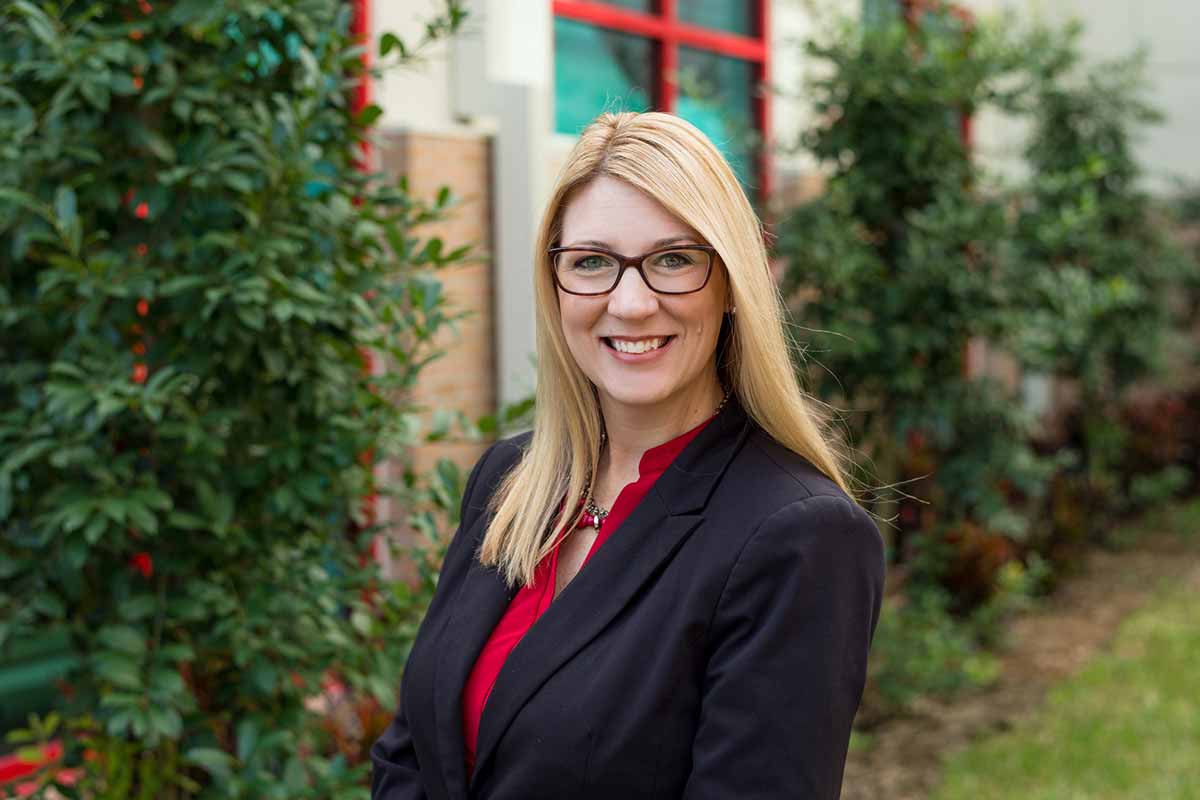 Featured Faculty
Brooke Veal
The Adult Elementary Education degree program at Florida Southern College provides a flexible schedule that allows students to earn their undergraduate degrees while maintaining a work-life balance. This Florida Department of Education approved teacher preparation program prepares future teachers, utilizing research-based instructional practices, to positively impact diverse populations of K-6 student learners.
Admission Requirements
Personal interview
Academic interest inventory
Provide official transcripts of all academic work taken previously at other colleges, universities, or professional schools.
If fewer than 25 credit hours have been earned from a regionally accredited college or university, student should provide official high school transcript or GED scores.
If fewer than 25 credit hours have been earned from a regionally accredited college or university, student should provide official ACT or SAT exam scores, OR as an alternative, applicants should instead submit an updated resume and elect to apply through the test-optional policy.
Military service-connected, educational experiences may award transfer credits. Requests should be accompanied by documents describing the educational experience. (Seven semester hours of credit may be awarded.)
If admitted, Polk County School Board background clearance
International Student Requirements
Official Translated Transcripts With Course By Course Evaluation**
Bank Letter Verifying Funds of Sponsor***
Valid Passport
Official TOEFL/IELTS Score****
** SpanTran (discount available), Academic Evaluation Services, Inc., Josef Silny, or World Education Services or another similar approved transcript evaluation agency.
*** A bank letter is a written statement on bank letterhead and signed by a bank official.
**** Must have completed an English language training program or at least one year at an English speaking institution to waive the TOEFL/IELTS testing requirement.
Curriculum
| | |
| --- | --- |
| A. General Education Requirements | 40 hours |
| B. Major Requirements | 68 hours |
| Course Number | Course Name |
| --- | --- |
| EDU 1107 | Foundations of Education I |
| EDU 2200 | Field Study Level I |
| EDU 2203 | Foundations of Education II |
| EDU 2210 | Foundations in Special Education |
| EDU 2235 | Technology Infused Teaching and Educational Assessments and Measurements |
| EDU 2240 | Teaching Language Arts Level I |
| EDU 2241 | Clinical Experience in Literacy Instruction |
| EDU 3279 | Foundations of ESOL I |
| EDU 3323 | Field Study Level II |
| EDU 3333 | Foundations of Education III |
| EDU 3339 | Instructional Methods I |
| EDU 3343 | Children's Literature |
| EDU 3347 | Teaching Language Arts II |
| EDU 3370 | Differentiated Instruction of Reading for Elementary Students |
| EDU 4400 | Field Study Level III |
| EDU 4407 | Instructional Methods II: Social Studies in the Elementary School |
| EDU 4409 | Instructional Methods III: Science in the Elementary School |
| EDU 4478 | Applied Linguistics – ESOL II |
| EDU 4887 | Reading Endorsement Practicum |
| EDU 4889 | Student Teacher Intern Seminar |
| EDU 4990 | Senior Internship |
| | |
| --- | --- |
| C. Bachelor of Science Degree Requirements | 68 hours |
| D. Electives | 4 hours |
| E. Total | 124 hours |
Program Costs
2023-2024
| | |
| --- | --- |
| Base Required Fees | Cost |
| Tuition Per Credit Hour | $340 |
| Technology fee per semester is based on credit hours enrolled | $30 to $120 |
Additional Costs
| | |
| --- | --- |
| Additional Fees | Cost |
| Chalk and Wire – ePortfolio | $65.70 per year |
| Polk County School Board Background Clearance | $79.85 estimated |
Do you have a financial assistance program for non-instructional employees who are employed by the Polk County School Board?
Florida Southern participates in the Greenhouse Program, a program created to assist Non-instructional employees of the Polk County School Board who are interested in completing their Bachelor's Degree to go on and teach P-6, Physical Education, Exceptional Student Education, Middle School, and/or High School.
Which Florida Teacher Certification Exams (FTCE) do I need to complete?
All Elementary Education students must pass all sections on the General Knowledge Test (GKT), Professional Educator Test (PED), and Subject Area Exam (SAE) – Elementary K-6.
How long are the academic semesters?
The fall, spring, and summer semesters are 16 weeks long. However, each semester is divided into two 7-week terms (term A and term B).
Is there an internship?
Yes, there is a 70-school day internship which is completed in Polk County Public Schools during the last semester of the program and once all program requirements are met.
Is the program state-approved?
Yes, Florida Southern College's Elementary Education program is fully approved by the Florida Department of Education.