An Accounting degree provides outstanding career opportunities in a variety of industries. Offered online and in the evening.
Our emphasis on real-world application trains you for roles in professional, industrial, managerial or governmental accounting.
Florida Southern College prepares accounting students to compete in today's complex global market by equipping them with the skills needed to understand the language of business through a robust curriculum and expert faculty. You'll gain exposure to all areas of accounting — financial, tax, cost/managerial, auditing, information systems, and forensics. Additionally, FSC has three Florida Institute of CPAs Outstanding Educator Award winners teaching our accounting students.
Our Accounting degree can be completed fully online.
Scheduling of classes is flexible. Mix and match delivery types to maximize your schedule as needed.
Next term start date 1/9/2024
AACSB Accredited
Accreditation by the Association to Advance Collegiate Schools of Business (AACSB) is the mark of excellence in business education earned by fewer than five percent of business schools worldwide.
Recognized Excellence
Florida Southern's Accounting program has three Florida Institute of CPAs Outstanding Educator Award winners teaching our students.
Affordable and Accelerated
A timely completion of your degree is critical to your total tuition cost and busy schedule, which is why we offer accelerated courses in 7- and 14-week terms, providing you a quality education that saves you time and money.
Personalized Advising
Your academic advisor works with you from the moment you are accepted to create a road map to graduation, creating a custom schedule specific to your needs.
CPA Licensure Preparation
Extend your academic experience at FSC by applying to the Master of Accountancy (MAcc) program to meet the 150 credit hour requirement for CPA Licensure. A benefit is that the majority of the faculty you are familiar with from your undergraduate courses teach at the graduate level.
Learn More
Job Outlook - AGE Accounting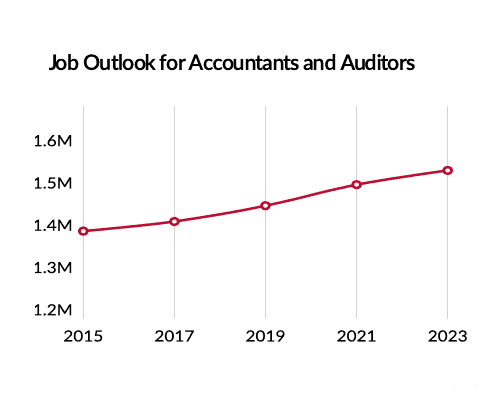 Top Alumni Skills - AGE Accounting
Accounting
Financial Statements
Auditing
Financial Analysis
Accounts Payable
Budgeting
Alumni Job Titles - AGE Accounting
Accountant
Chief Financial Officer (CFO)
Controller
Staff Accountant
Certified Public Accountant (CPA)
An FSC Accounting degree will most certainly open up tremendous possibilities and lead to career success. It teaches you to be a critical thinker and a problem solver that can prepare you for a number of career paths. If you have in interest in accounting, finance, or business, a degree in accounting is a great investment in your future career.
President at Core Wealth Advisors
Featured Faculty
William Quilliam
My teaching philosophy centers on the fact that I teach students how to learn. Specific facts will change during their careers, so I prepare them for a lifetime of continual learning. My classes at Florida Southern feature a lively atmosphere of discussion and engaged learning. I also foster student interaction with the accounting profession through my involvement with professional organizations such as the Florida Institute of Certified Public Accountants.
Admission Requirements
Provide official transcripts of all academic work taken previously at other colleges, universities, or professional schools.
If fewer than 25 credit hours have been earned from a regionally accredited college or university, student should provide official high school transcript or GED scores.
If fewer than 25 credit hours have been earned from a regionally accredited college or university, student should provide official ACT or SAT exam scores, OR as an alternative, applicants should instead submit an updated resume and elect to apply through the test-optional policy.
Military service-connected, educational experiences may award transfer credits. Requests should be accompanied by documents describing the educational experience. (Seven semester hours of credit may be awarded.)
International Student Requirements
Official Translated Transcripts With Course By Course Evaluation**
Bank Letter Verifying Funds of Sponsor***
Valid Passport
Official TOEFL/IELTS Score****
** SpanTran (discount available), Academic Evaluation Services, Inc., Josef Silny, or World Education Services or another similar approved transcript evaluation agency.
*** A bank letter is a written statement on bank letterhead and signed by a bank official.
**** Must have completed an English language training program or at least one year at an English speaking institution to waive the TOEFL/IELTS testing requirement.
Curriculum
| | |
| --- | --- |
| A. General Education Requirements | 40 hours |
| B. Major Requirements | 66-68 hours |
Business Core Courses
| Course Number | Course Name |
| --- | --- |
| ACC 2111 | Foundations of Financial Accounting |
| ACC 2112 | Foundations of Managerial Accounting |
| BUS 1115 | The Dynamics of Business and Free Enterprise |
| BUS 2217 | Principles of Management |
| BUS 2220 | Microsoft Excel for Business |
| BUS 2860 | Professional Development* |
| BUS 3311 | Legal Environment of Business |
| BUS 3320 | Applied Statistics and Analytics for Business |
| BUS 4999 | Seminar in Strategic Management of the Bu8siness Enterprise |
| ECO 2207 | Principles of Macroeconomics |
| FIN 3453 | Managerial Finance |
| MKT 3160 | Marketing Principles |
Accounting Core Courses
| Course Number | Course Name |
| --- | --- |
| ACC 3105 | Accounting Information Systems |
| ACC 3111 | Financial Accounting I |
| ACC 3112 | Financial Accounting II |
| ACC 3211 | Cost Accounting |
| ACC 4411 | Federal Taxation |
| ACC 4511 | Auditing |
| ACC 4960/4961 | Accounting Internship * |
* Should you choose not to complete BUS 2860 Professional Development and BUS 4960/4961 Accounting Internship, you will need to complete an additional 4 credit hour elective course.
| | |
| --- | --- |
| C. Bachelor of Science Degree Requirements | 12 hours |
| D. Electives | 4 - 6 hours* |
| E. Total | 124 hours |
Program Costs
2023-2024
| | |
| --- | --- |
| Base Required Fees | Cost |
| Tuition Per Credit Hour | $340 |
| Technology fee per semester is based on credit hours enrolled | $30 to $120 |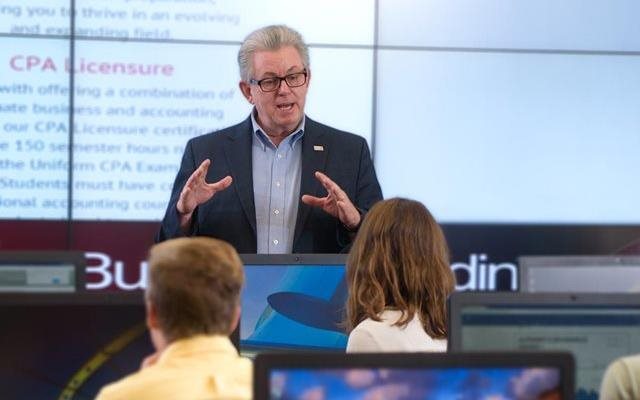 Get an inside look at Online Accounting
Master your financial skills
In ACC 3111 Financial Accounting I, you can expect to delve into the conceptual framework of accounting and master skills required when preparing financial statements, determining income, and knowing the steps related to assets and liabilities.