High School Mock Trial Competition
About the High School Mock Trial Program
The Florida High School Mock Trial Program was launched in 1991 after years of planning and development by Annette Boyd Pitts and former Florida Bar Executive Director Marshall Cassedy. Hundreds of student participants have graduated, attended law school, and become members of The Florida Bar or other state bar associations. Many former student participants have returned to coach teams at the schools they once attended or at other schools throughout the state.
Today, the program is administered by the Justice Teaching Center. Counties hold competitions to advance teams to the circuit level and one team from each judicial circuit advances to represent the circuit at the state competition. With 20 judicial circuits, a maximum of twenty teams may advance to the state finals.
Hundreds of attorneys and judges volunteer to participates in the circuit and state competitions annually. A state advisory committee provides oversight and accountability in program administration. Volunteer attorneys and law students develop the case materials annually. The winning state team is eligible to represent Florida in the National High School Mock Trial Championship held annually in different host states.
Students learn critical thinking skills, legal reasoning, analysis, persuasive speaking, and professionalism, in addition to the structure and function of the courts and the legal process.
We are grateful to Florida Southern College for sharing its infrastructure and for the attorneys statewide that have contributed to the program's growth and success.
For additional information, see the links below or contact Annette Pitts at apitts@flsouthern.edu.
High School Mock Trial Registration (Currently Closed) Florida State Finals Registration


2023-2024 Updates
The Florida High School Mock Trial Competition will be held March 7-9, 2024, in Orlando at the Orange County Courthouse. Circuit competitions are scheduled locally and should be held in January and February. Please contact your local coordinator.
All teams in all circuits must register initially on our website. We provide school information directly to circuit coordinators. The registration deadline is November 1, 2023. Some circuits may also have additional local registration requirements. In this case, teams are required to register through both the state and circuit portals.
The case materials will be released by the author in late September or early October.
A new scoresheet will be available this year to allow for witnesses to be scored on direct and cross examination separately.
All circuits and teams must use the state high school mock trial case materials and rules of evidence.
If you need copies of the rules of competition, rules of evidence, or considerations in scoring teams, please contact our office at apitts@flsouthern.edu.
List of Counties by Circuit
Circuit Competition Contacts
First Circuit - Contact: Molly Snyder, FLHSMOCKTRIAL1@gmail.com First Circuit Competition Dates are February 6-9, 2024.
Second Circuit - Contact: Annette Pitts apitts@flsouthern.edu
Fourth Circuit - Contact: Stewart J. Subjinski, ssubjinski@jimersonfirm.com
Sixth Circuit - Contact: Justin Fahringer, fahringerJ@pd13.state.fl.us
Ninth Circuit - Contacts: Jill Davis, Jill.Davis@orlandohealth.com and Brandon Sapp, brandonmsapp@gmail.com
Tenth Circuit - Contact: Jennifer Steimle, jsteimle@jud10.flcourts.org
Eleventh Circuit - All teams in this circuit must register through the Justice Teaching registration link above AND with the Miami Dade County Public Schools. Contact: Jackie Viana, jviana@dadeschools.net and Ingy Cruz, ingycruz@dadeschools.net
Twelfth Circuit - Cori S. Coser, ccoser@bgk.law and Kate Craig, kcraig@bgk.law
Thirteenth Circuit - Contact: Justin Fahringer, fahringerJ@pd13.state.fl.us
Fifteenth Circuit - Contact: Attorney Jay C. Webber, jcw@bclmr.com
Seventeenth Circuit - Kourtni Gober, Kourtni.Gober@browardschools.com
Eighteenth Circuit - Contact: Katie Rallo, Katie@gmtblaw.com
Twentieth Circuit - Contacts: Donna Dunakey (Charlotte County) donna.dunakey@yourcharlotteschools.net, Mikie Stroh (Collier County) strohm@collierschools.com, and Amy Koenig (Lee County) amylk@leeschools.net.
Sample Live Final Round Video - 2019
Sample Virtual Final Round Video - 2022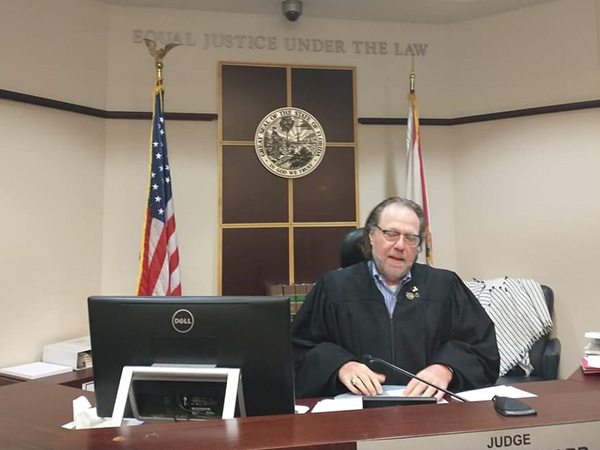 Judge Steve Jewett, Ninth Judicial Circuit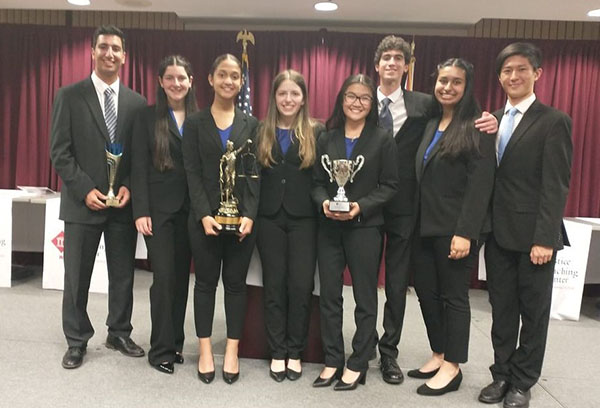 2023 Florida High School Mock Trial Champions - American Heritage School - Palm Beach Lakes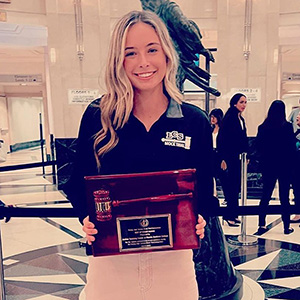 Emilie Morin of Lakeland Christian School