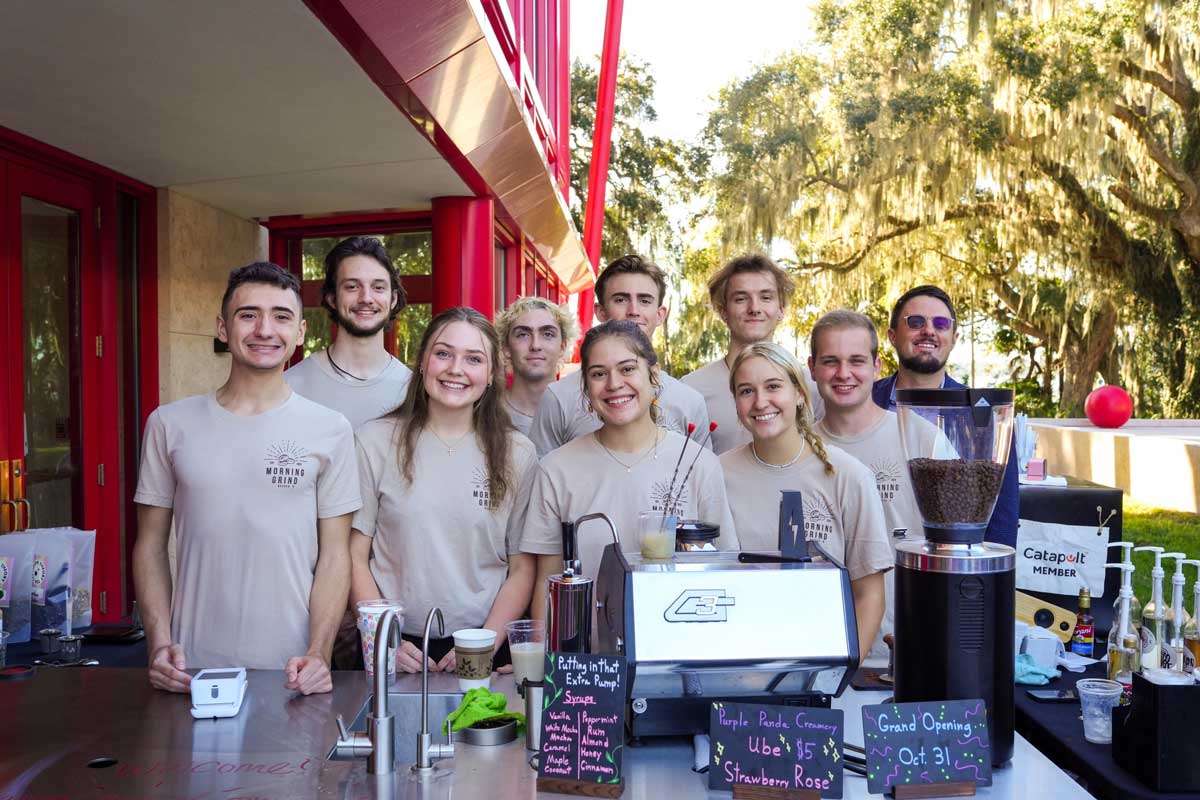 Experiential Learning Lab and Student-Run Coffee Cart
Oct 31, 2023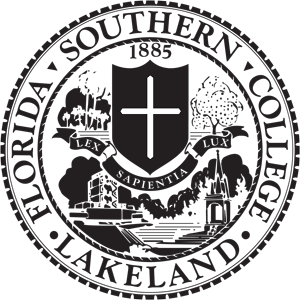 At Florida Southern College, education goes well beyond the classroom. The skills our learners acquire are meant to be applied in the real world — in internship opportunities, in the early days of a career unlocked by an FSC degree, or even in on-campus ventures. Students of our Barney Barnett School of Business and Free Enterprise recently began putting their holistic education to work with the help of Center for Free Enterprise and Entrepreneurship (CFEE) program director Justin Heacock, combining knowledge acquired in the classroom and an entrepreneurial spirit with something all students love: coffee.
Equal parts experiential learning lab and student-run business, the Morning Grind coffee began service to the East side of campus (between the Weinstein Computer Sciences Center and the Becker Business Building) on October 31. Here, students can fuel up on craft coffee creations brewed, frothed, and poured by their fellow Mocs, and made from Concord Coffee beans roasted by FSC alum, TJ Zimmerman '04. The cart's "sandbox" environment will give student employees opportunities to hone their entrepreneurial spirit while embracing the challenges — and enjoying the rewards — of real-world business ownership.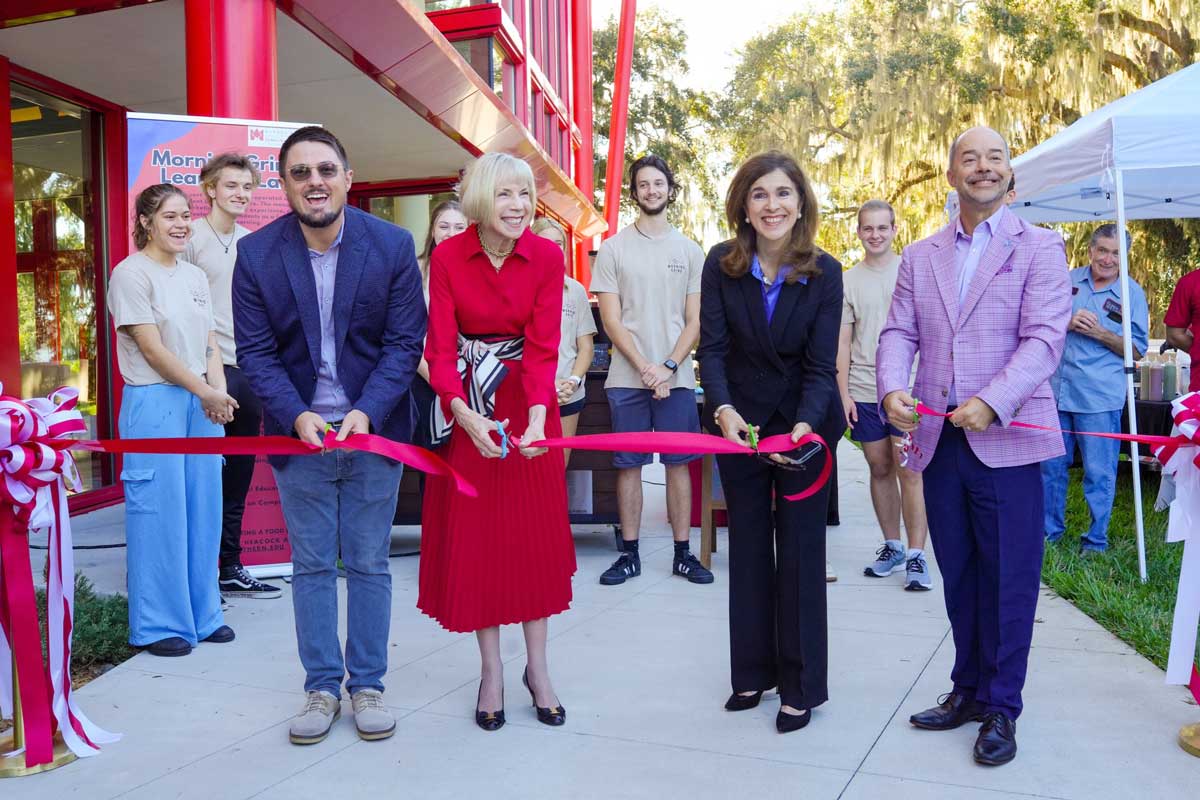 From left to right: FSC's Center for Free Enterprise and Entrepreneurship Director Justin Heacock, President Anne B. Kerr, Provost Tracey Tedder, and Dean of the Barney Barnett School of Business and Free Enterprise Michael Weber cut the ribbon, officially opening Morning Grind, the campus's student-run coffee cart, for business.
The idea for Morning Grind came to Heacock, FSC's Entrepreneur in Residence, on a trip to Nashville for an entrepreneurial learning conference. There, he drew inspiration from Belmont University's student-run businesses. "The university has two retail locations in downtown Nashville, and over their 20 years in operation they were seeing a higher rate of success than typical startup-driven experiences," Heacock says. Seeing the success of Belmont's learning lab and given FSC's status as a premier destination for experiential learning, "it only made sense that we offer a similar experience to our students."
Heacock made a series of classroom presentations, pitching the idea to driven FSC students interested in entrepreneurship — not all of whom would be business majors. Morning Grind's nine employees span seven areas of study, including computer science, communication, and even criminology, with the common thread between these students being their drive and desire to make the fledgling coffee cart the best it can be. And a shared love of coffee, of course. "Coffee is one of my bigger passions in life," says Lauren Schreader '25, Morning Grind's External Relations & Partnerships Manager. "Working in a coffee shop only strengthened my passion, so when Justin visited my comms class and told us about this idea, I applied on the spot."
Claudia Kaczmarczyk '27, too, was instantly intrigued by the concept. "With it being my first year at a new school — in an entirely new state — I knew this would be the perfect opportunity to meet new people and contribute to something unique." Claudia plans to use her prior customer service experience to create a positive culture for employees and customers alike, while using knowledge gleaned in BUS 1115 to drum up "logical ideas for how we can use our resources to prepare for the grand opening."
While Heacock has spearheaded this effort, his Morning Grind nametag will not read, "Boss." Rather, he aims to strike a balance as a coach and a mentor. "At the end of the day, I want students to know that they have the opportunity to try new things and — within reason — to fail. Failure is the catalyst for great personal and professional growth," he says, "and if students can fail here, they can triumph in their subsequent challenges."
Jonathan Brummett '25 admits, "There is a lot more to running a business than I realized. You basically start with nothing." Heacock's guidance, however, "has been amazing, and his experience has helped us come up with a menu and overall experience students will love while still being cost efficient."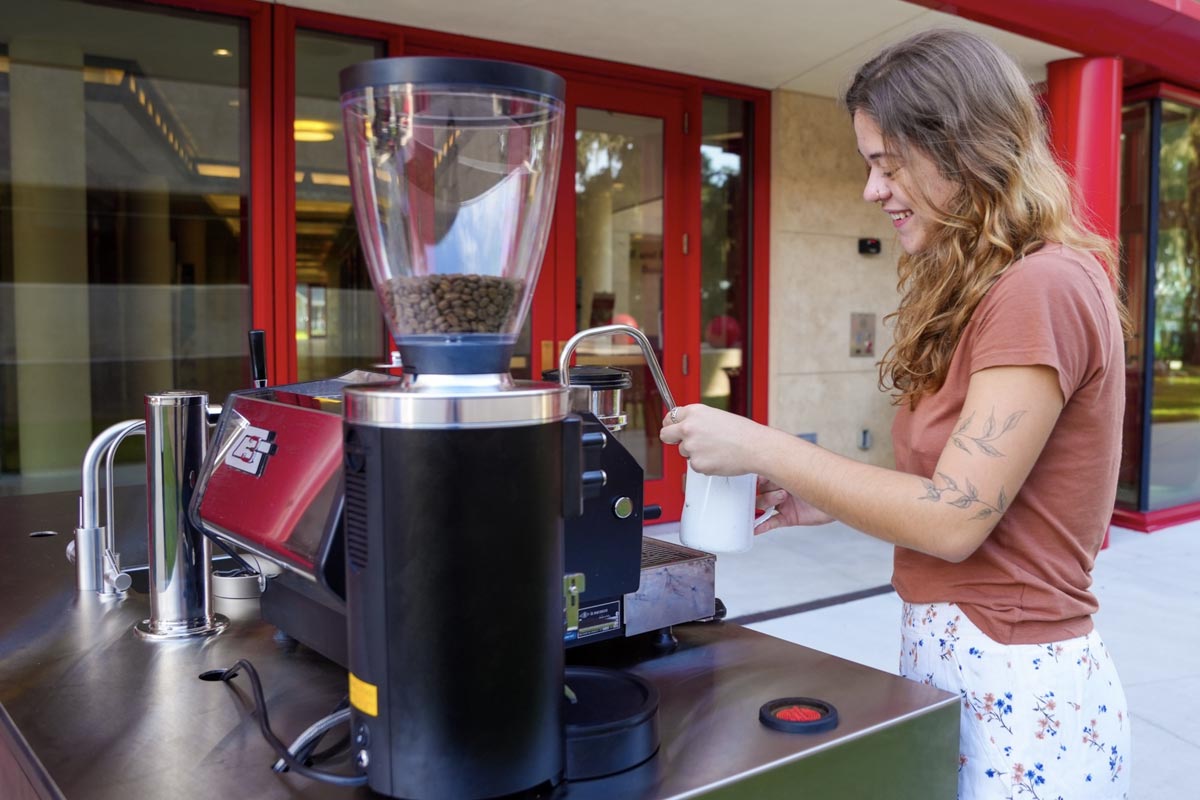 Chloe Hacker '25 takes her love of coffee to a new level, preparing everything from espresso to cold brew.
But coffee, it seems, is just the beginning. "This cart represents the bigger picture of our student food incubation program at FSC," Heacock says, "and I can certainly see a thriving student-led food culture emerging here." Morning Grind will function as a launchpad for other student-run businesses, including Purple Panda Creamery and Taqueria del Angel. These vendors-in-residence are the first of many, as the cart plans to host new foodie favorites each semester. "My vision is to have multiple student-managed carts, spanning various types of cuisine, that operate across campus and compete through a learning lab competition."
As for Morning Grind, beyond a successful grand opening, Heacock and his staff plan to reinvest profits into the business to expand menu items and enhance the customer experience — through coffee delivery robots or latte art machines. For now, it's a testament to collaboration, entrepreneurship, and ingenuity: evidence of Florida Southern College's commitment to holistic, experiential education.
Come show your support for this exciting student-run endeavor!