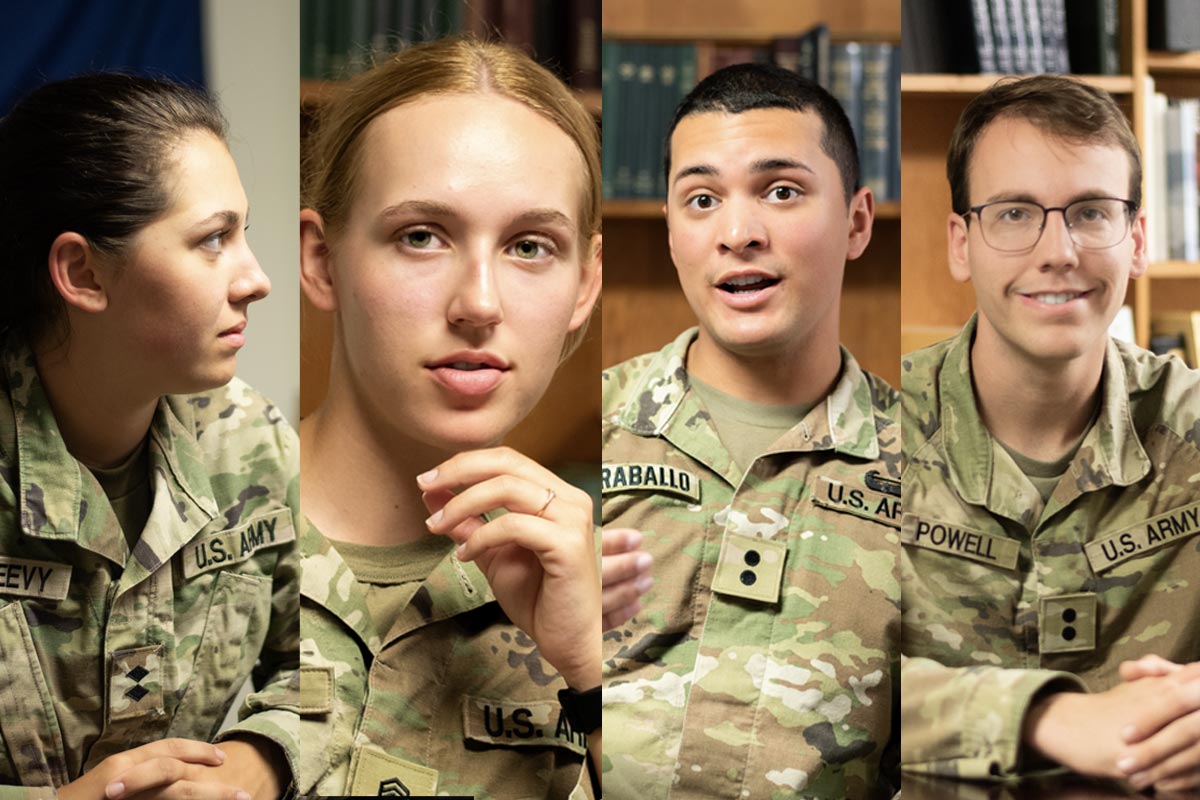 All We Can Be: FSC's Cadets Earn More Than a Degree
Nov 10, 2023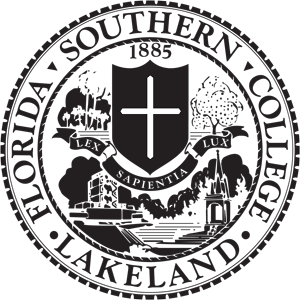 American troops were fighting in Korea, Chinese forces were marching into Tibet; Jordan's king was assassinated in Jerusalem, and in America the Rosenbergs were found guilty of spying for the Soviet Union. It was 1951, and though the world's problems might have seemed a universe away from the Spanish moss and quiet calm of Florida Southern College, FSC was very much connected — thanks in part to its newly formed Moccasin Battalion. On this Veterans Day, we reflect on the global impact of our ROTC program and the cadets who chose a purposeful path to an elite education.
FSC's ROTC program was founded at the height of the Cold War in a world fraught with competing ideologies and uncertain outcomes. Amidst arguably similar challenges today, the Battalion's mission remains much the same: preparing the highest quality Army Officers for service to the United States while giving students the opportunity to maximize their potential.
"No matter what they ultimately do or whether they continue to serve or not, we teach leadership," says LTC John Denney, head of the ROTC program. "It is 'servant leadership'— defend the Constitution and serve the nation. In their senior year it becomes real for the cadets, and I hope that it strengthens their own desire to serve."
That desire has seen FSC students serving in the U.S. Armed Forces since the college's founding in 1883, long before the Moccasin Battalion was formed. But in the Battalion's 72 years it has produced nine top generals and hundreds of commissioned officers, with cadets who graduate earning a top degree from FSC, a great start in their chosen profession, and a commission as a Second Lieutenant (2LT) in the Active Army, Army National Guard or Army Reserves.
Whatever a student's background or motivation, LTC Denney says the positive transformation they experience is life changing. "For some it's family — the military is a family business — and for some it's a means to an education," he says, "but they all benefit." FSC is particularly attractive to Army ROTC Scholarship recipients because the college provides them with room and board, something not offered by every college. Additionally, FSC cadets receive a monthly stipend for 10 months of each school year, with that benefit also extended to non-scholarship contracted cadets in their third and fourth years.
"You get more bang for your buck here," says Haley Steiner, a senior exercise science major, Army ROTC Scholarship recipient, sorority member and Army "brat" who grew up going to schools all over the world.
"Living overseas as a kid, the only other Americans I was interacting with were other military families and so I felt very connected to the military," Steiner says. "From a young age I would go to the gym and play volleyball pickup games with soldiers — this was my lifestyle. So, when I was trying to figure out what I wanted to do with my life, I knew I wanted something to do with soldiers." At FSC, that vision has evolved. "It used to mean that I wanted to be a physical therapist; that was my first goal when I came to college. And now I've realized I prefer more of a teaching, mentoring aspect. I hope to get a civilian job being a training and conditioning coach and working one-on-one with soldiers to help them have a better understanding of fitness."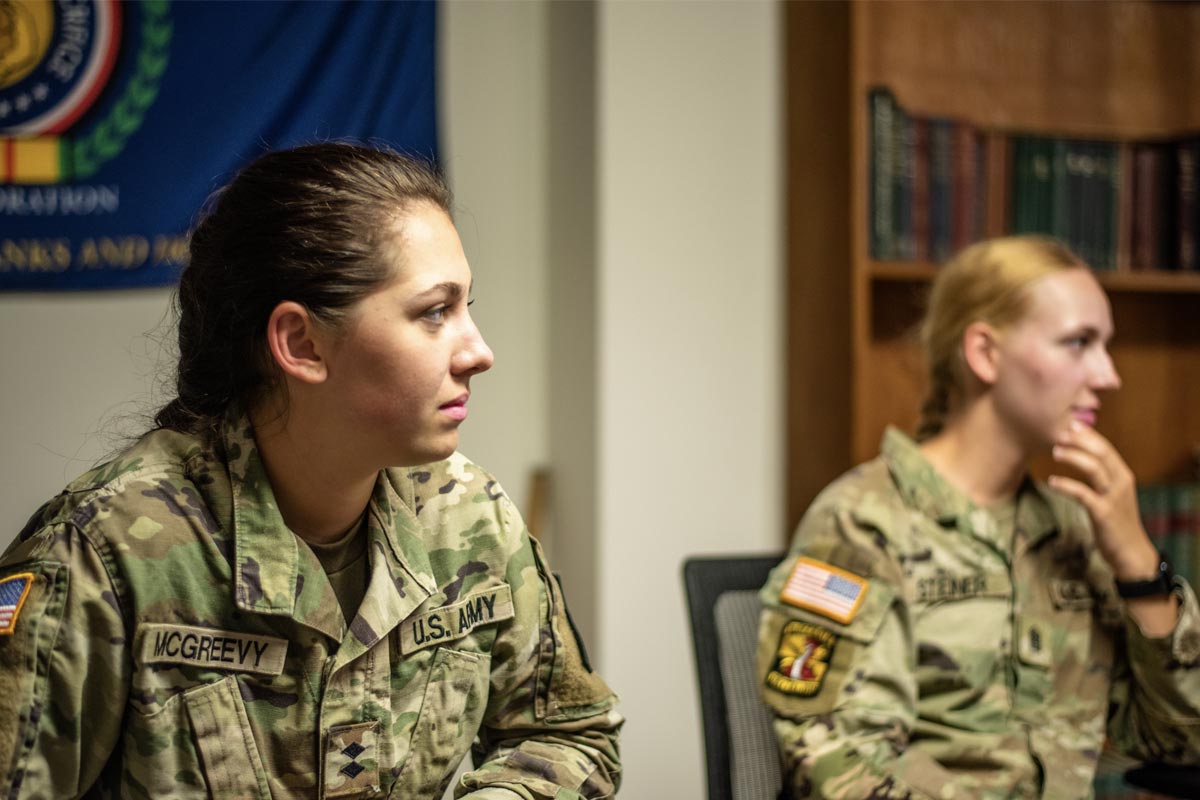 Cadets and exercise science majors Brooke McGreevy (left) and Haley Steiner
Steiner's friend and classmate, Brooke McGreevy, has her sights set on the rehabilitative side of Army medicine. A senior who also is studying exercise science, she says her path to ROTC was far different than her classmate's.
"I had the opportunity to attend high school at the Sarasota Military Academy and I fell in love with it. I was just on the regular path that everybody else was taking, going to regular high school. I always knew I wanted to do something in the field of medicine, but I never thought the military would be in my path." But the structure of military curriculum brought her out of her shell, instilling in her a newfound confidence.
"A lot of us started out as very shy," Steiner explains. "We get a lot of students who are very devoted to their academics, and cadets also generally have higher grades than the average student because we have to maintain a minimum GPA to keep our scholarships."
There's pressure, the cadets agree, and there's the military science aspect — learning land navigation, squad tactics, going through rifle qualifications and so much more. But the traditional college experience is still there for those who want it, says LTC Denney.
"We have athletes, Greek life, all the clubs and so on," he says. "The opportunity is there to have exposure to the 'normal' college experience."
And within that experience, the cadets say their ROTC service has been positively impactful. "I'm in a sorority," Steiner begins, "and I've been on its executive board. I'm on our programs council right now and chairing our committee to pick the next executive members. We [cadets] do tend to be more respected around campus — my friends and classmates understand that I hold myself to a higher standard, and I believe that generally we are viewed as more responsible."
"We have the pressure of knowing that what we do now can inherently affect our ability to commission, that every action has a consequence; it probably keeps us pretty safe," adds Joseph Powell, a senior history major and fraternity member whose grandfather commissioned through FSC's ROTC program decades ago. Powell says that the family connection contributed to his decision to sign up, but it wasn't the only factor.
"I'll be honest: one reason why I chose to go into this was that I was really worried I was going to end up back in my hometown," he explains. "I saw an opportunity to be able to move around every few years and do something a little more with my life. And in the end, I feel like I found a group of individuals that I had a lot more in common with."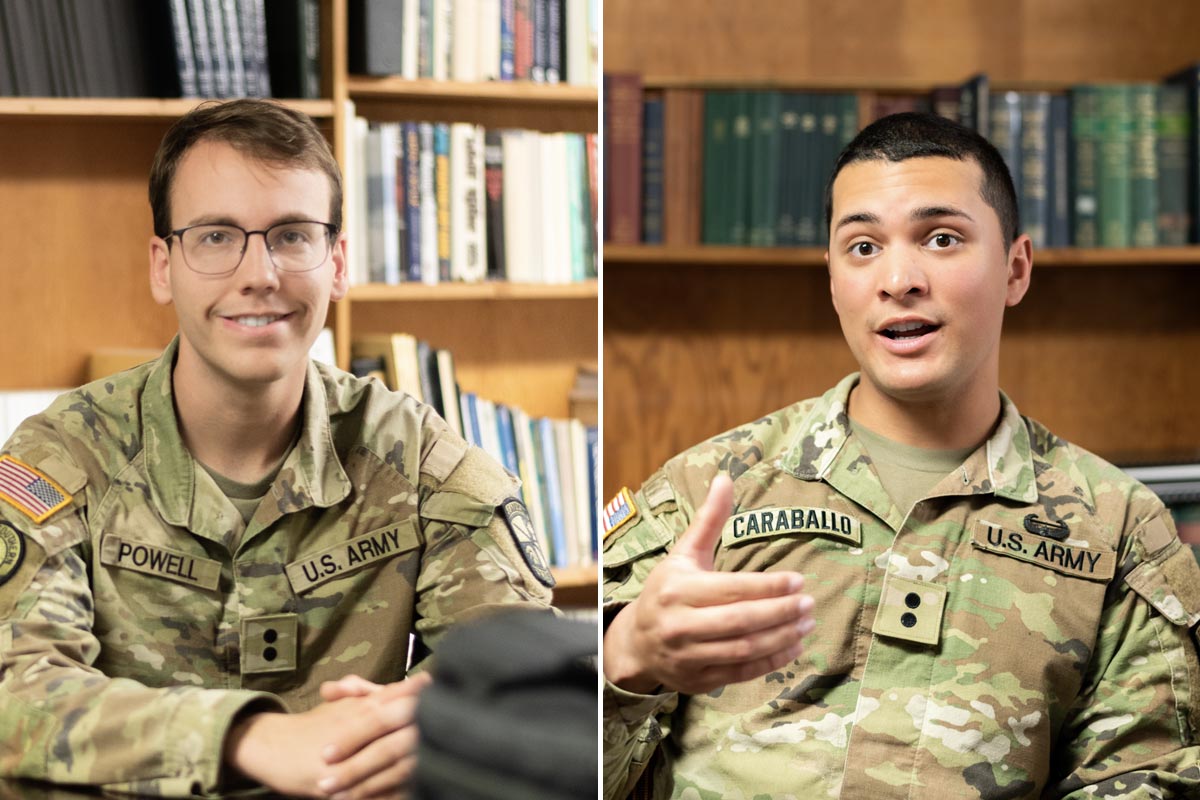 Seniors Joseph Powell (left) and Jesuel Caraballo
Jesuel Caraballo understands. Studying finance and already running his own company (Ace Bean Coffee), Caraballo says that people are a big part of why he joined FSC's ROTC program — viewing the Army as the ultimate "people profession."
"Constantly, every single day, you must work with people to achieve a greater goal. What better way can I help people be all that they can be than as a leader in the Army, to help them apply their knowledge and skills to accomplish the greater good that the Army does?"
That greater good has compelled generations of FSC students to serve their country, including one member of the Moccasin Battalion who paid the ultimate price: 2Lt. Charles R. Rubado, who lost his life in 2005 while serving in Iraq. He is memorialized in an annual college event, and some of his personal effects are on display in FSC's ROTC building. 2Lt. Rubado's name and the names of other FSC veterans are featured in Patriot's Plaza, a memorial area near FSC's athletics fields.
On Veterans Day, Memorial Day, and every other day of the year, those veterans and others are part of a legacy that goes beyond fine academics and professional excellence. They mark a contribution of leadership to the global landscape and a reminder of what's possible on a campus designed for success — no matter how far it is from the world's challenges.
"What's cool about ROTC is, no matter where we came from and no matter what we study, we all have something to pitch in and we can learn from each other," concludes Caraballo. "We face a different kind of pressure than the average student, but pressure is what creates diamonds. And as cadet members, we're all trying to make each other better than we are — all that we can be."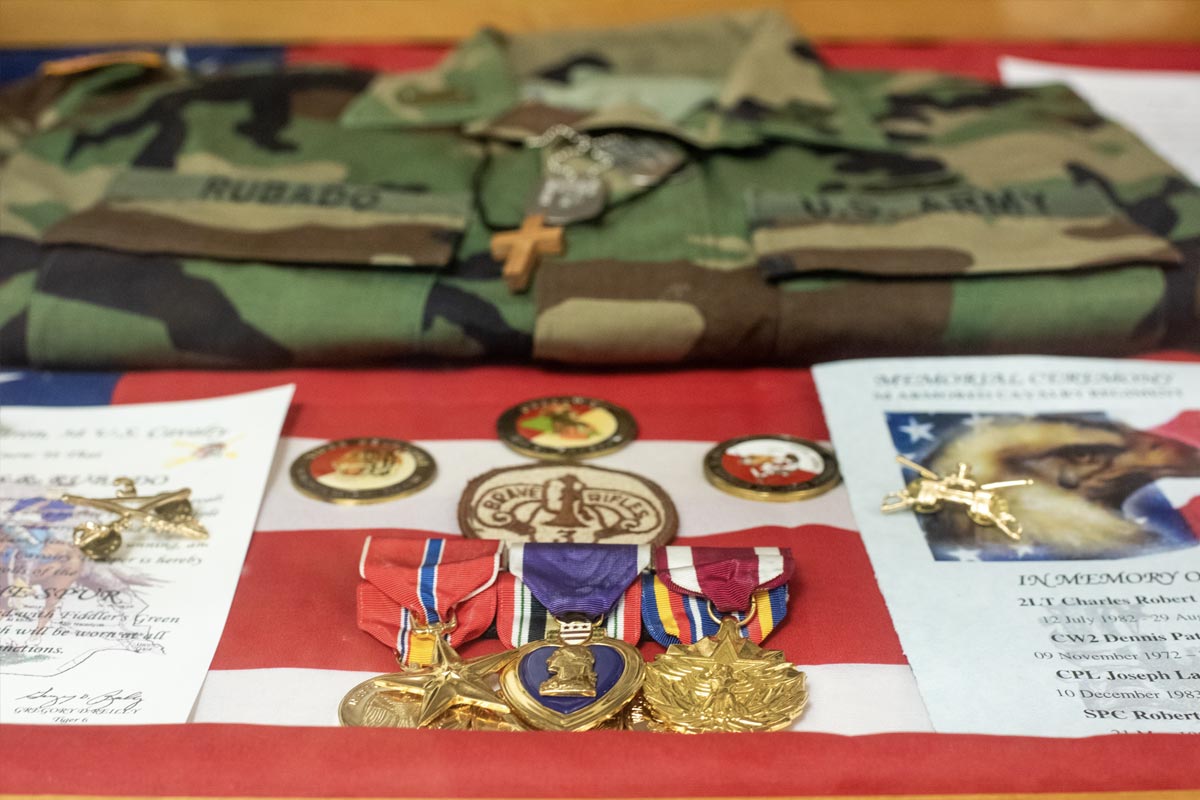 Some of the personal effects of 2LT Charles R. Rubado, who lost his life in 2005 while serving in Iraq