17th Annual 2LT Charles R. Rubado Memorial Bowling Tournament
March 28th, 2024, 6:00 - 9:00 PM
The tournament is in honor of 2LT Charles R. Rubado, a distinguished Alumni of Florida Southern College who was killed supporting Operation Iraqi Freedom. Register today and help support the Rubado Scholarship and the FSC Army ROTC program. Payments Accepted on-line via Cashnet.
ROTC at Florida Southern
Established in 1951, the Army Reserve Officers Training Corps (ROTC) is an integral and valued member of the Florida Southern family. The Moccasin Battalion continues its legacy of providing the highest quality Army Officers for service to the United States. Our esteemed Alumni include nine General Officers, members of the FSC Board of Trustees, and leaders around the World. Florida Southern College Army ROTC provides the tools to succeed both in College, and after graduation.
Why ROTC?
The Moccasin Battalion has a number of teams and events for Cadets to participate in. These programs give Students the opportunity to advance themselves from the classroom to the PT field. Some of these programs include: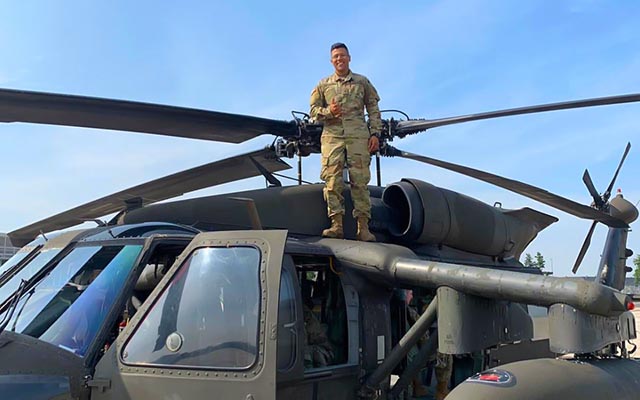 World Travel
Junior Journey
CTLT (Cadet Troop Leader Training)
NSTP (Nurse Summer Training Program)
Cadet Internships
GAFPB (German Armed Forces Proficiency Badge)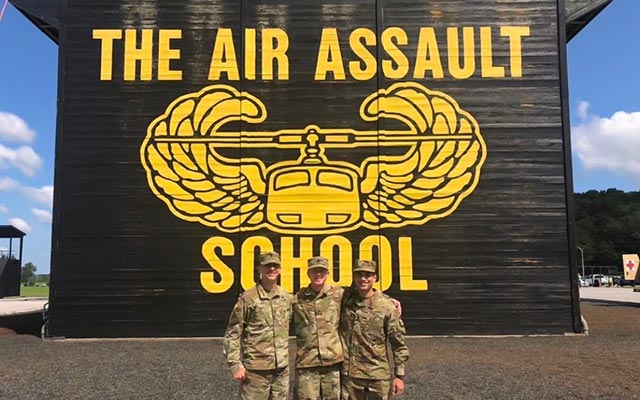 Professional Development
Study Groups
Mentoring
Army Schools such as Airborne, Air Assault, Mountain Warfare, Northern Warfare School, Sapper Leader Course, Sandhurst Competition
Scholarships
Whether you're a college-bound high school student or already attending Florida Southern, Army ROTC has scholarships available. Scholarships are awarded based on a student's merit and grades, not financial need.
Army ROTC scholarships consist of:
Two-, three-, and four-year scholarship options based on the time remaining to complete your degree
Full-tuition scholarships
Additional allowances for books and fees
Living Expenses
At Florida Southern College, Army ROTC Scholarships Contract Cadets are eligible to receive room and board grants from FSC, and also receive a $420 per month stipend allowance for 10 months during each school year. All Non-scholarship Contracted Cadets in ROTC advanced courses (3rd and 4th year) also receive this stipend allowance.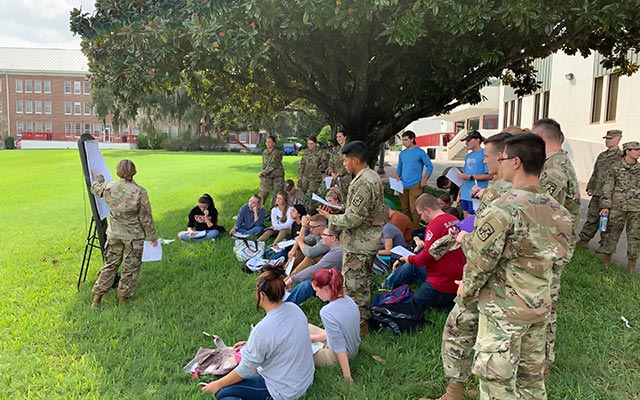 ROTC Academics
ROTC Cadets must not only maintain a good GPA, but also demonstrate the ability to be a critical thinking, adaptive leader within today's Army. Specifically, STEM (Science, Technology, Engineering, and Math) degrees are sought after by Cadet Command because they display Cadets who challenge themselves mentally in the classroom and beyond. FSC Cadets need to develop the fine balance course workload and extra-curricular activities.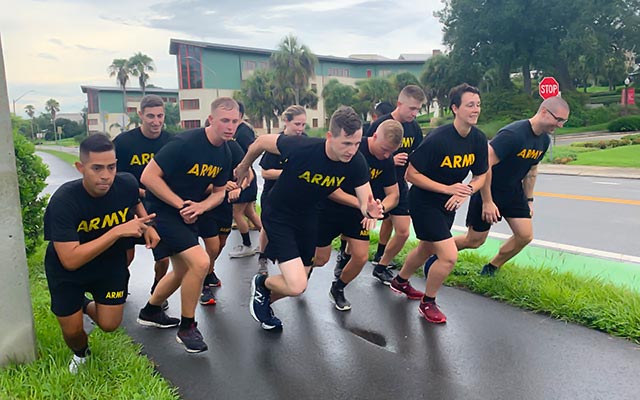 ROTC Athletics
Due to the physical nature of what the Army does, applicants who have or are currently participating in some organized athletic program will be more competitive for a scholarship. Not only does participation in sports require a certain level of fitness, but sports enhances the qualities of team work and leadership that make our Army great. Our program has many athletes across numerous teams within the College, and we regularly participate in multiple intramurals under the Moccasin Battalion banner. Compete against your fellow Cadets in events such as the Army 10 Mile Race and the Ranger Challenge!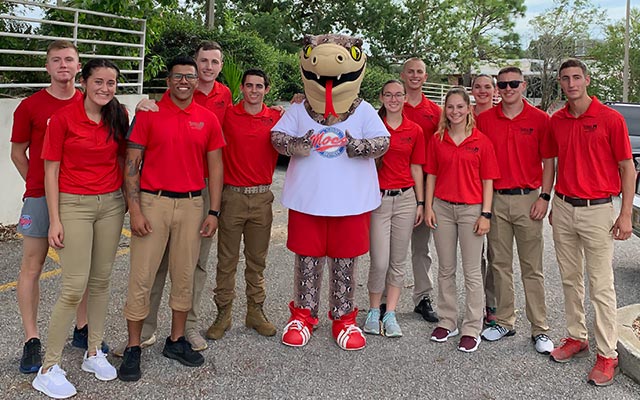 ROTC Leadership
ROTC at Florida Southern will enhance your college experience by providing training that will make you motivated, confident and ready to lead. You will develop confidence, self-esteem, motivation and leadership skills that you need regardless of your career plans. Whether you are a career military officer or a business executive, these skills will benefit you and put you on the fast track of life.
Upon successful completion of the program, you will receive a commission as a Second Lieutenant (2LT) in the Active Army, Army National Guard, or the Army Reserves. You will attend the Basic Officer Leader Course (BOLC) of your selected branch. As you enter the army as a 2LT, you will receive salary as an O-1 with less than two years of service. Medical and dental coverage is free for you and at an extremely low rate for any dependents. You will get 30 days paid vacation, along with the chance to travel around the world. All of this is in addition to the leadership experience you will gain throughout your career.
Cadre and Staff
The Moccasin Battalion has highly qualified and experienced professionals who ensure our Cadets are well trained to become Army officers and leaders in our government, businesses, and communities. This phenomenal team is committed to the success of our Cadets. We are focused. We train to standard, execute as a team, and are proud of who we are and what we represent – an outstanding Cadet battalion. GO MOCS!