At Florida Southern College, we share a common belief that every student should be able to work, study, and play in an environment that is inclusive of all members of our community, regardless of race, color, religion, national origin, disability, sexual orientation, gender, or gender identity.
You Are Welcome and Have a Place Here
It is our goal to make Florida Southern College a safe and welcoming place for all students, faculty, and staff. If you are an incoming or current student that is a member of the LGTBQ+ community, a parent or family member of an LGBTQ+ student, or an Ally, we hope that you will find these resources helpful in enriching your experience on campus. Should you have any additional questions, please do not hesitate to reach out to Student Life. We are here to help you!
Florida Southern College Safe Zone Mission Statement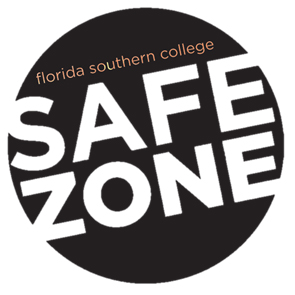 Have you seen the rainbow certificates posted outside the offices of faculty, staff, and student employees across campus? This indicates that the College employee within that office is Safe Zone trained! The Florida Southern College Safe Zone program was created as a way to support and embrace our Lesbian, Gay, Bisexual, Transgender, Intersex, Queer, and Questioning (LGBTQ+) persons within the LGBTQ+ community here at Florida Southern College. Safe Zone Allies focus on building a community that listens, acts, and educates others. The mission of Safe Zone is to build a community of Allies who support and advocate for the rights of the College's LGTBQ+ community members.
Interested in participating in Safe Zone training? Sign up at the Counseling Center Engage page or email counsel@flsouthern.edu to request a private training for your office or department.
Since the launch of the Safe Zone program, more than 100 faculty, staff, and student employees have participated in the training. You can find a list of faculty and staff that have completed the Safe Zone training here:
Safe Zone information can now be found on Canvas! We welcome everyone to review the homepage to stay up to date on Safe Zone related events. You can also browse our modules for more information on the LGBTQ+ community.
Statement on Hate Crimes/Hate Speech
Tenet 2 of The Cornerstone states that Florida Southern College scholars "...will respect the dignity, value, and worth of all persons while learning from the differences in people, ideas, and opinions." Students that are found responsible through the Student Accountability process for participating in acts that rise to the level of a Hate Crime will be subject to formal disciplinary sanctions assigned by the College up to Suspension or Expulsion from the College. The Florida Department of Law Enforcement defines Hate Crime as a committed or attempted criminal act by any person or group against a person or their property, which in any way constitutes an expression of hatred toward the victim because of their personal characteristics including: race, gender, gender identity, religion, ethnicity, sex or sexual orientation, age, ability, and any other real or perceived identities. Offensive conduct may include, but is not limited to, offensive jokes, slurs, gestures, epithets or name-calling, insults, offensive objects or pictures, or threats of intimidation or harassment.
If you witness any action that does not align with Florida Southern College's Cornerstone values, or is a violation of the Student Handbook, we encourage you to speak up and seek support. You can report a Campus Incident anonymously.
Gender-Neutral Restrooms
TuTu's Cyber Café
Fannin Center
Dell Hall Lobby
Hollis Hall Lobby
JR Lobby
Citrus Annex
Simmons Center
Polk Science
Counseling Center
Wynee's Bistro
Lake Hollingsworth Apartment Clubhouse
Campus and Community Resources