Master of Science in Industrial and Organizational Psychology
Make Better Workplaces with Psychologically Backed Practices
Earn your master's degree in Industrial and Organizational (IO) Psychology and apply psychological practices to make workplaces healthier and function better. The comprehensive M.S. in IO Psychology program explores the psychological perspectives that build the underlying organizational processes found in different industries.
Through faculty-mentored research and hands-on learning experiences, you'll gain a deeper understanding of how psychology can be used to improve productivity, increase efficiency, and promote team-building within an organization. Your master's degree will give you the experience and knowledge to thrive in careers in research, consultation, teaching, or general employment in organizations in both the public and private sectors.
Expert Faculty
Learn from faculty who are published experts in their fields and teach with engaged learning practices and years of practical experience. Professors are committed to your success and will provide you with individualized mentoring to propel you along your career path.
Flexible Schedule
Earn your master's degree around your busy schedule with flexible course offerings. The program is offered in a hybrid format with a combination of in-person class time and online coursework.
This accelerated degree can be completed in two years.
Team Building
This program utilizes a team-oriented educational model to encourage you to work collaboratively with your peers and form meaningful connections. Each semester, you'll be placed in work groups for group-based projects and discussion forums.
Choose Your Path
This MS program offers two different culminating degree experiences based on what your next moves are after finishing your master's.
If you're planning to pursue a doctorate, you can choose the Thesis option, in which you'll work with faculty on a research project that matches your interests.
If you anticipate moving into an applied position after completion, you can choose the Internship option, which will better prepare you for strong performance in the corporate world.
Top-Tier Internships
Florida Southern partners with local corporations to provide you with internship opportunities that will give you a competitive edge and a meaningful experience to learn from. Internship partners include:
Bristol-Myers Squibb
Collins Aerospace
Globalization Partners
Cemex
AgAmerica
Publix Supermarkets
Employment Technologies
Braathe Enterprises
Allegiance Staffing
Rebellion Defense
STEM Optional Practice Training
International F-1 students may be eligible for a STEM Optional Practice Training (OPT) extension. The extension allows for 24 months of additional OPT employment authorization for students in specific STEM (science, technology, engineering, and math) fields.
Employment must be directly related to the student's program of study in an approved STEM field.
Program Highlights
Innovative Engaged Teamwork Model
Each semester, you and your peers will be assigned to small groups that will work together across courses to complete group-based projects. The purpose of the group work is to give you a chance to interact directly with members of your cohort and experience different work styles. Although the bulk of your coursework will be done independently, every course will include a group project to ensure that you hone and develop important social skills necessary for the workplace.
New groups are created each semester so that you have the chance to make meaningful connections with different peers from your class. Your group experiences are not only a great way to get to know your fellow classmates but they also function as an applied laboratory for understanding fundamental principles of industrial and organizational psychology.
Groups will meet either in person or online for project work.
Mission Statement
The mission of the IO Psychology program is to prepare students for meaningful careers in the field through understanding and applying psychological principles to the workplace. The program seeks to engage students in academic and applied high-impact learning experiences to enable students to make meaningful contributions to organized life. The program endeavors to instill professional skills through coursework, relevant research, and professional internships
Outstanding Faculty
The Psychology faculty are housed within the Department of Social and Behavioral Sciences at Florida Southern College. Faculty contributors to the program consist of a diverse group of published, research-oriented professionals with expertise in human factors, organizational culture, leadership, research methods, statistics, industrial psychology, motivation, experimental psychology, and other areas of IO Psychology. Our professors are deeply committed to student success, academic excellence, and providing every student with positive, engaged learning experiences.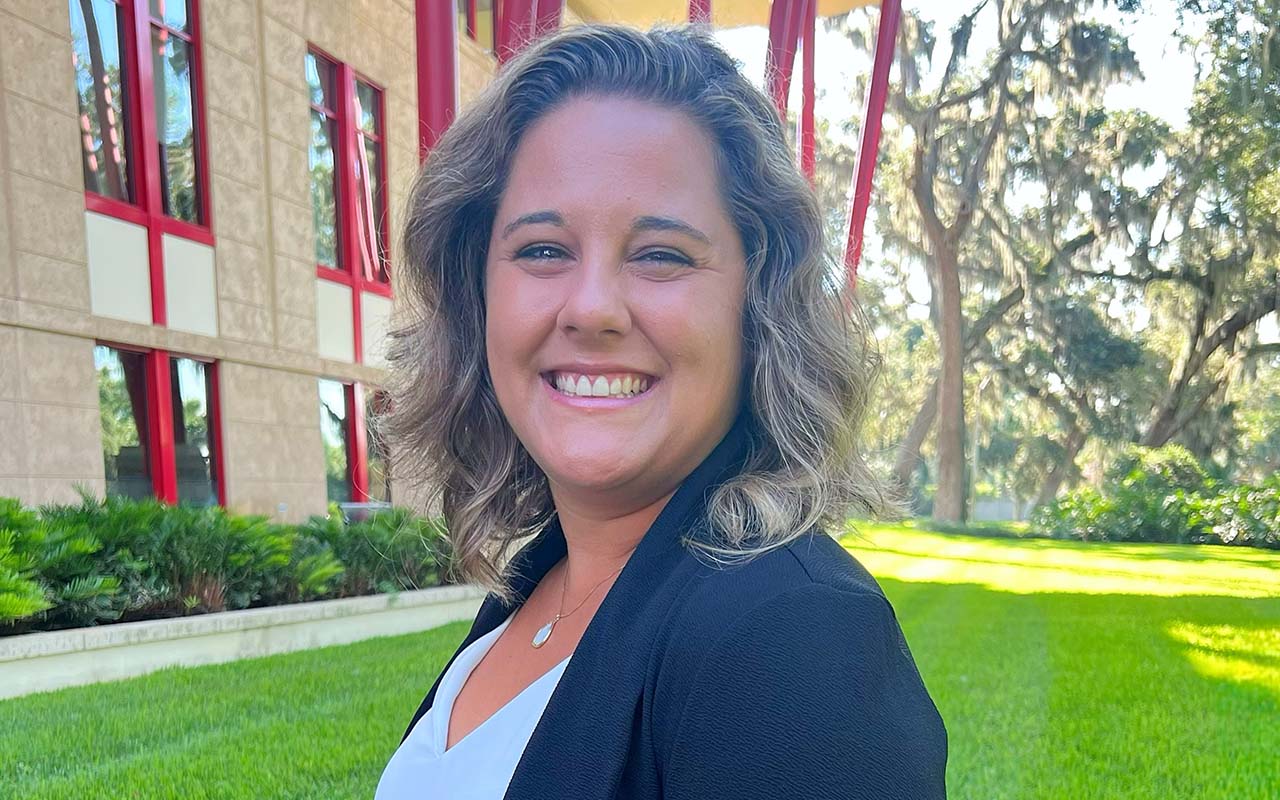 Featured Faculty
Victoria Lew
The mission of the IO psychology graduate program is to train students to think critically and apply theory, research, and methods to organizations. More specifically, students will use these skills to enhance organizational performance and well-being, develop teams, and improve business outcomes within professional settings. Our goal is to recruit passionate students into our program and teach them the theoretical and practical foundations necessary for both meaningful and successful careers within the field.
Admission Requirements
Official transcripts of all academic work
Current Résumé
Applicant must have an earned baccalaureate degree from a regionally accredited institution as verified by an official transcript of all undergraduate work completed with a cumulative GPA of 3.0 overall.
Recommendation Form or Letter of Reference (Academic or Work-Related Preferred)
Professional Essay (Maximum of two single-spaced pages).

Why are you interested in pursuing a graduate degree in Industrial and Organizational Psychology?
Highlight your academic and/or professional experiences that may be relevant to your success in this graduate program.
Discuss your academic strengths and weaknesses. How will these enhance or challenge your success as a graduate student? As the program at FSC is highly focused on a teaming model, please share your experiences contributing to teams in the past, whether in an educational, employment, or other setting.
Additional International Requirements
Official Translated Transcripts With Course By Course Evaluation**
Bank Letter Verifying Funds of Sponsor***
Valid Passport
Official TOEFL/IELTS Score****
** SpanTran (discount available), Academic Evaluation Services, Inc., Josef Silny, or World Education Services or another similar approved transcript evaluation agency.
*** A bank letter is a written statement on bank letterhead and signed by a bank official.
**** Must have completed an English language training program or at least one year at an English speaking institution to waive the TOEFL/IELTS testing requirement.
---
Additional Admission Requirements for IO Psychology
Completion of the following undergraduate courses (or approved equivalents) are preferred for admission into the IO program:
MAT 2022 Elementary Statistics
PSY 2206 Social Psychology
PSY 2210 Tests & Measurements
PSY 3310 Research Design & Statistics
PSY 3336 Industrial-Organizational Psychology
Course Delivery
Weeknight Hybrid
Students enjoy a convenient class schedule through a hybrid format. Each week, students attend two courses — one online and one on campus.
Curriculum
Required Courses - 33 hours
| Course Number | Course Name |
| --- | --- |
| PSY 6100 | Statistics and Research Methods I |
| PSY 6150 | Industrial Psychology |
| PSY 6200 | Statistics and Research Methods II |
| PSY 6250 | Organizational Psychology |
| PSY 6300 | Workplace Motivation |
| PSY 6350 | Personnel Selection |
| PSY 6400 | Training and Development |
| PSY 6450 | Leadership |
| PSY 6500 | Special Topics in Industrial and Organizational Psychology |
| PSY 6960/6961 | Internship in Industrial and Organizational Psychology |
| OR | |
| PSY 6970/6971 | Thesis in Industrial and Organizational Psychology |
Program Total - 33 hours
Program Costs
2023-2024
| | |
| --- | --- |
| Base Required Fees | Cost |
| Tuition Per Credit Hour | $800 |
| Technology fee per semester is based on credit hours enrolled | $30 to $120 |
$250 Non-Refundable Enrollment Deposit (Upon acceptance and applied toward your first semester tuition balance)
Frequently Asked Questions
How is this program different than other graduate programs in psychology?
Industrial and Organizational Psychology is the intersection of psychology, business, and computer science. It studies emotions, cognition and behavior in the workplace.
Are online courses asynchronous?
This program includes an in-person course and an online course each semester. There will be times when the online course has synchronous (scheduled) meeting times.
What types of careers will I be prepared for with a degree in IO Psychology?
IO Psychologists work in various fields, including Human Resources, Training and Development and a variety of other positions in industry and academia, including non-profit organizations, religious institutions, military organizations, as well as large corporations.
Will this program prepare me for a PhD in a related field?
Toward the end of our MSIO program, students have the opportunity to choose an internship route or a thesis route. The internship option will prepare the student to go to work in an IO-related field. The thesis option is for students who are interested in preparing for a doctorate program.
How does the internship option work?
Our faculty have developed relationships with various employers in the Central Florida area that offer internships in the field of IO psychology. In their second year of study, students will work with their program director to coordinate relevant internship experiences in an appropriate setting.
Upcoming Events
Learn more about the program with these in-person and virtual admission events.