4+1 Master of Industrial and Organizational Psychology
The program endeavors to instill professional skills through
meaningful coursework, relevant research, and professional internships.
Through small class sizes, students participate in meaningful coursework that integrates engaged learning practices, faculty mentored research, professional internships, and captivating field experiences. You'll be prepared and trained as an expert ready to take on careers in research, consultation, or even career coaching in the public or private sectors. Our program's unique perspective to the industrial workforce brings value to various industries that seek IO psychologists to help improve productivity, increase efficiency, and promote team-building within an organization. The 4+1 opportunity will allow candidates to begin graduate coursework immediately and save significant investment and time earning this prestigious degree.
Degree Options
Students who choose to pursue the Thesis option as their culminating degree experience will work with faculty on research projects designed to match the student's interest. This track is suited for those who plan to continue to a doctoral degree. Students who anticipate going directly into an applied position should choose the Internship option as it will better prepare them for strong performance in the corporate world.
Networking in the Field
Students primarily network through the Society for Industrial and Organizational Psychology (SIOP). This organization has a strong online presence and a national conference every year. Other opportunities are with the Society for Human Resource Managers (SHRM) and the Academy of Management.
Gaining Skills
Student will gain skills in analytical software, data analysis, survey development and administration, training and development, public speaking and presentations, and overall leadership.
STEM Optional Practice Training
The STEM OPT extension allows for 24 months of additional OPT employment authorization for students in specific STEM (science, technology, engineering and math) fields. Employment must be directly related to an F-1 student's program of study in an approved STEM field.
Specialized Academic Advisor
From the moment you enroll, the IO Program Director will be assigned as your secondary Academic Advisor to see you through your graduate experience from start to finish. Your advisors will help you develop an educational plan that matches your schedule and priorities.
Accelerated Program
Our program allows you to complete your degree and start your career sooner!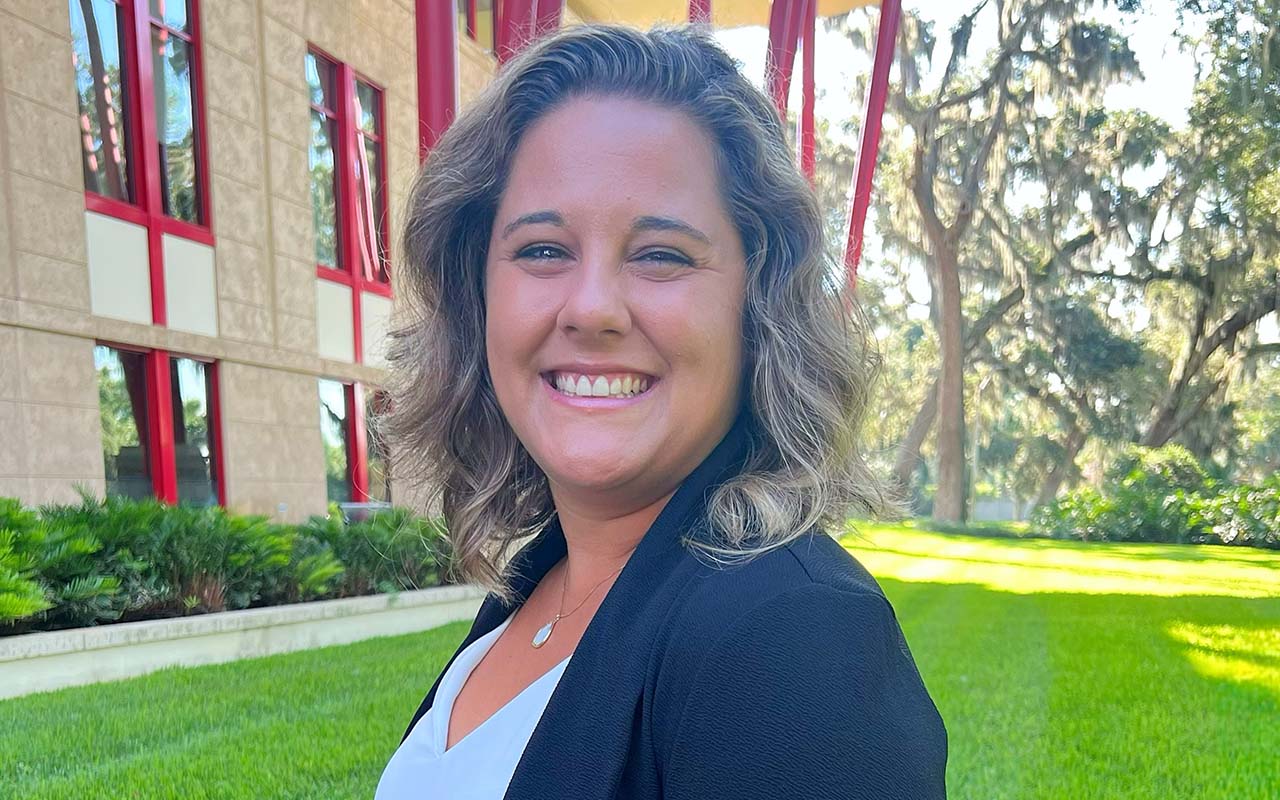 Featured Faculty
Victoria Lew
The mission of the IO psychology graduate program is to train students to think critically and apply theory, research, and methods to organizations. More specifically, students will use these skills to enhance organizational performance and well-being, develop teams, and improve business outcomes within professional settings. Our goal is to recruit passionate students into our program and teach them the theoretical and practical foundations necessary for both meaningful and successful careers within the field.
Admission Requirements
Completed Application (Students are encouraged to apply for admission during their Junior year).
Current Résumé
Professional Essay (Maximum of two single-spaced pages).

Why are you interested in pursuing a graduate degree in Industrial and Organizational Psychology?
Highlight your academic and/or professional experiences that may be relevant to your success in this graduate program.
Discuss your academic strengths and weaknesses. How will these enhance or challenge your success as a graduate student? As the program at FSC is highly focused on a teaming model, please share your experiences contributing to teams in the past, whether in an educational, employment, or other setting.

One letter of recommendation (academic reference preferred)
GPA of 3.0+ overall (cumulative)
MSIO Director Approval
Course Delivery
Hybrid
Courses are offered in a hybrid format, a combination of online and in-class meetings. One class will be offered on campus in the evening and one course will be offered online.
Curriculum
Required Courses - 33 hours
| Course Number | Course Name |
| --- | --- |
| PSY 6100 | Statistics and Research Methods I |
| PSY 6150 | Industrial Psychology |
| PSY 6200 | Statistics and Research Methods II |
| PSY 6250 | Organizational Psychology |
| PSY 6300 | Workplace Motivation |
| PSY 6350 | Personnel Selection |
| PSY 6400 | Training and Development |
| PSY 6450 | Leadership |
| PSY 6500 | Special Topics in Industrial and Organizational Psychology |
| PSY 6960/6961 | Internship in Industrial and Organizational Psychology |
| OR | |
| PSY 6970/6971 | Thesis in Industrial and Organizational Psychology |
Program Total - 33 hours
Students may take the following four classes within the 4+1 program: PSY 6100, PSY 6150, PSY 6200 and PSY 6250.
Program Costs
2023-2024
Any IO courses attempted in the fall or spring semesters before receiving the undergraduate degree will be charged at the traditional undergraduate full-time tuition rate. Any taken in a summer semester before receiving the undergraduate degree will be charged at the traditional undergraduate summer tuition rate. Graduate courses taken after the student receives their undergraduate degree will be billed at the current graduate IO program per credit hour rate.
| | |
| --- | --- |
| Base Required Fees | Cost |
| Tuition Per Credit Hour | $800 |
| Technology fee per semester is based on credit hours enrolled | $30 to $120 |
$250 Non-Refundable Enrollment Deposit (Upon acceptance and applied toward your first semester tuition balance)
What is IO Psychology?
Industrial and Organizational Psychology is the intersection of psychology, business, and computer science. It studies emotions, cognition and behavior in the workplace.
Are online courses asynchronous?
This program includes an in-person course and an online course each semester. There will be times when the online course has synchronous (scheduled) meeting times.
What types of careers will I be prepared for with a degree in IO Psychology?
IO Psychologists work in various fields, including Human Resources, Training and Development and a variety of other positions in industry and academia, including non-profit organizations, religious institutions, military organizations, as well as large corporations.
Will this program prepare me for a PhD in a related field?
Toward the end of our MSIO program, students have the opportunity to choose an internship route or a thesis route. The internship option will prepare the student to go to work in an IO-related field. The thesis option is for students who are interested in preparing for a doctorate program.
How does the internship option work?
Our faculty have developed relationships with various employers in the Central Florida area that offer internships in the field of IO psychology. In their second year of study, students will work with their program director to coordinate relevant internship experiences in an appropriate setting.