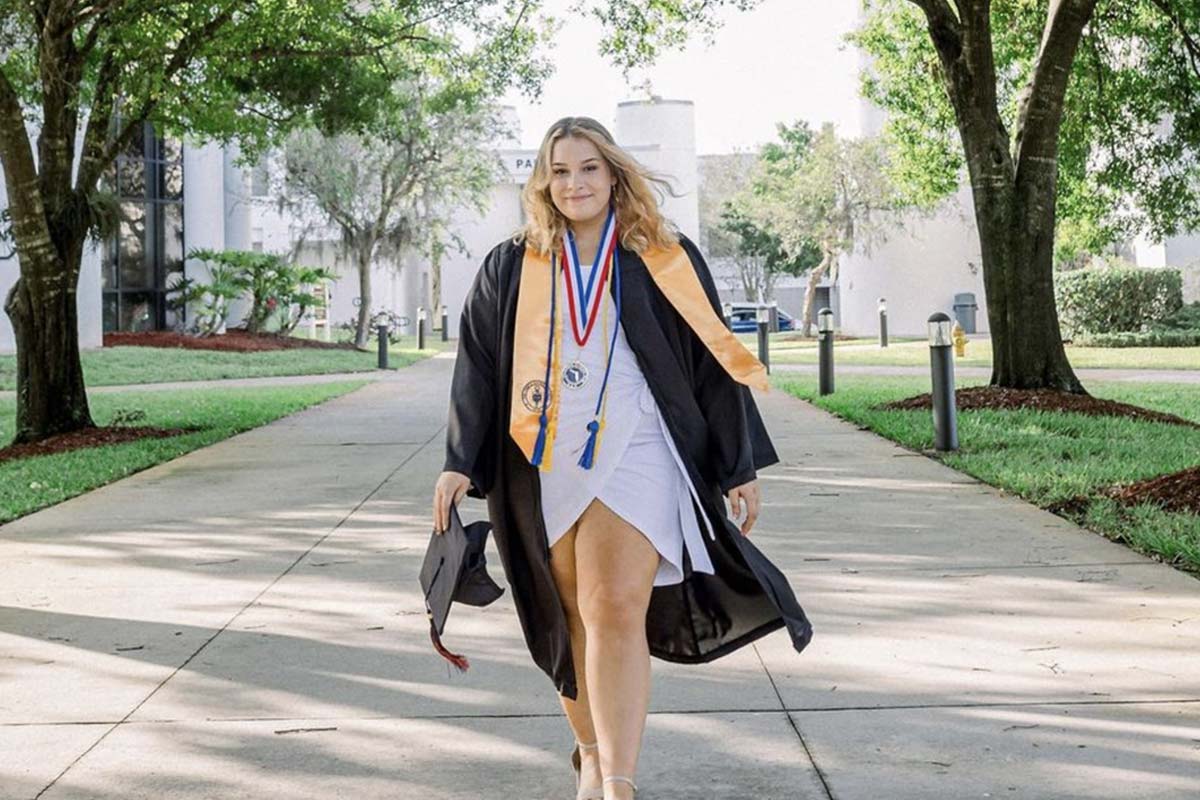 Moc Monday: Transfer Student Emily Dressel '26
Oct 16, 2023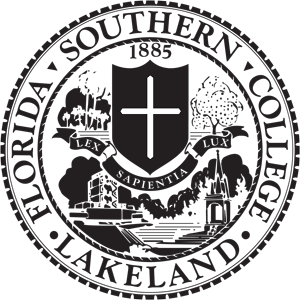 Emily Dressel, a transfer student from Avon Park, Fla., recently embarked on her Florida Southern College journey and is learning to navigate life on campus. Transferring from South Florida State College, where she knew almost everyone, the communication major is finding ways to get involved and is determined to make a mark.
Choosing Florida Southern: Finding the Perfect Fit
Emily's decision to transfer to Florida Southern was a well-considered one. Her passion for communication drives her pursuit of a four-year degree. She recalls, "I've always known I wanted to go into communications." Her early dreams of agricultural communications evolved as she found new interests, but her determination to continue her education remained constant.
Emily's move to Florida Southern was motivated by her desire for more expansive opportunities than those at her previous institution. After earning her associate's degree, Emily sought a supportive environment that encouraged her active involvement in extracurricular activities, fostered leadership opportunities, and provided a well-rounded college experience. Florida Southern seemed like the perfect fit.
"After being part of a small, close-knit community at South Florida Community College, I didn't want to go to a big state school, yet I wanted access to a range of opportunities. And that's what drew me to Florida Southern," says Emily.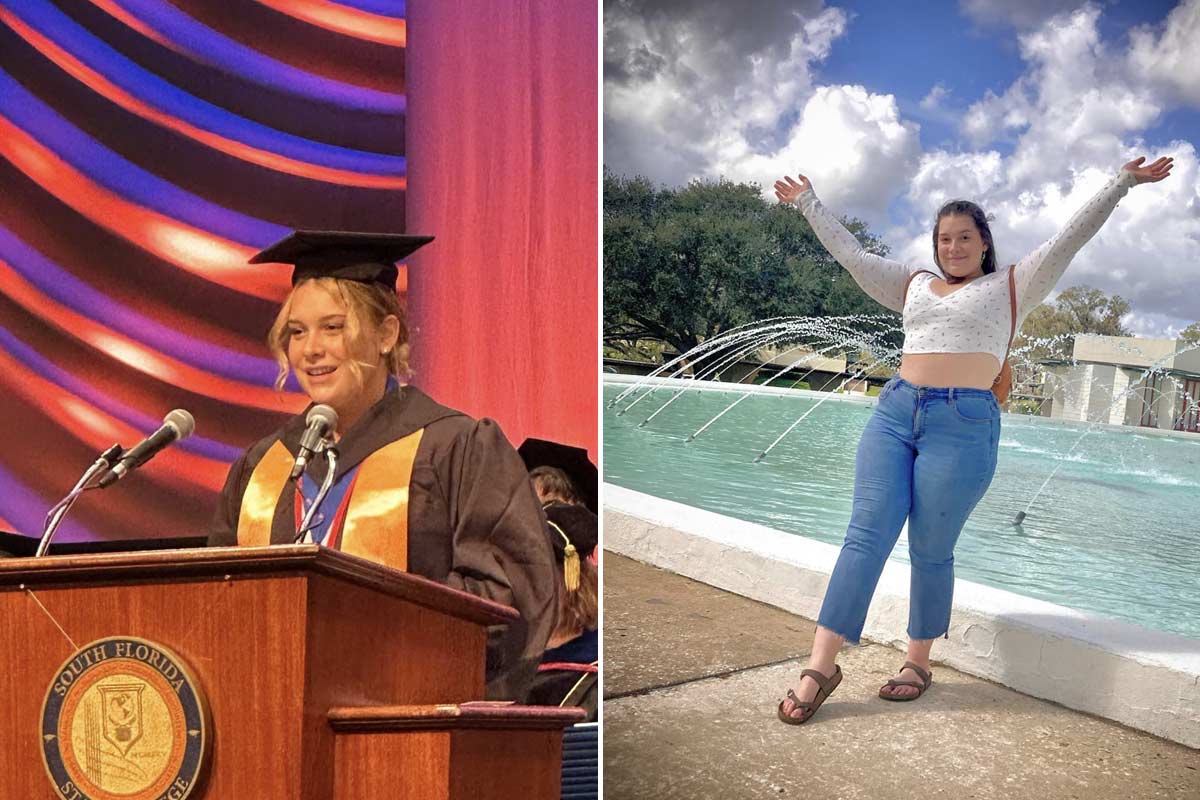 Transfer student Emily Dressel, commencement speaker at her South Florida State College graduation, feels more and more at home at FSC. Her message to other transfer students considering the transfer process? "Do it. Just do it!"
Getting Involved: A Key to Success
Once she arrived on campus, Emily wasted no time immersing herself in campus life. She found Florida Southern to be a place where students are encouraged to take the lead.
"I really liked how student-led everything is," she says.
Coming from campus where student-led organizations were not very common, she admires how students at FSC have the freedom to shape their college experience with involvement in campus organizations. Her background in the Future Farmers of America (FFA) instilled in her a desire to make a difference and connect with others, and she's eager to take an active role in campus organizations and finding opportunities to lead.
"I remember when I toured Florida Southern. They showed me the Hollis Room and told me about Student Government and the President Circle. I knew I wanted to be part of it!" Emily remembers. "I come from a really small student government association at my community school, where we didn't have nearly the amount of leadership opportunities."
Challenges and Overcoming Them: Florida Southern's Support System
Despite her enthusiasm, Emily admits that transitioning to a new environment as a transfer student was not without its struggles. She shared openly about her initial feeling of isolation. After transitioning to community college with many high school classmates, Emily's new surroundings meant needing to build a new community.
"I'm having to go at this at a whole new angle. For the first time in my life, I have to try to put myself out there more than I've ever had to," she admits. "But it's paying off!"
Recently, Emily was elected to the student Senate as a transfer senator, and she hopes to support future transfer students' as they make a new home at Florida Southern. She's also running for executive board of the campus's chapter of the American Marketing Association.
Looking to the Future: Emily's Vision
When asked about her vision for the future, Emily's eyes light up. She envisions herself positively impacting higher education, particularly in teaching communications. Her appreciation for her professors and the warm and welcoming environment at Florida Southern fuels her determination to create a similar atmosphere in her future classroom.
Beyond teaching, Emily desires to leave her mark on the campus. She is also a member of Lux 12, the communications department marketing and social media agency, where she has contributed to media projects, such as helping to develop content for the College's Diversity, Equity, and Inclusion Committee's initiatives.
While Emily is still settling into her new academic journey, she's grateful to all the people who have supported her along the way.
"From the depths of my heart, I want to extend my deepest gratitude to my mentor, Andy Polk, at South Florida, whose unwavering support has allowed me to continue my academic journey. I also want to thank Katherine Stanford, my Admissions counselor, and Marianne Brighton, in FSC's Financial Aid Office, who helped me realize my FSC dreams. Your support is the foundation for my success, and I am forever thankful."
She hopes to pay their kindness forward by playing a part in making the campus an even better place for all students.
Any advice for students thinking about transferring?
Her advice to fellow transfer students is straightforward: "Do it. Just do it." She emphasizes that Florida Southern is a campus where everyone can find their home and thrive.
Join the FSC Family and Start Your Transfer Journey Today! Sign up for Transfer Preview Day happening November 10.