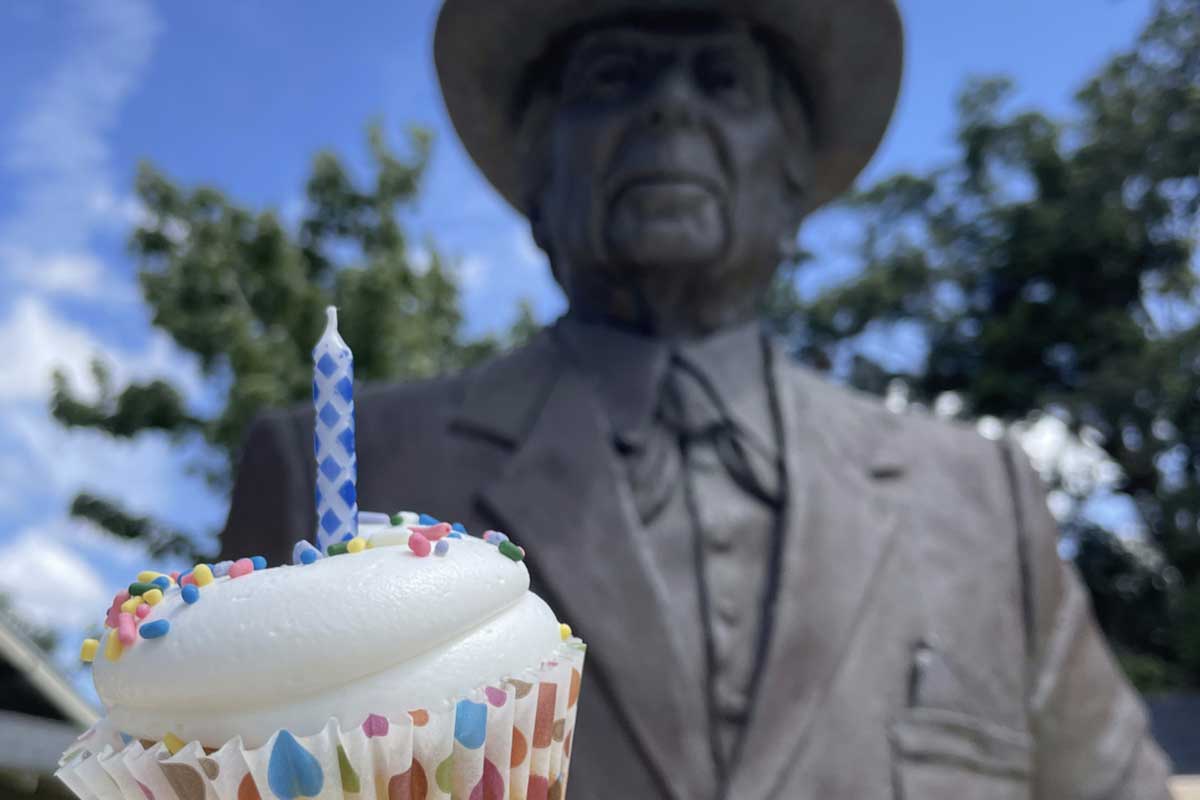 Celebrating A Decade of Tours
10 Facts About the Sharp Family Tourism and Education Visitors Center
Oct 30, 2023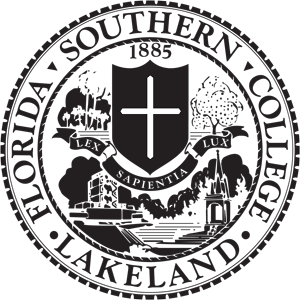 It's hard to believe that the Sharp Family Tourism and Education Visitors Center has been welcoming visitors for an entire decade!
Nestled into the northwest corner of Florida Southern College's picturesque campus, the Center officially opened its doors to the public on October 31, 2013. Named for Trustee Dr. Robert Sharp and his wife Peggy, it provides a home for the permanent display of photographs, furniture, and drawings depicting Frank Lloyd Wright's relationship with the College.
Having helped usher in a new era of cultural tourism, the Sharp Center welcomes 120,000 visitors a year, serving as the gateway to the world's largest single-site collection of Frank Lloyd Wright architecture.
To celebrate this milestone, let's journey through the ten fascinating facts that make the Sharp Family Tourism and Education Center well worth a trip.
1. Iconic Usonian House
The 1,330-square-foot Usonian House is the first Frank Lloyd Wright design to be built on the original site for its original client since 1966. The Sharp Center's Usonian House was designed in 1939 as a simple, low-cost home with a distinctly American character. It was intended for faculty housing, although it was never built. Visitors can explore this house, experiencing Wright's architectural innovations firsthand.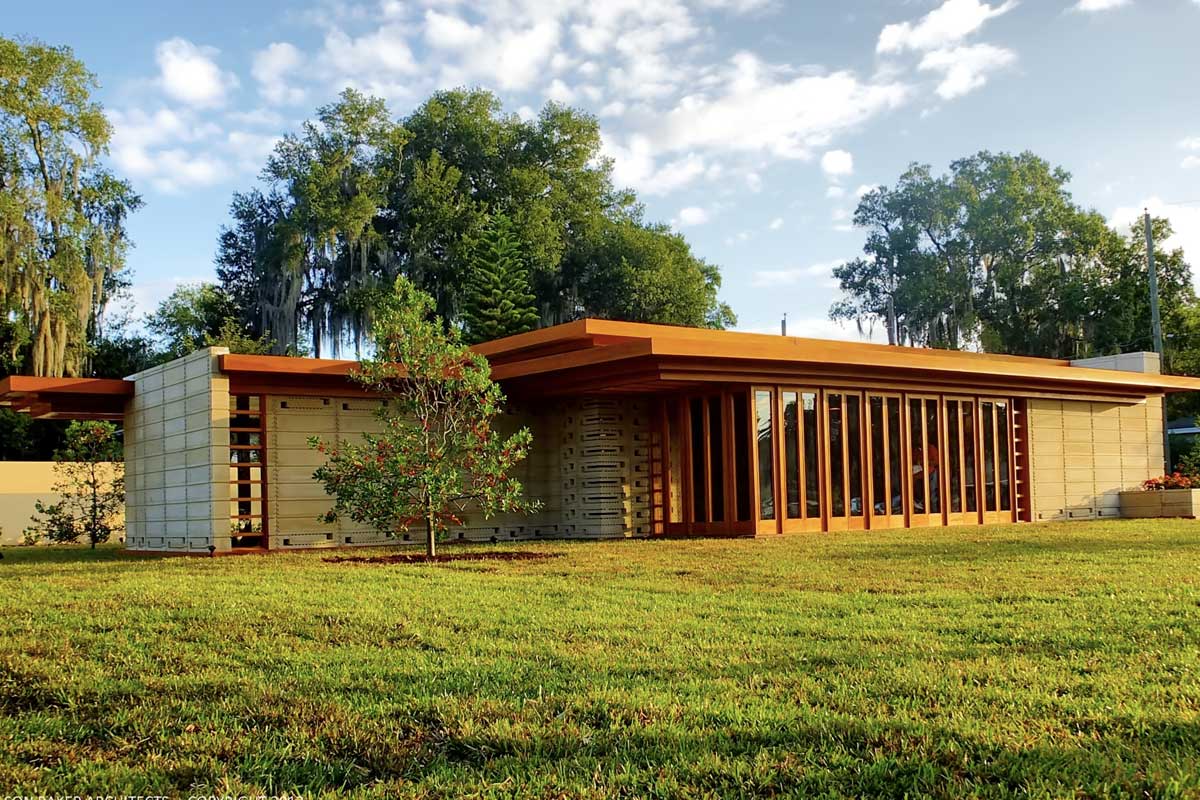 2. Organic Architecture
The striking one-story Usonian House has many signature Wright features, including cantilevered wooden beams, interlocking "textile" blocks inset with nearly 6,000 squares of colored glass, and expanses of floor-to-ceiling glass doors that make the beauty of nature an element of the home.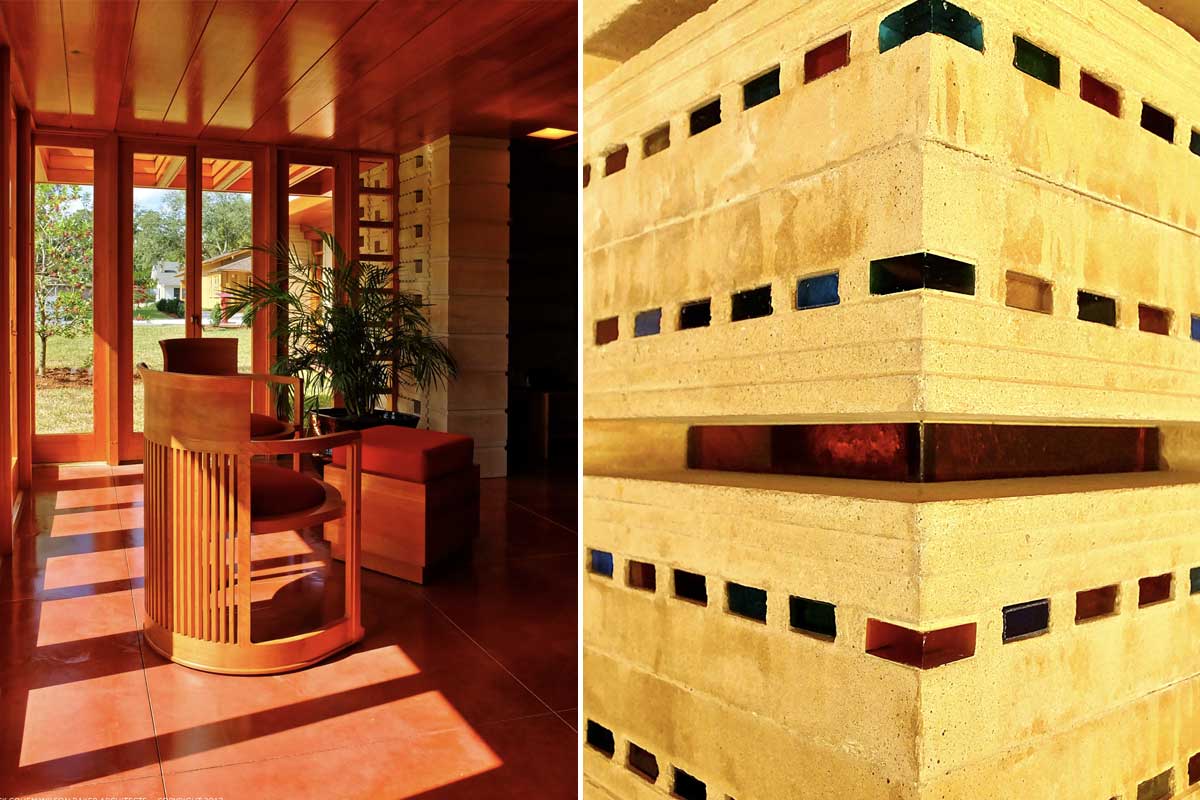 3. Wright-designed furniture
Frank Lloyd Wright often designed custom furniture for his Usonian homes, reflecting his commitment to affordable and functional residential spaces. The Sharp Center's Usonian features reproductions of Wright's furniture designs, including low-slung seating centered around a large hearth, cantilevered tables, and open shelving. Characterized by its simple, geometric shapes and use of reclaimed cedar wood, the furniture creates a sense of unity within the space while emphasizing functionality and minimalism.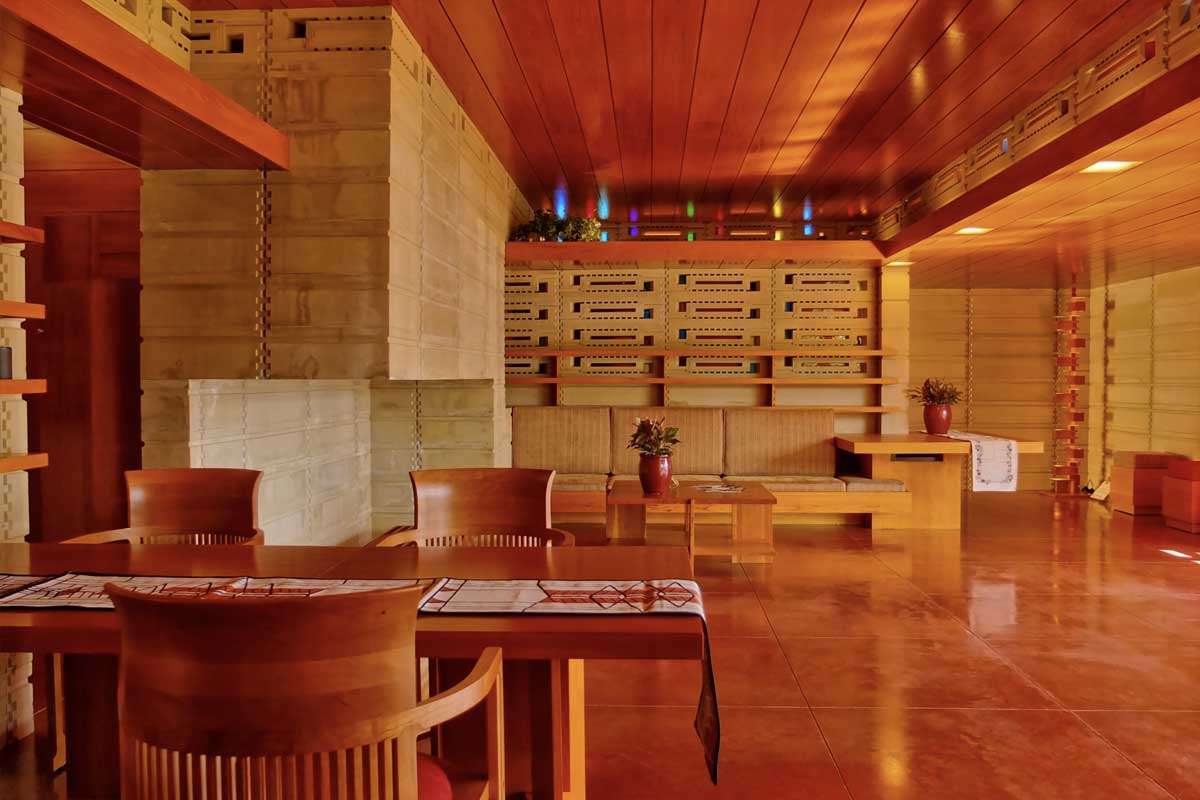 4. FSC-Wright History
Visitors to the center are treated to a 20-minute documentary that delves into the fascinating history of Frank Lloyd Wright's relationship with Florida Southern College. The film offers a unique glimpse into the past, featuring rarely-seen footage of FSC's former President, Ludd Spivey. In 1938, Spivey contacted Frank Lloyd Wright by sending a telegraph, expressing his visionary idea to create a "Great Education Temple" in Florida. Remarkably, this initial contact culminated in a handshake, beginning one of the longest and most enduring client relationships Wright would ever have.
5. Wright Himself
In addition to the Usonian House, the Center also includes the Ruthven Family Plaza. The plaza is home to a specially commissioned full-size bronze statue of Frank Lloyd Wright -- gazing toward the campus. The sculpture was executed by celebrated artists Don Haugen and Teena Stern. The piece features Wright wearing his signature porkpie hat in a jaunty pose, resting on his cane with a hand on his hip and an amused expression on his face. Standing at 5′ 7″, Mr. Wright's exact height, it is only the second life-sized statue of Wright known to exist.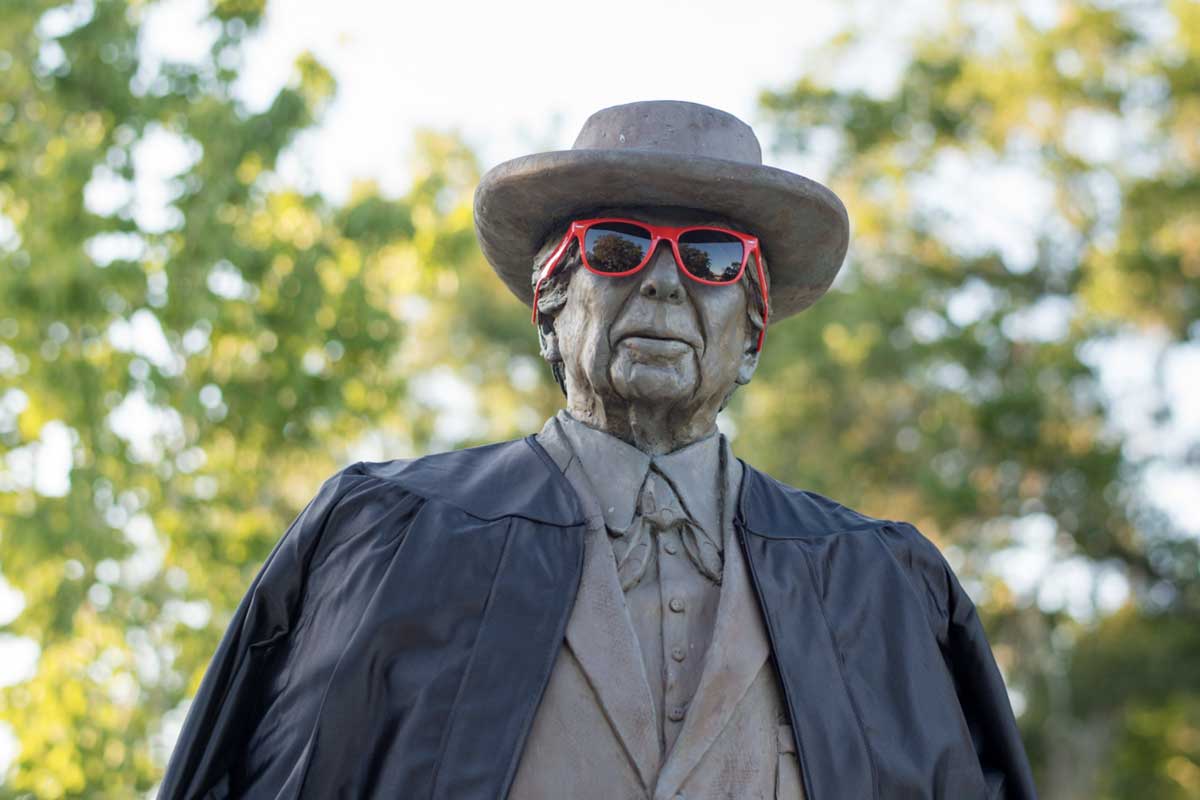 6. GEICO Gift Shop
Merchandise related to Frank Lloyd Wright has long been popular with visitors. Thanks to a generous gift from GEICO, an American Craftsman bungalow was purchased and renovated, creating 1,470 square-foot gift shop featuring a wide variety of home furnishings and collectibles that are stylish and timeless, just like Wright's designs. Whether looking for a lamp, a book on Wright, something wearable, or a postcard, you'll find something perfect to remind you of your time at FSC. Shop here »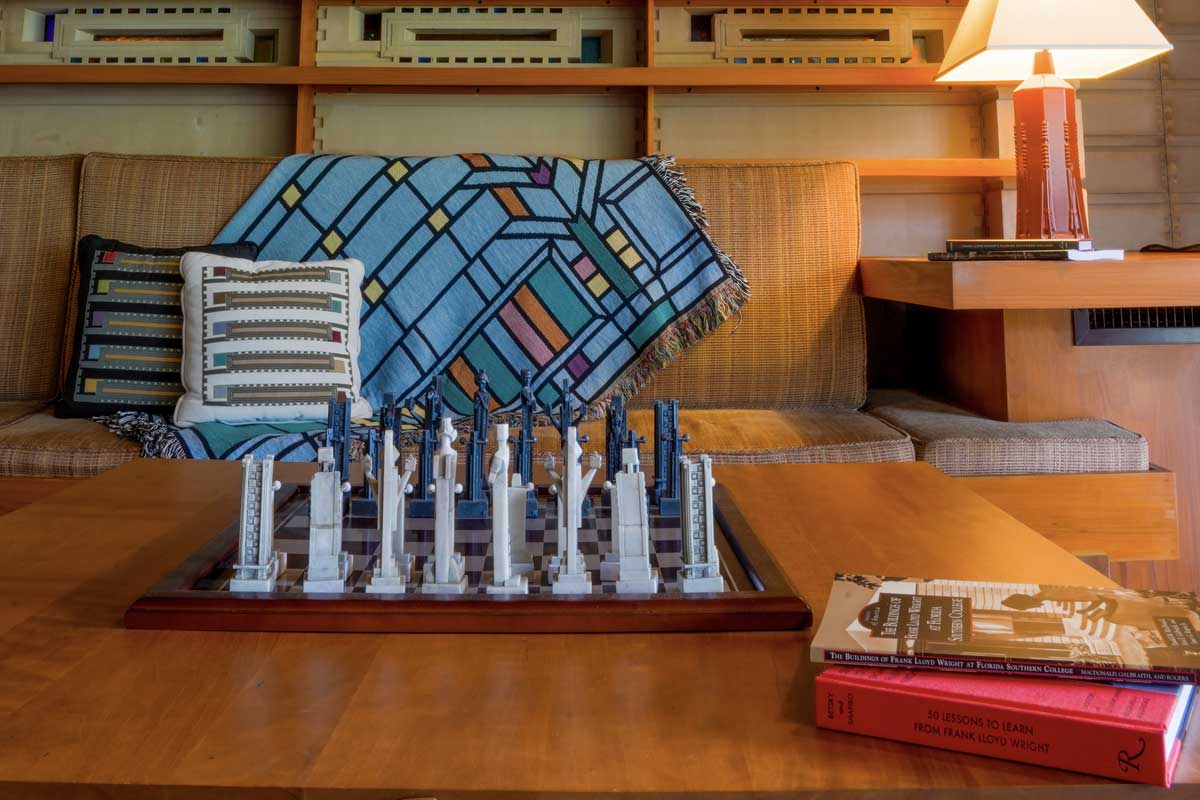 7. Home to Archives
Across from the Sharp Center, within the Sarah D. and L. Kirk McKay Archives, there's an archive of materials related to Frank Lloyd Wright's work at Florida Southern College. This collection includes original blueprints, documents, and photographs, offering a valuable resource for researchers and scholars.
8. Tripadvisor Travelers' Choice
The Sharp Center recently earned a Travelers' Choice award from Tripadvisor, proudly securing a place within the top 10% of establishments featured by the influential online platform. This prestigious recognition is reserved for attractions that consistently garner outstanding reviews from travelers.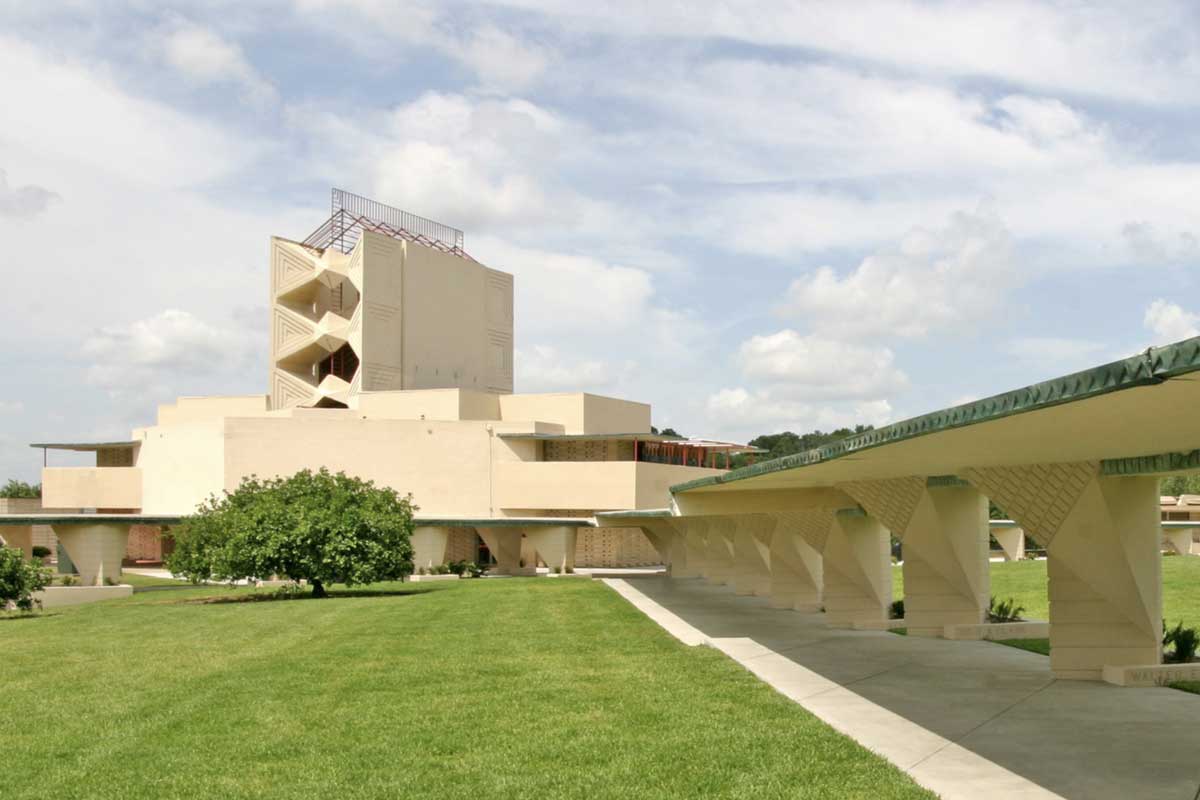 9. Four Interactive Tour Options
The Sharp Center offers a range of immersive tour options for visitors eager to explore FSC architectural marvels, including:
The "Usonian House Tour" which provides a guided exploration of the Usonian Faculty House, a prime example of Wright's affordable housing design.
The "Basic Tour" is 90 minutes with a look inside the Usonian, Annie Pfeiffer, and Danforth Chapels.
The "In-Depth Tour" provides an extensive 2.5-hour experience, which includes all features of the "Basic Tour" along with additional insights and access to six Wright-designed buildings.
For a comprehensive behind-the-scenes experience, the "Behind the Scenes Tour" takes guests on a deep dive into the history and design of the campus, including exclusive access to the only planetarium designed by Frank Lloyd Wright.
10. Discount Usonian Tours!
If you've never toured, now's the Wright time! Join us on Tuesday, October 31, for a $10 Usonian House tour. This one-day-only promotion is our way of saying thank you for your unwavering support over the past decade!
Reservations are strongly encouraged. Call our Sharp Center at 863-680-4597 to book!
Visit the Sharp Family Tourism and Education Center
Sharp Family Tourism and Education Center is located on the north end of the Florida Southern College campus. The Sharp Center is open Monday – Sunday from 9:30 a.m. – 4:30 p.m. The Center is closed for Easter, Thanksgiving Day, Christmas Day, and New Year's Day.
840 Johnson Avenue
Lakeland, FL 33803
Parking is available across the street at Florida Southern College.