Office of Information Technology Services
Rinker Technology Center
The Marshall and Vera Lea Rinker Technology Center offers students a place to complete coursework, collaborate for school projects, or to just to relax and watch TV.
Computer Labs
We have multiple lab locations on campus for your convenience.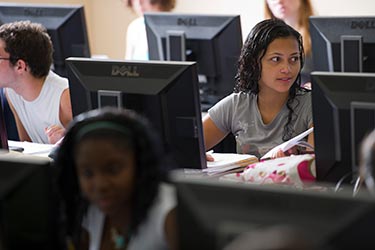 Classroom Labs
Some departmental classroom labs are open outside of scheduled classes. Check with your instructor or department on available hours to use these labs.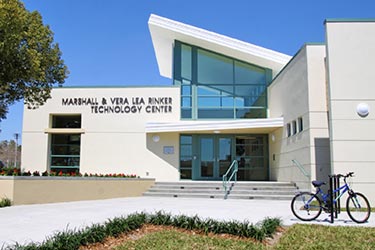 Rinker Technology Center
We have over 30 computers available in our lab, both PCs and Macs, printers, and three scanner stations.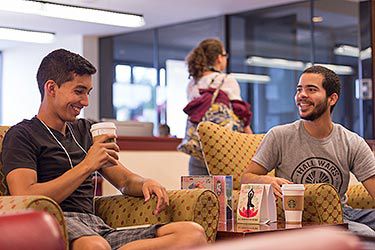 TuTu's Cyber Cafe
We also have a comfy "Cyber Lounge" with tables, chairs, couches and more in the Roux Library.
Lab Monitors and Assistants are on duty during open hours to monitor the lab, offer assistance to our patrons, and to staff the Help Desk.
Lab Hours
Rinker Tech. Center
Monday – Thursday
8:00 AM to 11:00 PM
Friday
8:00 AM to 9:00 PM
Saturday
12:00 PM to 6:00 PM
Sunday
3:00 PM to 11:00 PM
Summer Lab Hours
Summer Hours are in effect from Graduation until the first week of Fall classes.
Rinker Tech. Center
Monday – Friday
8:00 AM – 5:00 PM
Saturday & Sunday
Closed
Tutu's Cyber Café
Monday – Friday
7:00 AM to 11:00 PM
Saturday
9:00 AM to 11:00 PM
Sunday
9:00 AM to 11:00 PM
Please Note:
Because security protocols differ among devices, Florida Southern College cannot guarantee connection for all streaming devices. FSC Information Technology Services will allow access based on the device's MAC address, however, if a student is unable to connect with a particular device there is an option to purchase an individual BrightHouse connection by calling 863.327.1009 (select 0 when asked for a phone number). Students are responsible for their BrightHouse bill and stopping and/or transferring services when departing the college.
EMAIL
Microsoft Outlook web-based e-mail for easy access to e-mail from any location
TEXT MESSAGING
Florida Southern uses text messaging for conveying time sensitive or emergency information direct to your cell phone. For example you will receive notification of:
Weather cancellations and delays
Emergency conditions on or around campus
All students who provide the college with their cell phone number will be automatically enrolled in this service.

TROUBLESHOOTING E-MAIL
If you are receiving the error: "You're currently signed in with an Office 365 email account, which can't be used with Outlook.com" it can be resolve by one of the following options:
Optimize your browser by clearing its cache and cookies. You may follow the instructions in this link on how to do it.