Master of Business Administration: Healthcare Management
The Florida Southern MBA is
nationally ranked and recognized.
Our flexible, award-winning MBA provides you with a competitive advantage in today's demanding marketplace.
The Healthcare Management Concentration is designed to meet the growing demand from industry for graduates with healthcare management skills. According to the U.S. Bureau of Labor Statistics (BLS), employment of health services managers is projected to grow 32 percent in the next decade, indicating there will be a greater need for leaders who organize and manage healthcare staff and medical practice. Students who wish to pursue careers in healthcare administration are encouraged to consider this concentration which is comprised of courses associated with healthcare analytics, finance, policy, and quality.
Next term start date 1/9/2024
MBA Merit Scholarship
This is a one-time award between $500 to $1,500 for applicants who submit a GMAT/GRE score as part of their MBA application process.
AACSB Accredited
Accreditation by the Association to Advance Collegiate Schools of Business (AACSB) is the mark of excellence in business education earned by fewer than five percent of business schools worldwide.
Accelerated Program
Our flexible 12 to 24 month program allows you to complete your MBA and start your career faster!
Large Alumni Network
Our MBA graduates work at many of the Fortune 500 firms in Florida and nationally, such as Amazon, Publix, Geico, Lockheed Martin, Citibank, as well as notable entrepreneurial ventures.
Increase Your Earning Potential
In 2021 NACE found that an MBA created a 51% earning differential from those with an undergraduate degree.
Learn More
Thomas Horton Thomas Horton
Florida Southern MBA Pillars
With living case studies, executive mentors, and international field experiences, the Florida Southern MBA program is tailor-made to meet the growing demands of the business world. You will work on projects that will have an impact on real companies, nonprofit organizations, or the public service sector. You will train for a truly global career, and you will network with faculty who bring real-world business experience to the classroom.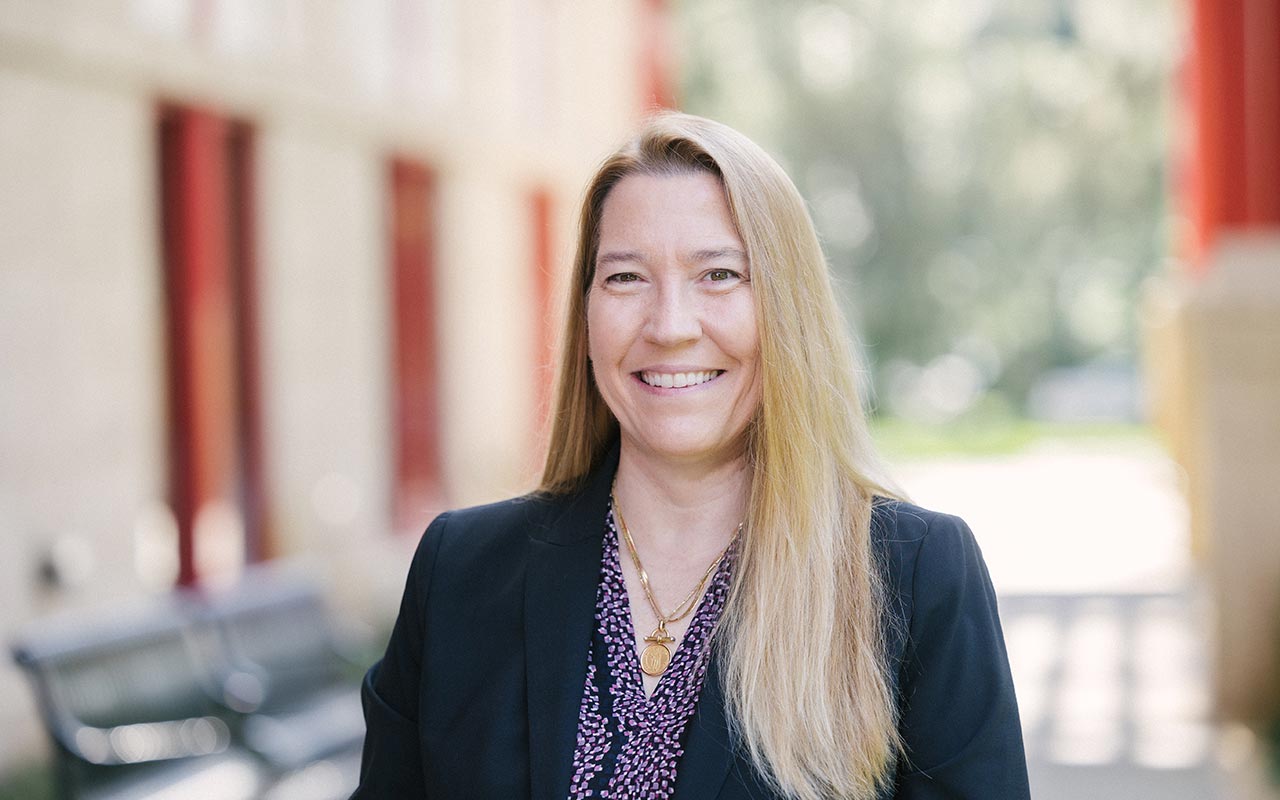 Featured Faculty
Elizabeth Krause
Our Healthcare Management program targets individuals looking to gain the knowledge and skills necessary to respond to challenges and opportunities within the health services industry. Our curriculum represents core competencies, which are critical to effective leadership across all domains of health services delivery.
You Should Think About Getting Your MBA
Admission Requirements
Official undergraduate transcripts of all academic work with a minimum 3.0 grade point average (GPA) on a 4.0 scale
GRE/GMAT Scores*
Current Résumé
Personal statement that reflects your interest in our MBA program.

The essay should not exceed 2000 words, and should explain how your interest in pursuing an MBA degree at Florida Southern College relates to your professional/career goals. Your essay should also describe any experiences that have prepared you for success in our program.

Two Recommendation Forms or Letters of Reference
*See if you qualify for a GRE/GMAT waiver.
International Student Requirements
Official Translated Transcripts With Course By Course Evaluation**
Bank Letter Verifying Funds of Sponsor***
Valid Passport
Official TOEFL/IELTS Score****
** Academic Evaluation Services, Inc., Josef Silny, SpanTran, or World Education Services or another similar approved transcript evaluation agency.
*** A bank letter is a written statement on bank letterhead and signed by a bank official.
**** Must have completed an English language training program or at least one year at an English speaking institution to waive the TOEFL/IELTS testing requirement.
Apply Now
Course Delivery
Flexible Saturday-hybrid
Complete the program through solely Saturday-hybrid courses, which meet on campus every other Saturday, with the remaining coursework completed online, or through a combination of Saturday-hybrid and fully online courses. This flexible delivery is ideal for working professional who still want face-to-face interactions.
Curriculum
Foundation Courses - 0 hours
| Course Number | Course Name |
| --- | --- |
| BUS 6010 | Graduate Business Foundations* |
Required Courses - 21 hours
| Course Number | Course Name |
| --- | --- |
| BUS 6360 | Leadership and Organizational Behavior |
| BUS 6460 | Marketing Strategy |
| BUS 6560 | International Business |
| BUS 6660 | Economic Decision Making** |
| BUS 6760 | Financial Management** |
| BUS 6860 | Data Analytics** |
| BUS 6960 | Strategic Management** |
Healthcare Management Required Courses - 9-12 hours
At least three Healthcare Management courses are required (9 credit hours). One additional elective is required if student chooses to only complete 9 hours.
| Course Number | Course Name |
| --- | --- |
| BUS 6200 | Healthcare Informatics & Decision Making |
| BUS 6210 | Health Policy |
| BUS 6330 | Healthcare Finance AND/OR |
| BUS 6340 | Healthcare Quality |
Additional Elective Courses - 3 hours (If only taking three Healthcare Management Required Courses)
| Course Number | Course Name |
| --- | --- |
| BUS 6260 | Management Negotiations |
| BUS 6270 | International Field Experience |
| BUS 6280 | Graduate Internship in Business |
| BUS 6290 | Entrepreneurship/New Venture Creation |
| BUS 6350 | Business Law for Accountants |
| ACC 6120 | Corporate Taxation |
| ACC 6140 | Taxation of Partnerships and Estates |
| ACC 6200 | Auditing with Accounting Information Systems |
| ACC 6300 | Advanced Financial Accounting & Reporting |
| ACC 6400 | Advanced Managerial Accounting |
| ACC 6420 | Accounting Data Analytics |
| ACC 6620 | Ethics in Accounting |
| ACC 6960 | Accounting Internship |
MBA Program Total - 33 hours
* This is a pass/fail, self-paced course that focuses on accounting, finance, economics and statistics to equip students with an overview of fundamental background knowledge and skill-sets essential for success in the FSC MBA program and career.
** Course has the prerequisite requirement of BUS 6010 Graduate Business Foundations.
Program Costs
2023-2024
| | |
| --- | --- |
| Base Required Fees | Cost |
| Tuition Per Credit Hour | $1,035 |
| Technology fee per semester is based on credit hours enrolled | $25 to $100 |
$250 Non-Refundable Enrollment Deposit (Upon acceptance and applied toward your first semester tuition balance)
*Tuition will be billed prior to the beginning of each semester based on credit hours. Tuition must be paid by the first day of class.
Scholarships Available
MBA Merit Scholarship
To be considered for this merit based scholarship, applicants must submit a GMAT/GRE score as part of their MBA application process.
Scholarship awards will be granted based on the following tier system:
$1,500 for GMAT or GRE equivalent score of 650 or higher.
$1,000 for GMAT or GRE equivalent score of 550 to 649.
$500 for GMAT or GRE equivalent score of 500 to 549.
This is a one-time award that will be applied as a tuition discount in the first year of MBA enrollment.
Graduate Assistantships
A limited number of graduate assistantships are offered. The assistantship program offers tuition discounts in exchange for hours worked.
To be eligible to apply for a Graduate Assistantship position students must have:
Already been accepted into their chosen program
Submitted their GRE or GMAT scores.
Various Amounts
Learn More
Are Online courses asynchronous?
Yes. Assignments are due weekly and there is no requirement to login at specific time frames.
What are the hours of the Saturday-hybrid classes?
There are 3 different time blocks for Saturday courses: 9:00 to 11:45 AM, 12:45 to 3:30 PM, and 3:45 to 6:30 PM.
Can I change delivery methods at any point of the program?
Yes. Our Flex Saturday-hybrid delivery allows you to take both Saturday-hybrid and Online courses. If you started with our fully Online delivery, you are able to switch to our Flex Saturday-hybrid delivery.
How many classes can I take each 7-week term?
We recommend students take one course each term, but students can take up to two courses per term if they want an accelerated progression. We encourage you to reach out to us to discuss your preferred timeline.
Can the GRE/GMAT requirement be waived?
To be considered for a GRE/GMAT waiver, you must hold a 3.00+ cumulative GPA or higher and meet one of the following criteria:
Applicant is a graduate of an AACSB-accredited business school with a 3.25+ cumulative GPA
Applicant is a graduate of Florida Southern College with a 3.25+ cumulative GPA
Applicant is a graduate of Florida Polytechnic University with a 3.25+ cumulative GPA
Applicant is a graduate of a regionally accredited institution with a 3.30+ cumulative GPA
Applicant currently holds a master's or terminal degree (JD, MD, PhD, etc.)
Applicant currently holds an active CPA license
Applicant is a lifetime Beta Gamma Sigma member
Applicant has a minimum of 3 years of qualifying managerial experience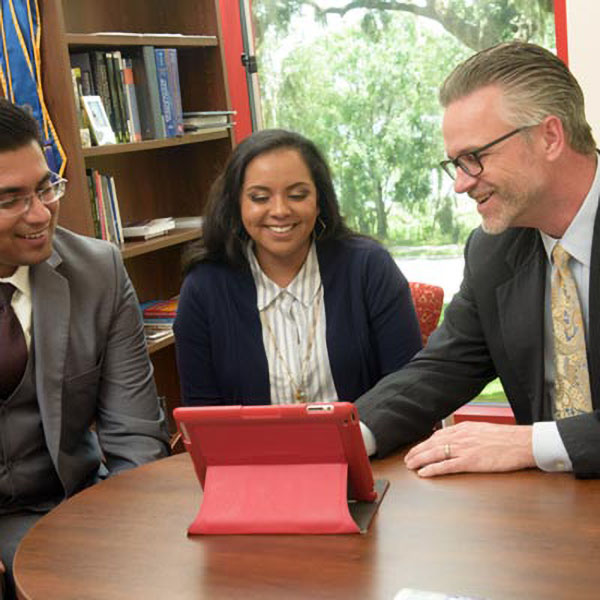 Adult & Grad Admissions
MBA Virtual Information Session
Dec 14 6:00 PM
An online webinar for prospective graduate students to learn more about the Master of Business Administration program, as well as our post-baccalaureate certificates in Business Analytics, Esports Management, Healthcare Management, and Supply Chain Management. This event is designed to present an overview of our programs, provide an opportunity to connect with faculty, and hear from your admission counselor.
Location: Online