Elizabeth Krause, DHA
Assistant Professor of Healthcare Administration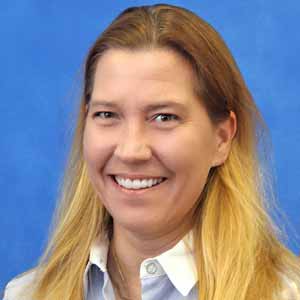 Our Healthcare Management program targets individuals looking to gain the knowledge and skills necessary to respond to challenges and opportunities within the health services industry. Our curriculum represents core competencies, which are critical to effective leadership across all domains of health services delivery.
Biography
Dr. Elizabeth Krause is an Assistant Professor in Healthcare Administration in the Barney Barnett School of Business and Free Enterprise at Florida Southern College. Prior to joining FSC, she held senior-level management positions within the healthcare industry, including Practice Administrator for a surgical group in Tampa, FL, Director of Clinic Operations for a large multi-specialty physician group in Cedar Rapids, IA, and Director of Finance and Operations for a speech language pathology and occupational therapy practice in Tampa, FL.

Elizabeth's teaching interests include courses in healthcare management, healthcare finance, health policy, healthcare quality improvement, and health information systems. She has developed the Healthcare Administration program for Florida Southern College, consisting of nine new courses in healthcare management, health policy, and healthcare operations.

Her professional areas of expertise include clinic operations, strategic planning, revenue cycle management, process and quality improvement, organizational design, and health information technology implementation.

Her research centers on issues of accessibility to health services, including health outcomes for socioeconomically disadvantaged populations, the application of spatial analytics in health services research and evolving trends in the healthcare industry, including medical tourism and advances in health information technology.


Education
B.A. in Geography from the University of St. Thomas
M.H.A. from Seton Hall University
D.H.A. from the Medical University of South Carolina
M.B.A from the University of Tampa