Timothy Moore
Visiting Instructor of Biology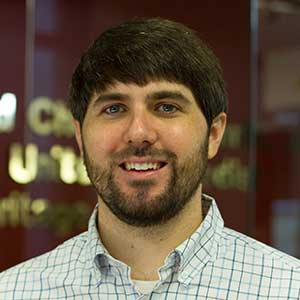 Teachers are responsible for passing knowledge to a new generation and inspiring their curiosity. My goal is to embrace this responsibility and encourage their interest in biology and for them to start asking questions about how and why things are. A student's interest in subject matter often relies on the impact of one teacher in one class, and it is my philosophy to be that teacher who shows them the wonder of biology.
Biography
The driving force that led me to my future in biology was my interest in animals. I started off with potential paths elsewhere in other fields but as a college freshmen discovered my main passion was to follow my curiosity in the natural world with animals, their behavior, and their ecology. I wanted to know how these organisms interacted with each other, why they acted the way they did, and what their structural differences were. Along the way, I found I had an overall interest in nearly everything biology-related ranging from ethology to anatomy to genetics. It was exciting to learn how different components of the biological world interact and to see how and why things are the way they are. I graduated with my B.S. in Zoology in 2006 from Auburn University and immediately went into graduate school at Georgia Southern University to pursue my Master's Degree in Biology. My thesis research project involved ring-tailed lemurs at St. Catherine's Island, GA and analyzing their female-dominant behavior in relationship to their food consumption. My academic horizons spanned further with classes such as emerging diseases and deep sea environments and from my experiences teaching biology labs. I found I really enjoyed teaching and loved talking about the different aspects of biology to my students and how it related to their daily lives. One of my favorites was demonstrating how you can apply the scientific method to nearly every situation. I hoped that some of my enthusiasm would rub off on them and influence how they view biological and scientific topics in the future, regardless of their ultimate profession.
After graduating with my M.S. in 2012, I worked a series of different jobs ranging from adjunct teaching to sales to light farm work until finding my way to Florida Southern College where I am thrilled to have the opportunity to enlighten a new generation of students on the amazing field that is biology by instructing courses and labs in Human Anatomy and Physiology.
Education
Georgia Southern University, Statesboro, GA, M.S. – Biology
Auburn University, Auburn, AL, B.S. – Zoology: Ecology, Evolution, Behavior
Interests
I enjoy visiting zoos, aquariums, museums, state parks, spending time with family, walking my dogs, watching sports, and other forms of entertainment like movies and games.