Sydney Steele
Admissions Counselor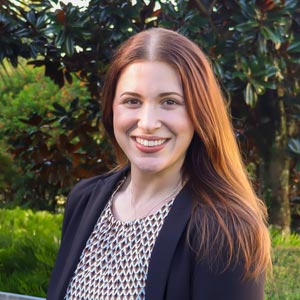 Biography
Where are you from?
Tampa, FL
Educational Background
Bachelor of Fine Arts in Musical Theatre from Florida Southern College. Go Mocs!
The Perfect Saturday
For me, it would be sleeping in, hitting the gym, visiting Lakeland's Saturday farmers market, and spending the night watching a movie with friends.
On working in admissions at FSC
Joining the admissions team as a 2021 graduate is so exciting. I can't wait to share what makes Florida Southern special with all the students and families I will interact with.
Favorite Restaurant
Hands down, Palace Pizza in Downtown Lakeland! I've lost count of how many times I went during my time in college. They have the best garlic knots around!
Favorite Campus Tradition
My favorite campus tradition would have to be Winter Wonderland. Each fall semester, we have a celebration to close out the first semester leading into the holiday break!
Favorite Music/Books/TV Shows
My favorite movie is Legally Blonde and I enjoy to read non-fiction. I also love listening to country music. Some of my favorite artists are Cody Johnson and Luke Combs. And obviously, I love show tunes!
Favorite thing about FSC
My favorite thing about FSC would have to be the professors. They are all truly experts in their field and make a great connection with each of their students on a professional, as well as personal level.
Something surprising about me
I am originally from Ohio. O-H!