Suman John, Ph.D.
Assistant Professor of Nursing (BSN)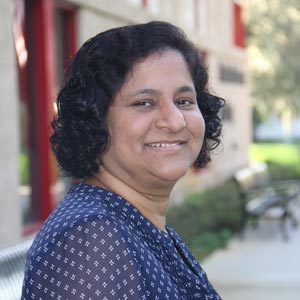 I teach because I want to make a positive difference in the lives that I meet. When I teach, I find it rewarding to impart knowledge that the student is seeking to grow in their chosen career or to enhance their future. Teaching energizes me and I attempt to share this enthusiasm with my students to motivate them in their learning process. I believe in making learning fun and innovative. I believe being an enthusiastic and knowledgeable role model will empower students to dig deeper into the content discussed, as well as take personal ownership of their learning. The best type of learning found in students is the one that gained on their own. In addition, effective teaching involves a collaborative relationship with the student and instructor. I have grand expectations of both my students and I, which is mutually beneficial because it keeps my students, as well as myself, engaged and accountable.
Biography
I believe in Malcom Knowle's principles of adult learning. I respect my learners' previous experiences and knowledge which will only enhance what they learn. I have specific objectives and student learning outcomes I want to achieve by the end of the course. Learning is student centered and involves the student in the learning process. I, therefore, see my role as mentor and guide. For example, my approach is to ask critical thinking questions, provide short case scenarios to the topic discussed, use of illustrative analogies to make the subject matter relevant to the learner which allows retention of content. I take into consideration the diverse types of learners in my class. For example, making visually appealing information available such as, pictures or videos to enhance the information learned and online gaming activities.
In addition, I align my teaching with the constructivist theory. Cognitive learning that focuses on the student as an active learner. Examples of such activities include peer to peer collaborative group learning. This allows the learner to apply new knowledge in a different context.
I have learned so much as an educator working among undergraduate nursing students especially what motivates them to succeed. My goals as an educator are to have students interested and self-invested in the content taught. As a result, this leads to better learning outcomes. I have had the opportunity to assess my student's needs individually and this has been instrumental in helping students overcome their barriers to learning. Helping students critically think and study is a major factor of my influence in their educational journey. I am a no-nonsense educator that is firm but approachable and fair. I want my students to achieve their goals and be successful and I will endeavor to put forth that effort to attain this outcome.
I grew up in Philadelphia Pennsylvania since the age of 7. I have been living in Lakeland Florida for over 25 years. There is big difference between the big city and Lakeland. I have been a nurse for over 25 years. Very active as a kid, was a tom boy. Loved sports and being out-doors. Naturally, a quiet introspective individual that is focused, serious and a perfectionist. There is a natural fun- loving side that only comes out with individuals, I am comfortable with. I have a dry sense of humor that comes out when you least expect it. I love to write poetry and prose and as a teenager I was constantly a deep thinker that focused on philosophical matters and the changing world and how to make a difference.
Spiritualty is very important to me and keeps my world balanced, especially when things around me are out of balance. Volunteered a lot in my church and my community. Brought up to value the importance of family and doing the right thing.
I am the oldest of three siblings. I went to college and had no idea what I wanted to be but eventually I found nursing and I have enjoyed it ever since. My heart has always been in teaching even as a kid. So now life has brought me to my dream and that is being a teacher and nurse.
This passion for teaching has not dulled, even today. I am and will remain a life-long learner or in other words "a book nerd." I have completed my doctorate in nursing practice and now teach nursing in the BSN program at Florida Southern College.
I have three boys. One is in his first year in college, the other is in 10th grade and my little one is in first grade. I had all my children late in life. What is the saying? They keep you young. My family and I go to various family functions, amusement parks and travel when the opportunities arise.
Education
Keiser University, Fort Lauderdale, Florida; Doctorate in Nursing Practice August 2018.
Florida Southern College, Lakeland, Florida; Master of Science Nursing, Nurse Educator Track, December 2009.
Excelsior College, Formerly Regents' College, Albany, New York; Bachelor of Science Nursing, May 2000.
Pennsylvania State University, Philadelphia, Pennsylvania; Associate Degree Liberal Arts, August 1994.
Frankford Hospital School of Nursing, Philadelphia, Pennsylvania; Nursing Diploma, July 1994.
Interests
Reading for fun, spiritual mediation, cooking and trying new recipes, arts and craft projects, fun activities with family and motivating others.
Publications
DNP poster presentation of DNP manuscript:
Continuing Education and Improving Adherence to Isolation Guidelines in a Hospital Setting, August 2018.