Stacey McColley
Adjunct Faculty - Clarinet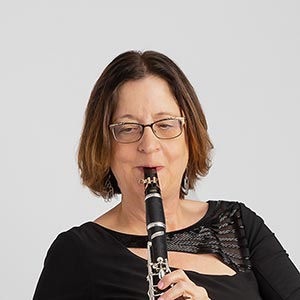 Each student comes into my studio with their own unique skills, needs and experiences. We start there and work together to craft them into professional level musicians.
Biography
Stacey McColley is the Adjunct Professor of Clarinet at Florida Southern College and other colleges throughout Central Florida. She is also an artist/faculty member at the InterHarmony International Summer Music Festival in Acqui Terme, Italy. Stacey has been named a Buffet Crampon Performing Artist, and serves as a Vandoren Artist Clinician.
Stacey serves as Principal Clarinet with the Punta Gorda Symphony Orchestra, clarinet/Eb clarinet/bass clarinet with the Southwest Florida Symphony Orchestra, bass clarinet with the Sarasota Opera orchestra, and is the Solo Clarinetist and Artistic Director for the Reflections Chamber Ensemble, an ensemble dedicated to the performance of contemporary chamber music, based in Tampa, FL. Stacey served as Principal Clarinet for many years with the Opera Tampa Orchestra under Maestro Anton Coppola.
In recent years Stacey has performed chamber music concerts throughout the United States, including Carnegie Hall in New York City, San Francisco, Minneapolis, Arcidosso, Italy, Acqui Terme, Italy, Madrid, Spain, Texas, and throughout Florida. She has also appeared as a guest soloist with orchestras and Wind Ensembles throughout Florida.
Stacey has her Master's Degree in Clarinet Performance from the University of California, and while in California studied with Mitchell Lurie, Kalmen Bloch, Michelle Zukovsky and William Powell. She received her BA from the University of South Florida.
Stacey's students are regularly accepted into prestigious schools such as Julliard, Boston University, California Institute of the Arts, Tanglewood, Florida State University, University of Florida, DePaul University, Indiana University, New York University, and more.
Education
MA, Music Performance, University of California San Diego
BA, University of South Florida
Graduate work, University of Southern California
Interests
Photography, gardening, kayaking, and biking.
Awards
Buffet Crampon Performing Artist
Vandoren Artist Clinician
Publications
"How to Create a Beautiful Sound", published virtually by Vandoren, downloaded over 50,000 times.