Shameka Shelby, Ph.D.
Department Chair
Associate Professor of Chemistry
Dr. John A. Leighty Endowed Chair in Chemistry Chair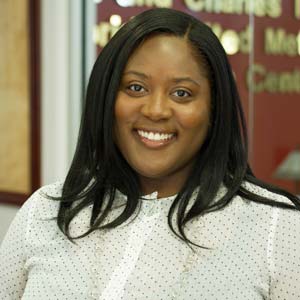 My objective is to aid students in their ability to think critically about every subject. Whether an artist needs to interpret a famous work or a doctor needs to diagnose a patient, both require the coordination of higher level thinking processes to solve a problem. To that end, I attempt to create as many opportunities as possible for students to engage in critical thinking utilizing the scientific method in the classroom and laboratory settings.
Biography
Dr. Shelby received her B.S. degree in Biochemistry from Xavier University of Louisiana and a Ph.D. in Biological Chemistry from the University of Michigan. As a post-doctoral researcher at the University of Michigan Kellogg Eye Center, Dr. Shelby studied degeneration of the retina following retinal injury and disease. Dr. Shelby joined the faculty of Florida Southern in the fall of 2015. Her current research interests are in the cellular and biochemical maintenance of the retina and its supporting structures. More specifically, she focuses on the phagocytic mechanism by which the retinal pigment epithelium eats depleted photoreceptor outer segments. Dr. Shelby has worked closely with undergraduates during many of her research projects and has plans to introduce more students to biomedical research through exploring this exciting field.
Education
University of Michigan Ph.D. (Biological Chemistry)
Xavier University of Louisiana B.S. (Biochemistry)
Interests
She enjoys traveling with her family.
Awards
National Society of Leadership and Success Excellence in Teaching Award - Marygrove College, 2014
Sigma Alpha Pi - Marygrove College Honorary Membership, 2014
King Chavez Parks Initiative, Future Faculty Fellowship, 2012
Biological Chemistry PhD Graduate Student Award, 2011
Rackham Merit Fellowship, University of Michigan, 2008
Guidant Foundation Award, 2007
Hypercube Scholar Award, 2006
Publications
"MERTK signaling in the retinal pigment epithelium regulates the tyrosine phosphorylation of GDP dissociation inhibitor alpha from the GDI/CHM family of RAB GTPase effectors." Shelby, S.J., Feathers, K.L., **Ganios, A.M., Jia, L., Miller, J.M., Thompson, D.A., Exp Eye Res. 2015 Aug 15;140:28-40. doi: 10.1016/j.exer.2015.08.006.
"Hypoxia inducible factor 1α contributes to regulation of autophagy in retinal detachment." Shelby, S.J., **Angadi, P.S., Zheng, Q.D., Yao, J., Jia, L., Zacks DN., Exp Eye Res. 2015 Aug;137:84-93. doi: 10.1016/j.exer.2015.06.016.
"Circadian and Non-Circadian Modulation of Autophagy in Photoreceptors and Retinal Pigment Epithelium." Yao, J., Jia, L., Shelby, S.J., **Ganios, A.M., Feathers, K., Thompson, D.A., Zacks, D.N., Invest Ophthalmol Vis Sci. 2014 Apr 29. pii: iovs.13-13336v1. doi: 10.1167/iovs.13-13336.
"MERTK Interactions with SH2-Domain Proteins in the Retinal Pigment Epithelium" Shelby, S.J., Colwill, K., Dhe-Paganon, S., Pawson, T., Thompson, D.A., PLoS One 2013 Feb; 8(2): e53964.doi:10.1371/journal.pone.0053964.
"Simultaneous quantification of polycyclic aromatic hydrocarbons (PAHs), polychlorinated biphenyls (PCBs), and pharmaceuticals and personal care products (PPCPs) in Mississippi river water, in New Orleans, Louisiana, USA." Zhang, S., Zhang, Q., Darisaw, S., Ehie, O., and Wang, G., Chemosphere 2007 Jan; 66(6):1057-69.