Sara Terrell, Ph.D.
Associate Professor of Exercise Science
Exercise Science Program Director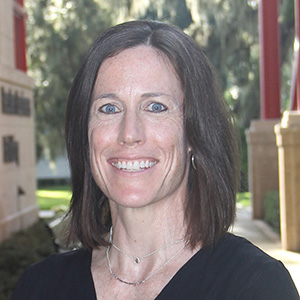 Florida Southern College's commitment to engaged learning aligns with my value system as a higher education professional. A successful classroom environment should stimulate engagement through hands-on learning while also developing critical thinking, facilitating the acquisition of lifelong learning and developing evidenced based problem-solving strategies. Cultivating a classroom environment centered on these aforementioned areas is a humbling task and one I wrestle with every semester. The reward is worth it when students begin to synthesize and apply information at a higher level of thinking, a transferrable skill needed to navigate the dynamic healthcare landscape we live in today.
Biography
Prior to working at FSC, I served as an Assistant Professor of Exercise Physiology and the Adult Fitness Coordinator for an employee disease state management and wellness program. I developed and managed exercise programs and worksite fitness initiatives for multiple employees. I also worked in college athletics as an assistant coach while overseeing the strength and conditioning programming for women's basketball. My passion and expertise is exercise programming across a diverse spectrum, from your athletic population to those suffering from chronic disease. I am a Certified Strength and Conditioning Specialist (CSCS) from the National Strength and Conditioning Association (NSCA), and have USA Weightlifting Level 1 Coaching Certification. I am an active professional member of the NSCA serving in leadership roles at the state and national level. In my career, I also worked as an Exercise Specialist for the University of Michigan MFIT Health Promotion division with responsibilities in personal training, fitness testing, group exercise class instruction, exercise counseling, wellness programming, and fitness center management.

My current research interests span the multitude of my professional experiences, from sport performance, to reducing barriers to exercise, to high impact pedagogical practices. I enjoy almost anything involving exercise and sports, but ultimately, what I most enjoy is helping others achieve a better quality of life using exercise as the cornerstone.
Education
Ph.D., Eastern Michigan University, Ypsilanti, MI
M.S., Exercise Physiology, Eastern Michigan University, Ypsilanti, MI
B.A., K-12 Health, Physical Education & Recreation; English (secondary licensure); Adrian College, Adrian, MI