Sara Fletcher Harding, Ph.D.
Dean of Arts and Sciences
Professor of Religion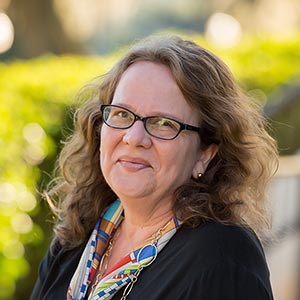 My approach to the New Testament employs historical-critical methodology and facilitates an understanding of the New Testament writings in their social and historical contexts (1-2d century, CE, Roman Empire). In my courses, students can expect to joyfully discover and critically think about the theological, religious and ethical meaning found in early Christian literature. My approach to teaching Hellenistic Greek consists of group reading and translation modeled after my own beloved Greek professors.
Biography
Dr. Sara Harding joined the faculty of Florida Southern College in 1997. She is Professor of Religion, having earned her Ph.D. in Religious Studies from Marquette University with concentration in New Testament. An Omicron Delta Kappa Teacher of the Year, and General Board of Higher Education and Ministry of the UMC Exemplary Teaching Award recipient, Dr. Harding teaches the Hellenistic Greek language sequence, upper-level courses in the Life & Teachings of Jesus, the Pauline Letters, the Johannine Literature, and interdisciplinary courses in science and Religion, and Gender and Biblical Interpretation. In 2001, Harding formally initiated her interest in issues related to religion, science and Biblical interpretation. On behalf of the college and colleagues, Dr. Nancy M. Morvillo and Randall M. MacDonald, Harding received a competitive 2011 International Society for Science and Religion Library Award (Cambridge, U.K.). She is also the co-editor, with Nancy M. Morvillo of "Religion and Science: Critical Concepts in Religious Studies; (4 vols., London: Routledge Press, 2010). Dr. Harding is married and has two children.
Education
Ph.D., Religious Studies, Marquette University, Milwaukee, WI
M.A.R., Iliff School of Theology, Denver, CO
B.A., Psychology, Nebraska Wesleyan University, Lincoln, NE
Awards
Participant, Jessie Ball DuPont Seminar, National Humanities Center, Research Triangle Park, NC - 2012
Exemplary Teaching Award, General Board of Higher Education and Ministry of the United Methodist Church - 2010
Omicron Delta Kappa Teacher of the Year - 2010
Publications
Harding, S., Morvillo, M., Religion and Science: Critical Concepts in Religious Studies (4 vols., London: Routledge Press, 2010)