Peter Schreffler, Ph.D.
Associate Professor of English
Department Chair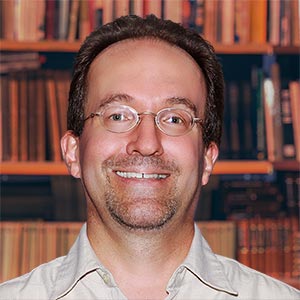 I am continually reminded that I have been the frequent beneficiary of grace from those in authority over me throughout my adult life, so I feel obligated to pass that on to my students. I am keenly aware that my students often present only a small and distorted piece of themselves in my courses and that they can never be defined as people by how well they have done in my class.
Biography
Dr. Schreffler was born in Ohio and grew up in southwestern Pennsylvania. He earned his B. A. in English at a small Christian college north of Pittsburgh and his M. A., and Ph. D., in English at Bowling Green State University in northwestern Ohio. He is married and has one son, a junior in high school. Dr. Schreffler has a deep interest in national politics and in baseball. He is a guardian of a small band of cats.
Education
Ph.D., M.A., English: Rhetoric and Composition, Bowling Green State University
B.A., English, Geneva College
Publications
"Through His Words You Shall Know Him: A Rhetorical Analysis of Governor Rick Scott's Inaugural Address" October 2011. Florida College English Association (FCEA) Florida Institute of Technology, Melbourne, FL
"The Guaranteed B: Motivating Freshman Writers to Work Hard". October 2010. Florida College English Association. Rollins College, Winter Park, FL
"Listening to Their Own Voices: Using Brain-Based Grammar to Edit Student Writing" October 2009. FCEA. Boynton Beach, FL