Melih A. Küllü
Assistant Professor of Finance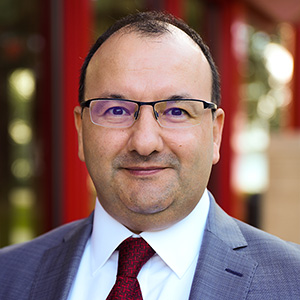 My teaching philosophy revolves around creating an environment where students discuss, understand, learn, and are able to relate various concepts in the context of the bigger picture. In order to prepare them for their future careers, I like to foster critical thinking, resourcefulness, and professional engagement to facilitate the acquisition of lifelong learning skills.
Biography
Dr. Mel Küllü received his PhD in Finance at Rensselaer Polytechnic Institute in New York. Prior to that, he completed his MBA at the University of North Carolina - Greensboro with a focus in Strategy, and received his bachelor's degree in International Relations from Ankara University in Türkiye.
His primary research areas are corporate finance, financial institutions, financial intermediation, business groups, international business, and emerging markets. He taught/teaches undergraduate and graduate courses such as Financial Markets and Institutions, Managerial Finance, Financial Risk Management, Commercial Bank Management, Financial Statement Analysis, Risk Financing, Risk Management, Portfolio Analysis & Management, and Debt Instruments & Markets. Prior to his academic career, Dr. Küllü worked as a Bank Inspector for Finansbank, and as a Banking Associate for Bank of America. His work experience also includes business-development consulting.