Lemaro Thompson
Assistant Professor of Management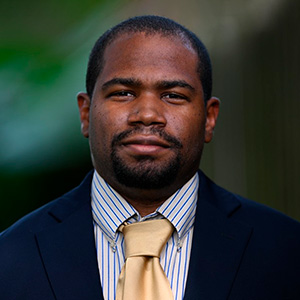 If I had to sum up my teaching philosophy in one quote I would again return to the Greeks and quote Plutarch who said, "The mind is not a vessel that needs filling, but wood that needs igniting." The first metaphor is illustrative of passivity, as a vessel and its contents do not interact in a significant manner; however, the second metaphor, the interaction of fire and wood, is the quintessence of activity–a chemical reaction that produces warmth and changes the wood in the process. Likewise, the essence of my teaching philosophy is engagement, interaction and growth. This is because as a student what I most desired from each class session was not a data dump but a new paradigm to see the world and myself, tools with which I could dissect and analyze ambiguities and abnormalities, knowledge and insight to decipher between shades of gray. I want the same for my students; I want their minds to become conflagrations that are capable of uniquely contributing to business and society.
Biography
I am passionate about learning and helping others learn.
Education
The University of Texas at San Antonio
Ph.D., Management and Organizational Studies
Interests
Cycling, Photography, Chess, and Reading & Writing
Publications
Thompson, L. 2022. Politics in the Workplace: How Can Managers Keep the Peace? MIT Sloan Management Review. https://sloanreview.mit.edu/article/politics-in-the-workplace-how-can-managers-keep-the-peace/

Thompson, L. 2021. Seeing Red and Blue: Political Discrimination at Work. Journal of Management Inquiry. https://journals.sagepub.com/eprint/SXGGSHWTTVW2M5XDIPQJ/full

Prieto, L., Phipps, L., Thompson, L., & Smith. 2016. Schneiderman, Perkins, and the Early Labor Movement: An Ethic of Care Approach to Labor & Safety Reform. Journal of Management History.

Prieto, L., Phipps, L., Thompson, L., & Smith, X. 2015. Social Entrepreneurship and National Human Resource Development: A Caribbean Perspective. International Journal of Entrepreneurship.

Thompson, L., & Prieto, L. 2013. Improving Retention among College Students: Investigating the Utilization of Virtualized Advising. Academy of Educational Leadership Journal.

Arora, A., Raisinghani, M., Leseane, R., & Thompson, L. 2011. Personality Scales and Learning Styles: Pedagogy for Creating an Adaptive Web-based Learning System. International Journal of Online Pedagogy and Course Design.