Kaitlin Gallagher, Ph.D.
Assistant Professor of Marine Biology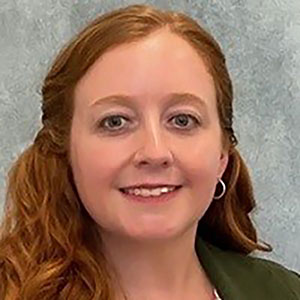 Biography
I am originally from Boynton Beach, FL, so I practically grew up at the beach. However, it wasn't until I started scuba diving that I realized I wanted to pursue a career in marine biology. As a result, I attended the Harriet L. Wilkes Honors College (branch of FAU) where I majored in marine biology. I thought I wanted to eventually specialize in elasmobranch biology, however, I changed my mind after completing a summer internship in fish parasitology. Ever since then I have been in love with the creepy but fascinating creatures that are parasites! After completing my Bachelor's degree I pursued my Ph.D. at the University of Connecticut. My research there focused on the morphological and genomic evolution of shark tapeworms. During my time at UConn, I also acted as a TA for a number of courses and discovered my love of teaching. It was then that I decided I eventually wanted to work at smaller, undergraduate focused institution so I could both teach and help students get involved in research. After UConn, I spent some time at the Bamfield Marine Sciences Centre, Christian Brothers University, and Rhodes College where I continued to teach and engage students in independent research projects. I am excited to have returned to Florida to continue my career as an Assistant Professor of Marine Biology at Florida Southern College!

Education
Ph.D. Parasitology, University of Connecticut B.A. Marine Biology, Harriet L. Wilkes Honors College of FAU
Interests
I am an avid runner and reader. I also love spending time camping, hiking, and kayaking whenever possible. I have a huge soft spot for cats and probably fit the descriptor of a crazy cat lady.
Publications
Gallagher, K.A., and Caira, J.N. 2020. A new species of Acanthobothrium (Cestoda: Onchoproteocephalidea) from the small eye pygmy shark, Squaliolus aliae (Chondrichthyes: Squaliformes: Dalatidae), in Taiwan. Journal of Parasitology, 106: 818¬–827.

Caira, J.N., Jensen, K., Pickering-Villa, M., Ruhnke, T.R., and Gallagher, K.A. 2020. Intrigue surrounding the life cycles of species of Clistobothrium (Cestoda: Phyllobothriidea). International Journal of Parasitology, 50: 1043–1055.

Laramore, S. E., Krebs, W., Lave, A. L., and Gallagher, K. A. 2017. Survey of Bivalve Molluscs for Bonamia sp. and other parasitic pathogens in Florida East Coast Lagoons. Journal of Shellfish Research, 36: 379–390.

Caira, J.N., Gallagher, K. A., and Jensen, K. 2017. Litobothriidea. In: Caira, J.N. and K. Jensen (eds). Planetary Biodiversity Inventory (2008-2017): Tapeworms from the vertebrate bowels of the earth. University of Kansas, Natural History Museum, Special Publication No. 25.

Gallagher, K. A., Caira, J. N., and Cantino, M. 2017. Ultrastructure of cell types within the scolex and cephalic peduncle of the litobothriidean tapeworm, Litobothrium aenigmaticum. Invertebrate Biology, 136: 243–259.
Projects
Examining changes in fish parasite community in western TN rivers over the past 80 years Evaluating the prevalence of ticks carrying bacterial pathogens in recreational spaces Characterizing the parasite community of the western TN dog population Examining whether western TN geese are acting as vectors of zoonotic pathogens