Jose Dominguez, PT, Ph.D., OCS
Assistant Professor of Physical Therapy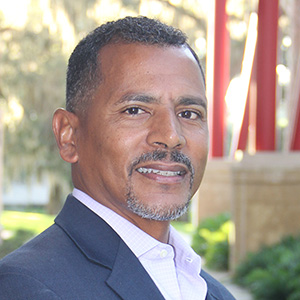 My interest in teaching and education comes from a strong desire to serve my profession, educate future practitioners and share many of my successes as well struggles. As an educator in the field of physical therapy, I am motivated by the opportunity to influence the development of future therapists. I strive to implement problem-solving skills, instill an evidence-based practice approach and foster a learning culture that will continue throughout the lives of all students.
Biography
I expect students to learn the objectives of the class but most importantly, be able to apply those concepts in the diagnosis of impairments and delivery of proper treatments. Although demonstrated competencies are necessary, it's important to ensure the student has not only memorized material but genuinely learned the concepts in an applied manner. I will know learning has occurred when the student demonstrates the ability to implement the concepts, apply them to appropriate scenarios and develop treatment approaches based on patient presentations.
It is important to create a professional relationship with my students. I would like to be seen more as a mentor than a teacher, one that students can rely upon for answering questions in and out of the classroom. In a physical therapy curriculum, it is important for the student to have mentors as they progress through the courses and begin to perform evaluations and treatments on actual patients. While mentorship begins in the classroom, it continues throughout the careers of these future therapists.
As a practicing physical therapist, I follow certain code of ethics. First do no harm, do onto others as I would like done to me, treat everyone with the utmost respect, do not fear work, welcome the challenges placed in front of me, and to work hard and good things will come. The same ethics are followed in the classroom. Furthermore, demonstrating punctuality, respect and openness will be paramount to my classroom behaviors. Being prepared and on-time for class will transcend the classroom and into their clinical rotations and future employment.
It is my hope and expectation that I can instill, a sense of respect and a commitment to learning. Also, I encourage each student to get involved in their practice, always protect the title earned and become advocates of physical therapy. It is my aspiration that students demonstrate dedication to learning and become contributors, not just consumers, in the classroom.
Dr. Jose Dominguez, PT, PhD, is currently an assistant professor in the School of Physical Therapy at Florida Southern College. Prior to this appointment, Dr. Dominguez served as Director of Rehabilitation at Orlando Health Orlando Regional Medical Center Institute for Advanced Rehabilitation (Dec 2015 – 2022), leading a team of therapists increasing function and enhancing the lives of patients suffering from traumatic brain injuries, stroke, spinal cord injuries, multiple trauma and total joint arthroplasty. He also held an adjunct professor position at the University of Central Florida and Florida Southern College's Doctor of Physical Therapy Program and served as a Leido's Corporation research consultant for the Naval Health Research Center, San Diego California. A license physical therapist, Dr. Dominguez held many positions as department Head, Ship's physical therapist, and division officer while serving in the US navy from 1992 - 2015. Prior to his retirement from the military, LCDR Dominguez's last tour was as Department Head, Warfighter Performance Department at Naval Health Research Center. The Warfighter Performance Department conducts research related to the measurement, maintenance, restoration, enhancement, and modeling of human performance in military operational environments.
Education
Aug 09 – Dec 14 University of Florida, Gainesville, FL
PhD (Rehabilitation Sciences)
Landing Biomechanics of the Lower Extremity Following Anterior Cruciate Ligament Reconstruction
Aug 97 – Aug 00 University of Maryland Eastern Shore, Princess Ann, MD
Master of Physical Therapy
May 95 – Dec 97 Southern Illinois University, Bethesda, MD
Bachelor of Science Health Care Management
Publications
Platform Presentations, Abstracts and Posters
Cezat, K, Jones, E, Dominguez, J. Functional Outcomes for Traumatic Spinal Cord Injury Pre and Post-Implementation of a Specialized Care Initiative. APTA Combined Sections Meeting 2020, Denver, CO, Feb 2020
Davidson, C, Ramsay, K, Dominguez, J. Impact of Participation in Therapy 7 Days per Week in an Inpatient Rehabilitation Stroke Population. 96th Annual Conference of the American College of Rehabilitation Medicine (ACRM). Chicago, IL, Nov 2019.
Dominguez, J, Sessoms, P. Enhancing Performance in Injured and Healthy Warfighters. Motek Users Group Meeting (MUGM), Heidelberg, Germany, September 2015
Sessoms, P , Sturdy, JT, Wolf, A, Dominguez, J, Kelly, K. Differences in ground reaction forces of the Warfighter while walking for changes in torso personal protective equipment (PPE) and load. Military Health Research Symposium (MHSRS), Ft. Lauderdale, FL, August 2015
Gottshall, KR, Dominguez, J, and Sessoms, P. A multisensory physical therapy approach for treatment of vestibular deficits and traumatic brain injury: a case study. Military Health Research Symposium (MHSRS), Ft. Lauderdale, FL, August 2015
Dominguez JA. Computer Assisted Rehabilitation Environment (CAREN) in TBI and Amputee Populations. Platform presentation at the 5th Annual Comprehensive Advanced Restorative Effort (C.A.R.E.) Summit. Naval Medical Center San Diego, December 2014.
Dominguez, JA, Sessoms, P, Jaworski R, Reini, S, Collins, JD, Kelly, K. Biomechanical Differences of the Warfighter When Wearing Load-Distributing Personal Protective Equipment Compared With Traditional Gear. Platform presentation at Military Health Systems Research Symposium, Human Performance and Occupational Health Research, Ft. Lauderdale, FL, Aug 2014
Markham, A, Collins, JD, Service, K, Dominguez, J, Reini, S, Sessoms, P. Long-term Retention of Task-specific Training in a Non-injured Population Using the Computer Assisted Rehabilitation Environment (CAREN). Military Health Research Symposium (MHSRS), Ft. Lauderdale, FL, August 2014
Dominguez JA, Bishop, M, Tillman SM, Moser MW, Indelicato PA, Conrad, B, & Chimliewski, TL. Single-Leg Squat Symmetry at 3 Months Is Related to Single-Leg Functional Performance at Time of Return to Sports Following ACL Reconstruction. Platform presentation presented at American Physical Therapy Association, CSM Conference, Las Vegas, NV, Feb 2014
Rabago CA., PT, MPT, PhD, Gottshall, K., PT, PhD, Linberg, AA., PT, DPT, ATC, Dominguez, JA., PT, OCS. Virtual Reality-Based Rehabilitation For Injured Service Members. Platform presentation presented at American Physical Therapy Association, CSM Conference, Las Vegas, NV, Feb 2014
Dominique F. DuBose, MS, Daniel C. Herman, MD, PhD, Susan M. Tillman, PT, Anthony N. Pass, MS, Michael W. Moser, MD, Kevin W. Farmer MD, Jose A. Dominguez PT, Terese L. Chmielewski, PhD, PT. Biomechanical Changes During Dynamic Task After Concussion in Collegiate Athletes. Poster presentation at the Neuroplasticy symposium Mar, 2013, Gainesville, FL.
Fredy M. Solis, Jon Van Den Boogaard, Susan M. Tillman, Jose Dominguez, Bryan P. Conrad, Terese L. Chmielewski. Vertical Force in Jump-Landing is Influenced by Different Factors in Athletes With and Without ACL Reconstruction. Poster presentation presented at American Physical Therapy Association, CSM Conference, San Diego, CA, Jan 2013.
Dominguez JA, Tillman SM, Moser MW, Indelicato PA & Chimliewski, TL Plyometric Exercise Improves Lower Extremity Biomechanics and Jump Performance in Patients with ACL Reconstruction. Poster presentation presented at the Neuroplasticy symposium Mar 23, 2012, Gainesville, FL
Dominguez JA, Chan N, Lentz TA, Tillman SM, Moser MW, Indelicato PA & Chimliewski, TL. Biomechanical Asymmetries in a Drop-Landing are Associated with Quadriceps Weakness Prior to Advanced Phase of Rehabilitation. Platform presentation presented at American Physical Therapy Association, CSM Conference, New Orleans, LA Feb 11, 2011
Other Publications, Presentations and Technical Reports:
Berry, Olivia; Voigtmann, Christina; Curran, Christopher; Dawson, Nicole; Dominguez, Jose; Beato, Morris Two Balance Measures as Poststroke Predictors of Ambulation Status at Discharge From Inpatient Rehabilitation, Journal of Acute Care Physical Therapy: April 13, 2022 - Volume - Issue - 10.1097/JAT.0000000000000186 doi: 10.1097/JAT.0000000000000186
Pinata H. Sessoms, Marcus Gobrecht, Brenda A. Niederberger, Jordan T. Sturdy, John D. Collins, Jose A. Dominguez, Rebecca L. Jaworski & Karen R. Kelly (2019) Effect of a load distribution system on mobility and performance during simulated and field hiking while under load, Ergonomics, DOI: 10.1080/00140139.2019.1690710
Brennan D. Cox, Harvey Edwards, Katherine Service, Pinata Sessoms, Jose Dominguez, Weimin Zheng, Seth Reini. Cognitive Two-Way Interactions In an Immersive Virtual Reality Environment. Interservice/Industry Training, Simulation, and Education Conference (I/ITSEC) 2015