Jennifer Cipriano, MSN Ed., RN, CMSRN, CCRN-K
Instructor of Nursing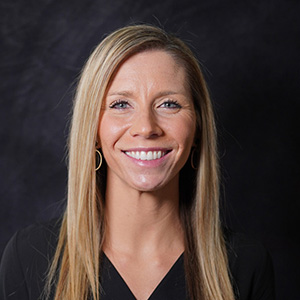 Every student brings a unique set of interests, skills, and experiences to the classroom, and I strive to build a supportive and trusting relationship with each of my students. I strive to continually grow as a nurse educator by using different teaching strategies and technologies to diversify instruction and optimize my students' learning experiences. I aim to create an environment where students feel empowered to take ownership of their learning and become engaged with the material. I emphasize hands-on learning and clinical experiences to develop students' practice skills, while also providing a strong foundation in clinical theory. In nursing education, it is imperative to introduce and start to develop critical thinking and clinical judgment early on. I strive to "bring clinical to the classroom" and take every opportunity to allow students to translate classroom knowledge into clinical decisions. I strive to create a safe and supportive environment where students feel comfortable to ask questions and engage in meaningful dialogue. I also prioritize mentoring, providing guidance and career advice to foster professional growth and lifelong learning.
Biography
I have taught nursing students within the role of Adjunct Clinical Faculty for FSC since 2016 and moved into a full-time faculty position as an Instructor of Nursing in the fall of 2021. My clinical background is in adult health, cardiovascular-thoracic surgery, medical intensive care and trauma intensive care. I have practiced as a Registered Nurse for 15 years, 10 years as a staff nurse and charge nurse and the last 3 years (prior to FSC) as the nurse educator for a State Designated Level II Trauma Center. I am a Certified Medical-Surgical Registered Nurse (CMSRN), Certified Acute/Critical Care Knowledge Professional (CCRN-K), and a Trauma Nursing Core Course (TNCC) director and instructor. I am originally from the Midwest; I grew up just outside of Ann Arbor, Michigan and moved to Florida in 2005. I miss the seasons, but not the snow! I am married, have three children, love to travel and am an avid runner. I love being a nurse and am passionate about investing in the next generation of nurses!
Education
I earned my ASN from Hillsborough Community College and my BSN and MSN Ed. from the University of South Florida.
Interests
I enjoy spending time with my family and friends, running and traveling.
Awards
Sigma Theta Tau International Honor Society of Nursing
Excellence in Nursing Practice Award Recipient