Imke Casey, DNP, CRNA, RN-BC, RHIT
Assistant Professor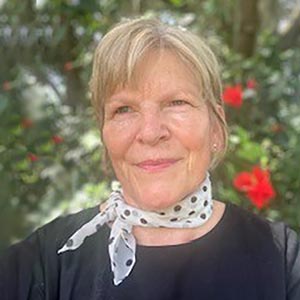 My teaching philosophy is based on the belief that learning should be an enjoyable process of exploring the unknown. I encourage students to ask questions, embrace change, and critically think to solve problems. I strive to create an environment that will foster a sense of curiosity in my students and challenge them to seek answers to unsolved problems just as I do. I strive to create an environment that will facilitate the collective efforts of students and instructor to learn and discover with empathy and respect.
Biography
Dr. Casey is an Assistant Professor in the Florida Southern College (FSC) School of Nursing and Health Sciences. She has earned a Master of Science Degree in Nursing from the University of Puerto Rico and a Doctor of Nursing Practice from Georgia College and State University. Dr. Casey is an Advanced Practice Registered Nurse with national certifications in nurse anesthesia (CRNA), health information technology (RHIT), and nursing informatics (RN-BC). In her current role as Assistant Professor, she teaches in the graduate nursing program at FSC with an emphasis on nursing information management, project management, and health care quality improvement. Dr. Casey uses her expertise in evidence-based nursing practice and her passion for health information management to engage students and promote the highest quality of care.
Dr. Casey supervises DNP Project and Practicum work for Doctor of Nursing Practice students. Examples of DNP Project titles include:
Implementation of a Strength Training Intervention for Treating Sarcopenia among Older Residents in a Skilled Nursing Facility
Reducing Falls in Memory Care Through Implementation of the STEADI Program
Seeing is Believing: Continuous Glucose Monitoring Versus Self-Monitoring of Blood Glucose in Type 2 Diabetes
Dr. Casey enjoys teaching at Florida Southern College because the university provides the most current online teaching tools to enrich the student's virtual classroom experience. Dr. Casey uses Zoom, Calendy.com, Zotero, ExcelExercises.com, and MS Office 365 to mention a few.
Education
Doctor of Nursing Practice, Georgia College and State University, Macon, GA
Post Graduate Biomedical Informatics Certificate, Nova Southeastern University, Fort Lauderdale, FL
Master of Science in Nursing, University of Puerto Rico, San Juan, PR
Bachelor of Science in Nursing, Emory University, Atlanta, GA
Awards
Leaders in Nursing Award, Indian Health Services - 2018
Organizational Affiliate Award, Health Information & Management Systems Society - 2015
Jonas Nurse Leader Scholar Program candidate, Georgia College and State University - 2014
Nurse Corps Officer Direct Commission appointee, United States Navy Reserve - 1997
Publications
Casey, I. (2016). The effect of education on portal personal health record use. Online Journal of Nursing Informatics (OJNI), 20 (2).
Casey, I., & Brinkley, S. (2016). Health science program development [White paper]. Lake Sumpter State College.
Kellnhauser, E., & Casey, I. (2008). Go west! Heilberufe 60(6), 60-62.
The article, written in German for a German nursing journal, describes the option to pursue an American nursing career as a foreign-educated registered nurse from Germany.
Podium Presentations
Telehealth Education: Are we Ready for Undergraduate and Graduate Curriculum Integration?
Poster Presentation (abstract accepted 4/23/2020)
Duke University School of Nursing Institute of Educational Excellence-
Opening Doors to Transforming Nursing Education Conference
COVID-19 Patient Care: Experiences and Observations in the CRNA Role
Clinical Practice Site Case Study Report, 4/15/2020
New York-Presbyterian Hospital Queens
Florida Gulf Coast University Webinar Presentation
Telehealth: A Modern Healthcare Marvel
Florida Gulf Coast University, Ft. Myers, FL 4/15/2020
School of Nursing Faculty Organization Meeting
Malignant Hyperthermia – Patient Evaluation and Emergent Treatment
Presentation, 1/12/2019
Indian Health Services, Rosebud Hospital, Rosebud, SD
The Effect of Education on Portal Personal Health Record Use
Summer Institute in Nursing Informatics Podium Presentation, 7/20/2016
University of Maryland, Baltimore, MD
What? I can look at my medical record online?
Podium Presentation and Workshop, 10/2015
Lake-Sumter State College Convocation Conference
Cybercrime and Identity Theft
DNP Informatics Seminar Presentation, 03/2015
Georgia College and State University
Better Patient Engagement with PHRs
DNP Epidemiology Seminar Presentation, 02/2015
Georgia College and State University
Enabling Care Through Technology
DNP Healthcare Ethics, and Politics Policy Brief Seminar Presentation, 10/2014
Georgia College and State University
Anesthesia-The Effect on Body and Mind
Podium Presentation, 02/2014
People's Medical School, Lake Sumter State College