Fen-Fang Chen, Ph.D., D.A.
Associate Professor of Music
Director of Piano and Keyboard Studies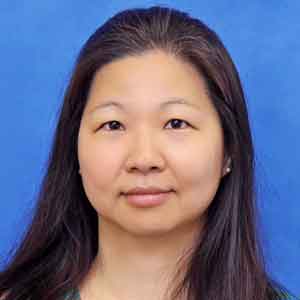 'Give a man a fish, and that is dinner for the night. Teach a man how to fish, and that is dinner for life' (Lao Tzu). As a college teacher, I believe good teaching is not just instructing students about what they need to know or showing them by demonstration—good teaching is also guiding students through experiencing knowledge firsthand so that they will be able to teach it themselves.
Biography
Fen-Fang Chen, associate professor, serves as director of piano and keyboard studies and teaches piano, class piano, piano pedagogy, and pipa ensemble at Florida Southern College.
Dr. Chen completed two doctoral degrees at the University of Mississippi, a Doctor of Arts in Piano Pedagogy and a Doctor of Philosophy in Music Education; a Master of Music degree in Piano Performance at Indiana State University; and a Bachelor of Arts degree in Traditional Chinese Music at the Chinese Culture University in Taipei Taiwan, with the Pipa as her major instrument.
With strong interests in efficient and effective ways of teaching and learning, Dr. Chen has presented her research studies at many conferences. She received the Outstanding Professional Research Poster Award from the Frances Clark Center for Keyboard Pedagogy at the 2019 National Conference on Keyboard Pedagogy.
As an active performer, Dr. Chen frequently performs both instruments, the pipa and the piano, at various recitals and concerts. Her most recent recital, Piano, Pipa, and Chinese Music, took place on March 10, 2020 and was for a Faculty Artist Series at Florida Southern College.
Dr. Chen also taught class piano and applied piano at various colleges including the University of Mississippi, Birmingham-Southern College, and Indiana State University.
Education
Doctor of Philosophy – Music Education, University of Mississippi
Doctor of Arts – Piano Pedagogy, minor in Music History, University of Mississippi
Master of Music – Piano Performance, Indiana State University
Bachelor of Arts – Traditional Chinese Music, Pi-Pa Performance
Awards
"Outstanding Professional Research Poster Award" from the Frances Clark Center for Keyboard Pedagogy at the National Conference on Keyboard Pedagogy, 2019
"Outstanding Graduate Music Education Award" from the Department of Music at The University of Mississippi, 2013
University of Mississippi, Graduate Teaching Assistantship, 2010
University of Mississippi, Brown-Ellis Scholarship in Music, 2010
"Outstanding Graduate Pianist of the Year" from the Department of Music at The University of Mississippi, 2003
Orff-Schulmerk Level I Music Teacher Certificate, 2002
Elected to Membership by the Eta Nu Chapter of Pi Kappa Lamba National Music Honor Society, 2002
University of Mississippi, Graduate Teaching Assistantship, 2000-2003
University of Mississippi, Isaac Eugene Brown Fellowship for graduate studies in piano, 2000-2003
University of Mississippi, Brown-Ellis Scholarship in Music, 2000
A graduate certificate in Piano Pedagogy from Indiana State University, 1999
Indiana State University, Graduate Assistantship, 1998-1999