Erica H. Bernheim, Ph.D.
Professor of English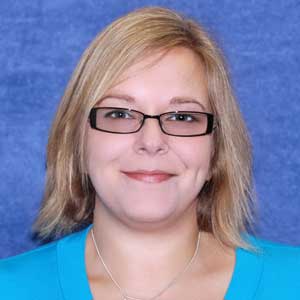 My mission as a teacher is to guide my students to discover and use the tools that will lead them closer to navigating their own mysteries, and to instilling in them a sense of literature's possibilities to lead them through their lives in unexpected ways. I stress the study of classic, canonical works as a springboard both to the study of contemporary poetry and to students' quests toward finding their own voices.
Biography
Dr. Bernheim is an Associate Professor at Florida Southern College, where she also directs the Honors Program and Creative Writing Program. She earned her BA from Miami University, her MFA from the University of Iowa, and her Ph.D. from the University of Illinois at Chicago. Robert Creeley, Elizabeth Bishop, William Faulkner, Frederick Seidel, James Dickey, Barbara Gowdy, Kazuo Ishiguro, Katherine Dunn, and Lynda Barry are a few of her favorite writers. Her first full-length poetry collection, The Mimic Sea, was published in 2012 by 42 Miles Press (Indiana University - South Bend).
Education
Ph.D., English & Creative Writing, University of Illinois at Chicago
M.F.A., English, University of Iowa Writers' Workshop
B.A., English, Miami University
Awards
Swati Award for Poetry from The Chicago Review of Books, 2017
Pushcart Prize Nomination, 2016
Semi-finalist, Crab Orchard Review Book Prize, 2016
Finalist, Green Rose Second Book Prize, New Issues Poetry & Prose, 2015
Finalist, Slippery Elm Poetry Contest, 2015
Pushcart Prize Nomination, 2014
Jessie Ball DuPont Fellowship for Summer Study, National Humanities Center, 2012
Honorable Mention, Platform Art Party Magazine, Lakeland, FL, 2011
Winner, Samuel M. Wolfson Prize for Poetry, University South Bend, 42 Miles Press, 2011
National Humanities Center, Research Triangle, NC, Fellowship, Summer Session, 2011
Publications
A Poetry Congeries "This Side Towards Threat," "Sensorium," "Murder in Sebring" July 2017
Arcturus "Origami Bird With Flapping Wings," "Sinkholes of Florida," April 2017
The Missouri Review "Rear-ended" October 2016
The Laurel Review "The Mimic Sea" (Spring 2012)
Columbia Poetry Review "The One Who Shot Me," "The One Who Shot Me Next," (Spring 2012)
Court Green "The Aged Gymnast Pauses Before the Vault," "The Fatal Lozenge" 2012
The Iowa Review "The Oversized World," "When I Say Backdoor I Mean the Way A Lot," "Elegy in the Absence Of" Volume 41, Number 1, Spring 2011
H-NGM-N #8 "Chicago Day Lily," "Fifteen Beautiful Colors," Volume 8, 2009
Adirondack Review "63rd and Pulaski," Volume 5, Number 2, 2006
Poetry Daily "Summer Crookneck," January 29, 2005