Cindy Hardin, J.D
Business Administration Department Chair
Professor of Business Administration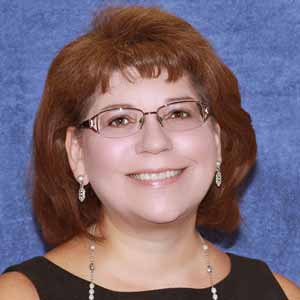 My teaching philosophy can be summed up in one phrase: Make it matter. Everybody learns best when the subject matter excites and matters to them. They must have hands-on, realistic activities that immerse them in the subject on a personal level, pushes them to be creative, and encourages them to reach higher and achieve more than they ever thought they could.
Biography
Dr. Hardin received her BS degree magna cum laude from Florida Southern College in 1982. She then received her Juris Doctorate degree from Stetson University College of Law in 1984. Upon graduation from law school, Dr. Hardin began practicing as an attorney in Lakeland. She specialized in the areas of business law, commercial transactions, real estate, probate, and family law until joining the staff of Florida Southern College in the fall of 1988.
Professor Hardin is the faculty advisor of Phi Alpha Delta, Pre-Law Fraternity, and the FSC Catholic Student Organization; Coordinator of the Legally Speaking Lunch & Lecture Series; Chair of the Assurance of Learning Committee for the School of Business & Free Enterprise, and past Chair of the Faculty Senate, among many other activities. She is on the board of directors for Lakeland Community Theater and a member of the Lakeland Bar Association, Florida Bar Association, Delta Sigma Pi, Sigma Beta Delta, Phi Eta Sigma, and Omicron Delta Kappa.
Her teaching interests are in the areas of legal environment of business, commercial law, legal risk management, business ethics and social responsibility, small business administration, real estate, U.S. Constitution, communications law, and legal research. Prof. Hardin has been recognized, and received awards for her excellence in teaching.
Education
J.D., Law, Stetson University
B.S., Journalism, Public Relations, and Advertising, Florida Southern College
Awards
National Catholic Education Association Distinguished Graduate Award - 2007
Certificate of Meritorious Public Service - Presented by the Florida Bar in recognition and appreciation of exemplary service to the Legal Profession and The Florida Bar, at the Annual Meeting of the Florida Bar - June 23, 2005
Florida Southern College Outstanding Teacher of the Year Award - 1997
Publications
Hardin, C., Financial exploitation of the elderly and disabled: can banks be held liable? A business law case study (Submitted Summer of 2011) Academic and Business Research Institute: Journal of Business Cases and Applications, Oct. 2011
Hardin, C., & Rhey, W. 2011. As the world turns: Opportunities and challenges for Florida higher education. Research in Business and Economics Journal Special Edition - Florida Economic Symposium, May 2011.