Chuck Duval, Ph.D.
Anne and Bill France Chair in Business
Associate Professor of Finance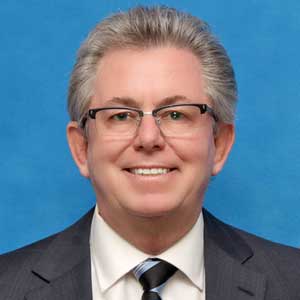 Our Supply Chain Management certificate program is taught by industry professionals to allow participants to gain the necessary skills to maintain a competitive edge in an ever-changing marketplace, increase earning potential, and gain knowledge on the latest industry trends and best practices in a rapidly growing career field.
Biography
Originally from Virginia, Dr. DuVal earned his undergraduate degree at Christopher Newport University in 1979 and his M.B.A. from the College of William and Mary in 2009. He completed his Ph.D. in Business Administration with a concentration in Finance at Old Dominion University in 2012.
After his undergraduate work, Dr. DuVal spent seven years as a stock broker specializing in tax advantaged investments and mainframe computer sales to financial institutions before starting his own Real Estate business. For over 27 years he has owned Real Estate residential and commercial brokerage firms and other companies involved with syndicating real estate investment, development, construction, property management and related services.
Dr. DuVal has taught a range of courses to include Corporate Finance, Introduction to Financial Management, Investments, Principles of Real Estate and Introduction to Office Productivity. His research interests includes Real Estate, behavioral finance and asset pricing.
Education
Ph.D., Business Administration, Finance, Old Dominion University
M.B.A., Finance, William and Mary
B.S., Marketing, Christopher Newport University
Awards
Graduate Fellowship Award - BUSN, Old Dominion University 2011
Received PhD Assistantship, Old Dominion University - 2009
Lewis Sancetta Memorial Fellowship, William and Mary - 2009
Beta Gamma Sigma, William and Mary - 2009
Publications
"High-growth Entrepreneurial Firm Funding: a Qualitative Study of Native-born and Immigrant Entrepreneurs" (2017) with Moghaddam, K., Aidov, A., and Azarpanah, S., Venture Capital, Vol 19, Nos.1-2, Pp.75-94

"A Performance-Related Study of Reverse Mergers Using Private Investment in Equity (PIPE) Strategies" (2016) with Quilliam, W., GSTF Journal on Business Review (GBR), Vol 4, No 4, Pp. 123-125

"A Study of Stock Option Exercises with a New Measure of Earnings Management" (2016) with Vu, Q., Quilliam, W. and Santos, A., Global Economy of Finance Journal, Vol 9, No 2, Pp. 1-16

"Backing into the U.S. A Study of Chinese Reverse Mergers" (2016) with Vu, Q., Quilliam, W. and Santos, A., Journal of Business and Policy Research, Vol 11, No 1, Pp. 1-16

"Examining the Effects of Book-Tax Differences on Stock Price Manipulations" (2016) with Vu, Q., Quilliam, W. and Santos, N., Global Review of Accounting and Finance, Vol. 7. No. 1, Pp. 62 – 82

"A Study of Chinese Companies Using Reverse Mergers (RMs): Performance and Survival" (2015) with Quilliam, W., GSTF Journal on Business Review (GBR), Vol 4, Pp. 123-125

"Bonding with ETFs: a study of Fixed Income ETF Arbitrage" (2015) with Harbert, M., Mustang Journal of Accounting and Finance, Vol 7, Pp. 18-49

"Should an Eminent Domain Property Taking be Allowed to Cause a Mortgage Default and Possibly Bankruptcy?" (2012) with Seiler, M., Journal of Real Estate Practice and Education, 15:2, 153-168