Christy Skelly, BSN, MSN, DNP, APRN-BC
Associate Professor of Nursing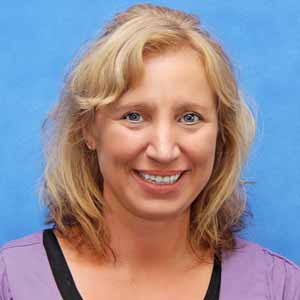 I believe in connecting with students and in creating a comfortable learning environment. I love teaching clinical and simulation where we can learn hands on skills and critical thinking.
Biography
Christy Skelly has been a full time educator for 10 years. She has practiced in the field of nursing as a RN and a nurse practitioner. Her specialty area is women's health. She is especially interested in the area of informed choice as it relates to optional prenatal genetic screening.
Education
Bachelor of Science in Nursing 1991 Olivet Nazarene University Kankakee, IL
Master of Science in Nursing, Women's Health Nurse Practitioner May 2004 Kent State University Kent, OH
ARNP Certification August 2004
Doctorate in Nursing Practice December 17, 2012 Frontier University Hyden, KY
Interests
She enjoys anything with animals, also jogging and hiking.
Publications
Presentation on Medical mission to the Amazon for Pi Chi, Sigma Theta Tau, 2004.

Presentations (annual) on NCLEX pass rates and curricula outcomes, Malone University 1993-2003

Conducted research with students 1993-2011. Topics included women's wellness, Breastfeeding and social support, NCLEX predictors, study habits, and Wellness exam adherence. This included poster presentations at local student association meetings.

Research Proposal Presentation, Frontier University, Fall 2012.

Doctoral Capstone-December, 2012: Informed Choice of Prenatal Clients - Optional Prenatal Testing
Graduated with a 4.0 from the Doctoral Program (December, 2012).

Presentation on Human Trafficking at Florida Southern conference in March 2013.

Presentation on Breast Cancer at Florida Southern Zeta event in October 2013.

Poster Presentation Informed Choice of Prenatal Clients at the National DNP Conference in Phoenix

AZ, September 25-27, 2013.

Presentation via webinar to ACNM Texas Affiliate Meeting February 22, 2014.

Presentation at the National DNP Conference in Nashville, TN, October 8th, 9th and 10th 2014 Informed Choice in Practice: A Review of One DNP Capstone Study and the Implications for your Practice.

Publication-Skelly, C.L. & Ulrich, S. (2014). Enhancing Informed Choice for Genetic Screening: A Pilot Study. Nursing and Health, 2, 126 - 130. doi: 10.13189/nh.2014.020604.
Projects
She developed and led the nursing living learning groups for the past three academic years. She also sat on the living learning steering committee. She has presented at several campus activities as well as the Spring Faculty Forum.