Catherine R. Eskin, Ph.D.
Associate Professor of English and Modern Languages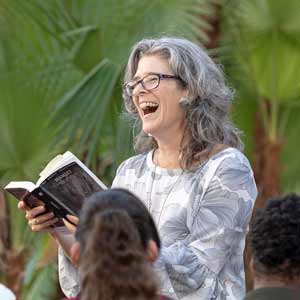 I know that we cannot teach our students unless they are willing to be taught. I also know that they are most willing when they feel what they are learning will be relevant to their goals. I take pride in making the freshman writing course (a rite of passage for the majority of students) an important part of how students recognize the utility of writing in their lives.
Biography
Dr. Eskin has been teaching for…a really long time. A native of Philadelphia, she completed her undergraduate work at Douglass College (Rutgers University) and her graduate work at the University of Texas at Austin. Eskin enjoys teaching a variety of subjects and skills, though her graduate work prepared her specifically for English Renaissance and Rhetoric topics. Since her arrival at Florida Southern College, she has consistently taught first-year writing and early English literature, along with Shakespeare, feminist humor, place studies, creative non-fiction and biography. Eskin enjoys interacting with students and serves as the Faculty Advisor to several organizations: the Harry Potter Club, Allies and the campus chapter of Hillel. Eskin is involved in religious life on campus — she and her students build a sukkah each year! An active member at Temple Emanuel, Eskin founded the Temple Emanuel Archive of images and oral history interviews in 2007/2008 and used a semester-long sabbatical (Fall 2015) to collect interviews for the Archive. She currently serves on the board of the Lakeland History and Culture Museum and the Southern Jewish Historical Society. Eskin enjoys walking (to and from school each day), biking, hiking and playing the occasional capture-the-flag game with her family.
Education
Ph.D., M.A., English, University of Texas at Austin
B.A., Comparative Literature, Douglass College, Rutgers University
Interests
The best part of teaching at Florida Southern is having the freedom to teach a wide array of subject areas and engage students in both intellectual and social settings.
In my spare time, I enjoy walking (to and from school each day), biking, hiking and playing the occasional capture-the-flag game with my family.
Awards
Ben & Janice Wade Outstanding Teaching Award from FSC, 2014
Faculty Advisor of the Year for The Jewish Association, 2013-2014
Faculty Volunteer of the Year, 2013-2014, 2011-2012
"Lover of Wisdom" Award from Phi Eta Sigma (National First-Year Honor Society), 2011-2012
"Favorite Professor" from The Southern (Southern Superlatives), 2009-2010
Award for Conference Travel and Student Travel, Dean of Arts and Sciences and Division of Humanities, FSC, 2009
Grants
Andrew W. Mellon Foundation, The Folger Shakespeare Library, 2019-2020
Be Curious Mini-Grant for student travel, Fall 2018
Donna and Scott Langston Archival Grant from the Southern Jewish Historical Society, 2015-2016
Community Project Mini-Grant from the Florida Humanities Council, 2015-2016
Publications
"'Books Are Not Absolutely Dead Things': English Literature, Material Culture and Mapping Text," IJHAC (International Journal of Humanities and the Arts Computing) 12.1 (March 2018).
"The PR Wars: The Hunger Games Trilogy and Shakespeare's Second Henriad," in Of Bread, Blood and The Hunger Games: Critical Essays on the Suzanne Collins Trilogy, eds. Mary Pharr and Leisa Clarke. Jefferson, NC: McFarland, 2012 [rpt.2017]. 179-189.
Curator. "The Jewish Families of Polk County (1909-present)." Polk County History Center, Bartow, FL. May-August 2016.
Curator of Temple Emanuel Archive Images (composed in-situ text). Curate Lakeland: Community-Curated Pop-Up Exhibit, First Friday, Downtown Lakeland Partnership. July 2015.
Projects
Based on a manuscript transcription project for my British Literature I class, I started an undergraduate conference: Early Modern Manuscripts and the Digital Humanities (there is a page on the website) which highlights the work of our students and includes students at Stetson University. The conference is entering its third year (January 2022).
Eskin has been incorporating StoryMaps, an ArcGIS tool that allows students to create on-line texts that utilize both images and text, with first-year students since the Fall of 2019.
Eskin began sponsoring a Transcribathon through the Folger Shakespeare Library in the Fall of 2018 and has continued to host the event each year in collaboration with Stetson University, the Honors Program, Sigma Tau Delta and the History Club over the years.
The Hillel began commemorating Kristallnacht in 2018 and has done so each year since.
Student Publications
Handley, Megan. "The Way You Do the Things You Do: Dan Leviten." The Menorah, 19.1 (September 2021).

Bittinger, Alex. "Through My Lens: Harry Wlodawski." The Menorah, 18.4 (March 2021).

Reed, Jordan. "Rabbi David Goldstein: Grace Under Pressure." The Menorah, 18.2 (December 2020).

Kiester, Hannah. "Lizandra Izsak: A Woman of Determination and Compassion." The Menorah, 17.4 (May 2020).

Stambaugh, Meredith. "Tita de la Garza Belongs in the Kitchen (in a Totally Feminist Way): Unlikely Empowerment in Like Water for Chocolate." Sigma Tau Delta Review, vol. 16, Jan. 2019, pp. 188–193, www.english.org/pdf/publications/rectangleandreview19.pdf.

Kidd, Chelsea E. "The Uselessness of Art: Critique and Contradiction in The Picture of Dorian Gray." Papers & Publications: Interdisciplinary Journal of Undergraduate Research: Vol. 6, Article 16, 2017, https://digitalcommons.northgeorgia.edu/papersandpubs/vol6/iss1/16