Cara T. Mackie, Ph.D.
Associate Professor of Communication
Department Chair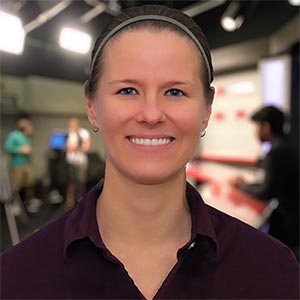 In the classroom, I not only teach theories of human communication, but also help students become better communicators. I start my courses by stating, 'It will take hard work to succeed, but I will work just as hard to be there for you. We are in this together. I believe in you.' Students leave my class with a better understanding of themselves and with confidence to succeed in various forms of interpersonal relationships.
Biography
Dr. Mackie joined the FSC faculty in 2008 and has more than 20 years of teaching experience. Her teaching goals include creating an environment eliciting engaged learning and providing a safe space for students to interact, learn, and grow. She builds strong relationships with her students and believes that teaching is not just subject orientated, but should include the mentoring students. She is affiliate faculty of the Women and Gender Studies Minor and College Honors Program. Dr. Mackie's research focuses on how loss and trauma shapes one's identity, in turn affecting interpersonal relationships and networks. She has presented her work at numerous state, regional, national, and international conferences. Dr. Mackie is reliable and completes all tasks assigned to the highest level and volunteers to participate in the department and on campus.
Education
Ph. D., M. A., Communications, University of South Florida
B. A., Communications, Florida State University
Interests
I enjoy exploring the outdoors, relaxing at the beach, and spending time with family.
Awards
Vice President Spotlight, Breaking the Fourth Wall: An Exploration of Modern Funerals in Western Society, one of four papers selected for spotlight presentation, Southern States Communication Association Convention, Frisco, TX, April 2020.
Top Paper Award, Performing in a Female Body: An Autoethnography of Food, Romance, and Change, paper, Women and Gender Studies Division, Southern States Communication Association Convention, Montgomery, AL, April 2019.
Excellence in Teaching Award, The National Society of Leadership and Success, Florida Southern College, April 2016.
Elected Vice-Chair Elect, Ethnography Interest Group, assisted chair with planning ethnography panels and events for 2016 convention, planned the 2017 ethnography group convention program, chaired the 2018 ethnography group, and served a four year-term on the board, Southern States Communication Association, 2015-2019.
Honorary Member, Phi Eta Sigma, elected to join Florida Southern College's freshmen national honor society, Florida Southern College, Spring 2013.
ODK Teacher of the Year Keynote Address, Through the Esplanades: Making Sense Out of Past, Present and Future, Opening Convocation, Florida Southern College, August 2012.
Elected Omicron Delta Kappa Teacher of the Year, Florida Southern College, 2011-2012.
Peer Coaching Program, one of ten faculty invited to participate in leadership training program, Florida Southern College, 2009-2011.
Honors Theses Directed
William Meyer (2019). Effects of Nonverbal Mirroring on Persuasion and Agreement. Presented at Fiat Lux, Florida Southern College, 2018 and 2019.
Zoe Trout (2017). Millennials Changing the World?: A Look at the Relationship between College Students' Values, Dreams of Travel, and the Desire to Make a Difference. Presented at Fiat Lux, Florida Southern College, 2017.
Samantha Hymson (2016). A Look at Longevity, Security, and Media of Communication in Long-Distance Relationships of College-Aged Couples. Presented at Fiat Lux, Florida Southern College, 2016.
Publications
Mackie, Cara T. (2021). "Right or wrong?: An analysis of in-law communication during the COVID-19 crisis." In Changing Times: Communication in the Age of the COVID-19 Pandemic, edited by TheresaMacNeil-Kelly. New York, NY: Lexington Publishing.
Davis, Christine S., Abby Arnold, Spoma Jovanovic, & Cara T. Mackie. (2021). "Narrative inheritance: Reflections on Montgomery, Alabama's National Memorial for Peace and Justice." Journal of Autoethnography, 2 (1), 91–97.
Mackie, Cara T. (2020). "Negotiating chronic illness: A family's journey with cancer, control, and conflict." In The Role of Conflict on the Individual and Society, edited by Theresa MacNeil-Kelly. New York, NY: Lexington Publishing.
Mackie, Cara T. & Wuertz, Vicki. (2014). "Two generations, two women, one fight: Equality." Women and Language, Spring.
https://www.womenandlanguage.org/_files/ugd/6c9b47_8666c49bedf84ee589b1389d04369b49.pdf
Mackie, Cara T. (2009). "Finding my…A story of female identity." Qualitative Inquiry, 15(2), 324-328.
Mackie, Cara T. (2008). "Leaving an alcoholic life." Journal of Loss and Trauma, (13), 547-556.