Brittany J. Gasper, Ph.D.
Associate Professor of Biology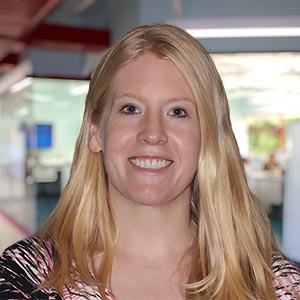 I love teaching because I love learning. As a lifelong learner, my goal as an educator is to instill a love of learning into my students so they can become lifelong learners as well. I also believe in teaching to build students' critical thinking and problem solving skills. I employ an active learning approach to teaching and do my best to make every concept interesting to students.
Biography
Dr. Gasper received her B.S. in Biology from Hope College, another small liberal arts school, in 2005. She went on to receive her Ph.D. in Microbiology from Purdue University in 2011. After graduating, she accepted a Visiting Assistant Professor position at Florida Southern College for a year and after that began an Assistant Professor position in 2012. She is an unapologetic Microbiologist who thinks bacteria are way more interesting than humans! While she finds all areas of Microbiology interesting, her recent research has focused on the molecular biology and genetics of osmotic stress response in the organisms Salmonella typhimurium and Chromohalobacter salexigens. She is also interested in Biology education research and is always interested in new teaching techniques. Dr. Gasper is a member of the American Association for Advancement of Science, the American Society for Microbiology, and the Society for Biology Education Research.
Education
Ph.D., Biological Sciences, Purdue University
B.S., Biology, Hope College
Awards
Science Prize for Inquiry-Based Instruction - 2012
Outstanding Graduate Teaching Assistant Honor Roll - 2010
Committee for Education of Teaching Assistants - 2010
American Society for Microbiology Travel Grant - 2008
Publications
Gasper, B. J., Gardner, S. M., 2012. Engaging students in authentic Microbiology research in an introductory Biology laboratory course is correlated with gains in student confidence and critical thinking. Journal of Microbiology and Biology Education.
Gasper, B. J., Csonka, L. N., Minchella, D. J., Weaver, G. C., Gardner, S. M. 2012. Genetic analysis of adaptation to osmotic stress in Salmonella. Science. 335:1590-1591.
Gasper, B. J., [29 undergraduate authors], Csonka, L. N., Gardner, S. M. 2012. Isolation and preliminary characterization of amino acid substitution mutations that increase the activity of the osmoregulated ProP protein of Salmonella enterica Serovar Typhimurium. DNA Cell Biology 31:956-967.