Benjamin Montgomery, D.M.A.
Assistant Professor of Music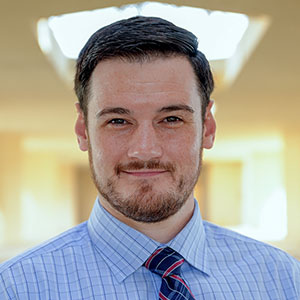 My favorite aspect of teaching in the music classroom is the variety of ways we can actively engage with music and the discussions that result. Whether learning the fundamentals of music theory or far more advanced concepts, it is vital that students are interacting with the music itself. Listening, analyzing, singing, writing, feeling, and discussing contrasting perspectives provide a complex understanding of the art form. Through all of this, students practice thinking (and listening) critically as they transition into the world outside of the classroom.
Biography
Benjamin Montgomery (b. 1991) is a theorist and composer from Pennsylvania, USA. He enjoys creating and analyzing music in instrumental, vocal, and electronic media from small chamber to large ensemble works. He avidly works closely with performers in the creation and realization of new pieces. Fascinated with music cognition and how we interpret music, his works invite listeners to consider their own nuances of meaning and create a unique atmosphere for listener's personal reflection. His theoretical interests fall on the other side of that coin, seeking to understand how and why we experience music the way that we do. Montgomery has been called a "gifted composer" whose music's "harmonies and thematic shifts vividly convey the emotional contours" by the South Florida Classical Review. Montgomery was the Student Composer in Residence with Seraphic Fire for the 2017-2018 season, resulting in the commission of "To Hear With Eyes." His works have been performed by ensembles such as Seraphic Fire, Skylark Vocal Ensemble, Duo Cortona, The NED Ensemble, Kaleidoscope MusArt, and the Michigan State University Symphony Orchestra. His music has also been performed at the New York City Electronic Music Festival and has been recognized with an Honorable Mention for "Superimpose" in the Portland Percussion Group 2019 Call for Score and as a finalist in the Wind Band Association of Singapore Composition Contest 2019 for "React." Recordings of Montgomery's music can be found on multiple albums released by RMN Classical. He has been in residence at festivals such as New Music on the Point, the Cortona Sessions for New Music, and the Oregon Bach Festival Composer's Symposium. His primary composition mentors include Charles N. Mason, Ricardo Lorenz, Dana Wilson, Dorothy Hindman, Juraj Kojš, and Jere Hutcheson. Montgomery is currently based in Lakeland, Florida. He currently serves as Assistant Professor of Music at Florida Southern College where he teaches Music Theory and Aural Skills courses.

Education
D.M.A. Composition - University of Miami (2020)
M.M. Music Theory - Michigan State University (2017)
M.M. Composition - Michigan State University (2017)
B.M. Composition - Ithaca College (2013)