Ramzy Baroody, Ph.D.
Assistant Professor of Business Administration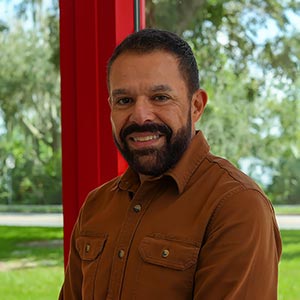 Education has the power to transform our world, and it remains an unassailable asset. An effective educator possesses not only academic expertise but also the ability to inspire and propel students towards excellence. My mission as an educator is to harness competencies and ignite achievement through innovation and unwavering dedication. One method to achieve this is by introducing the concept of Inquisitive Autonomy in my classrooms. Independent learning through Inquisitive autonomy empowers students with skills that extend far beyond the confines of the specific subject at hand. These skills include self-motivation, the ability to conduct research, critical thinking, and adaptability. This approach to learning is not limited to a particular phase of life; instead, it fosters a lifelong passion for learning and supports personal growth.
Biography
Dr. Baroody joined the faculty of the Barnett School of Business at FSC in 2018. Prior to joining FSC, Dr. Baroody worked and studied at Florida Atlantic University (FAU) in Boca Raton, Florida, where he received two of his three masters degrees, and his doctorate degree. At FAU, Dr. Baroody worked assisting and instructing courses in Higher Education and Leadership, Business Management, Information Systems, Quantitative Statistical Methods in Business, and Operations Management. Currently Dr. Baroody teaches in person, online, hybrid, and evening adult classes in IT Business Tools & Strategies, Business Systems & Processes, Excel for Business and Project Management. In addition, Dr. Baroody was chosen to lecture Honors courses & seminars as part of the FSC prestigious Honors Program. Dr. Baroody serves on several committees at the college and recently received his PMP (Project Management Professional) certification from PMI (Project Management Institute). Dr. Baroody holds a Doctorate degree (Ph.D.) in addition to three Masters degrees.
Education
Doctorate in Higher Educational Leadership, (PhD), 2021
Florida Atlantic University, Boca Raton, FL.

​Dissertation: Higher education Department Chair Perspectives on Leadership effectiveness: A Qualitative Descriptive study. July 2021

Masters in Education in Higher Educational Leadership (MEd), 2017
Florida Atlantic University, Boca Raton, FL.
Masters of Science in Information Technology and Operations Management (MSITOM), 2015
Florida Atlantic University, Boca Raton, FL.
Masters in Business Administration (MBA), 1997
Saint Joseph's University, Philadelphia, PA.
Bachelor degree in Science (BS), Chemistry, 1993
Saint Joseph's University, Philadelphia, PA
Publications
Self-Authored & Published Books
Baroody, R. (2012, June). "The Burning Cedars: A Personal Account of a Boys' Life Journey through the Lebanese Civil War – Vol.1."
Baroody, R. (2018-2019). The Burning Cedars, Vol.2.