Ashley Bowers-Macrander
Instructor of Biology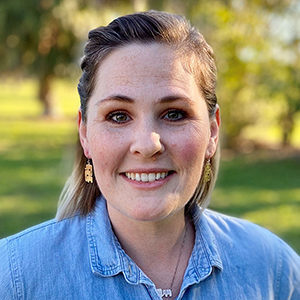 Today's undergraduates will positively or negatively impact society, depending on their ability to think critically and independently. My hope is that they leave my classroom with an understanding of science and an ability to make informed decisions. Course material is a minor component in facilitating learning and sometimes teaching students how to learn is more important and rewarding. If I can get students to think like scientists, I have done my job as an educator.
Biography
I have had an interest in science and animals for as long as I can remember. That interest led me to pursue a biology degree at the University of Nebraska-Lincoln. My first semester there, I decided to apply to work as an undergraduate researcher in an animal behavior lab and that sealed my fate. I had the privilege to work on numerous projects including: the presence of a castrating Rhizocephalan parasite in hermit crabs, the effect of predation on female mate choice in the green swordtail, and anti-predation behavior and ontogeny in the southern platyfish. After graduating with my Bachelors degree, I decided to stay at University of Nebraska-Lincoln for my Masters degree, in order to continue researching what I was passionate about. During that time, I studied male-male competition and potential resource defense polygyny in the southern platyfish.

Following my Masters degree, I took a short break from academia and worked as a zookeeper at the Lincoln Children's Zoo. My position allowed me to work with over 50 species and hundreds of individuals, ranging from the endangered Matschie's tree kangaroos and Amur leopards to prairie dogs and squirrel monkeys. This line of work stoked by enthusiasm for animal conservation and my love of talking about conservation and biodiversity with the public.

After leaving the zoo, I began working full-time in academia, holding positions at The Ohio State University, Zane State College, and University of North Carolina at Charlotte. During my teaching career, I have taught courses in both majors and non-majors general biology, anatomy and physiology, and zoology.
Education
Masters of Science, University of Nebraska – Lincoln, Biological Sciences, Specialization: Ecology, Evolution, and Behavior, 2006 – 2009
Bachelors of Science, University of Nebraska – Lincoln, Biological Sciences, 2002 - 2006
Interests
I enjoy spending time with my husband, children, and pets; making trips to the beach and national parks.