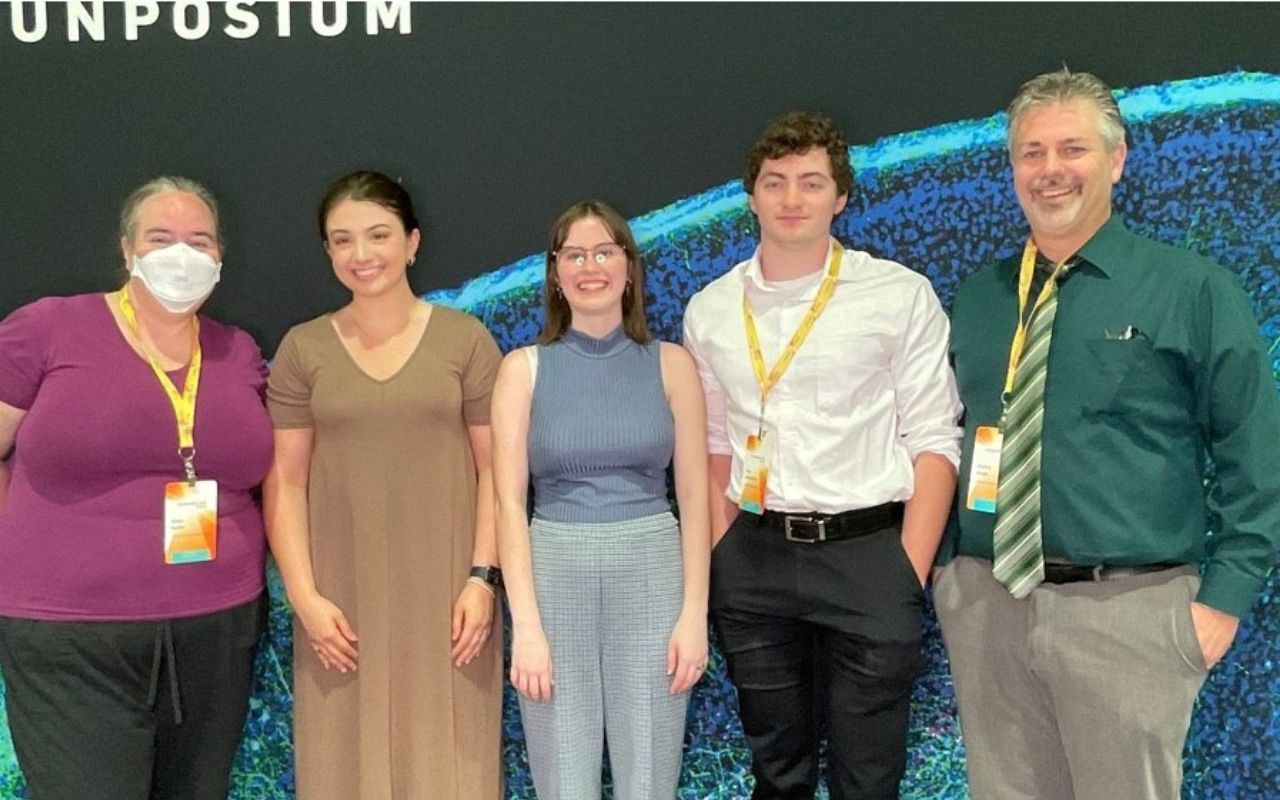 Three from FSC Selected to be Florida Fellows at the Max Plank Florida Institute for Neuroscience Sunposium Conference
FSC Presents Among Nobel Prize Winners
Apr 19, 2023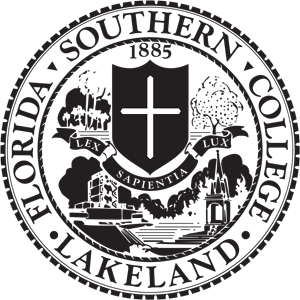 Over spring break Associate Professor of Biology Dr. Susan Banks, Ph.D., and Professor of Psychology Dr. Patrick Smith, Ph.D., took three Florida Southern College students to the Max Plank Florida Institute for Neuroscience Sunposium Conference at the Palm Beach County Convention Center in West Palm Beach.
FSC Florida Fellows
Biology major Ryan Breitenbach '24 and Psychology majors Ariana Harris '24 and Madison Meares '23 were selected to be Florida Fellows, a program supporting undergraduate student participation in the conference.
The students were nominated by FSC faculty to be Florida Fellows. They were selected because they are outstanding students actively engaged in neuroscience related research at FSC, who are planning to pursue graduate studies in neuroscience. As Florida Fellows, they were part of a cohort of students at the Sunposium representing undergraduate neuroscience research and education across Florida. The Florida Fellows program, through MPFI, provided the financial support for the Florida Fellow students to participate in the conference.
"From fruit fly sense of smell to bat social behavior and navigation across vast geographic spaces, the Sunposium conference was one fascinating presentation after another," Dr. Banks said. "Immersion in the research presentations, networking with other neuroscientists, and exploring their areas of interest at the Sunposium was a unique experience for the FSC students who were part of the Florida Fellows program."
"The Max Plank Florida Institute for Neuroscience is linked to an international network of cutting-edge research institutions and elite universities bringing scholarship and innovation, ranging from behavioral assessment to the newest molecular breakthroughs in the nervous system, to Florida," Dr. Smith said. "Moreover, our students had the opportunity to meet and interact with an array of professionals in the field, ranging from graduate students to Nobel Prize winners. We are extremely fortunate to have students who can become Florida Fellows to support their Neuroscience training."
Preparation for Future Fields
Harris chose the neuroscience minor because of her interest in neuroanatomy and how chemical processes in the brain impact behavior. She plans to enter the field of clinical neuropsychology as it combines her interest in both the brain and behavior.
"The opportunity to conduct and present research supports my goals as research is a key element in both psychology and neuroscience," she said. "Conducting and presenting research at an undergraduate level not only prepares me for graduate school, but also for my future aspirations of becoming a clinician/researcher."
Meares, who has minors in neuroscience and biology, says she knew when she became a psychology major, she had to pick up the neuroscience minor as soon as she got to Florida Southern. It provides her with supplemental knowledge in the field of neuroscience that will later aid her in applying to different neuroscience Ph.D. programs.
"I plan to pursue a Ph.D. in either neuroscience or clinical psychology with a specialization in neuropsychology to either do research on developmental disorders or work with kids with developmental disorders," she said. "This opportunity [the MPFI Sunposium] allowed me to connect with different Ph.D. programs within neuroscience and universities I have already interviewed with this semester."
The MPFI Sunposium conference brings together leaders in basic neuroscience research. It includes hundreds of the world's most esteemed neuroscience researchers who discuss and share the challenges, latest findings, and advances that address some of the most complex issues at the forefront of understanding neural circuits.
"The MPFI's Sunposium conference was an amazing opportunity for me to be exposed to groundbreaking research performed at other institutions," Breitenbach said. "Being able to talk to professors and graduate students about their research helped expand my knowledge of research and neuroscience. This experience helped broaden my understanding of current neuroscience research and it helped me to discover different branches of research which I may move towards post-graduation."
Sunposium Collaboration Equals Solutions
Sunposium attendees collaborate about neural circuits, which underlie sensory processing, memory, and more. In addition to explaining basic behaviors and processes, gaining knowledge about neural circuits can help researchers develop and improve treatments for neurological diseases and disorders that occur when neural circuits do not work properly.
"Attending the Sunposium was an incredible experience that I will always remember," Harris said. "This conference gave me the opportunity to be completely submerged into the ever-changing world of neuroscience and I am incredibly grateful for that opportunity. Being a woman in STEM can be overwhelming, as the fields are often heavily male dominated. However, seeing multiple women present their research truly empowered me and impacted me greatly. This experience will push me to keep going when I enter the workforce, as I have even more people to look up to and gain inspiration from. I am extremely grateful I was able to attend this conference."
In addition to neuroscientists, speakers and attendees came from other fields such as biochemistry and physics, disciplines that intersect with and enhance basic neuroscience research. This scientific research has the potential to dramatically change human health. Conferences like the Sunposium encourage a collaborative, problem-solving approach to important questions and challenges in neuroscience.
"I am incredibly thankful that I had the opportunity to go to this year's Sunposium to connect with other neuroscientists," Meares said. "All the talks were very informative and showed the most recent techniques utilized within neuroscience. My favorite experience was connecting with the resident Max Plank neuroscientists before I potentially interview for their post-baccalaureate program."
The Neuroscience minor was first introduced at FSC during the 2018-2019 academic year and has continued to grow as more students explore careers in neuroscience fields.
"We look forward to continuing to connect with the Max Plank Florida Institute for Neuroscience and having FSC students participate in the 2025 Sunposium," Dr. Banks said.