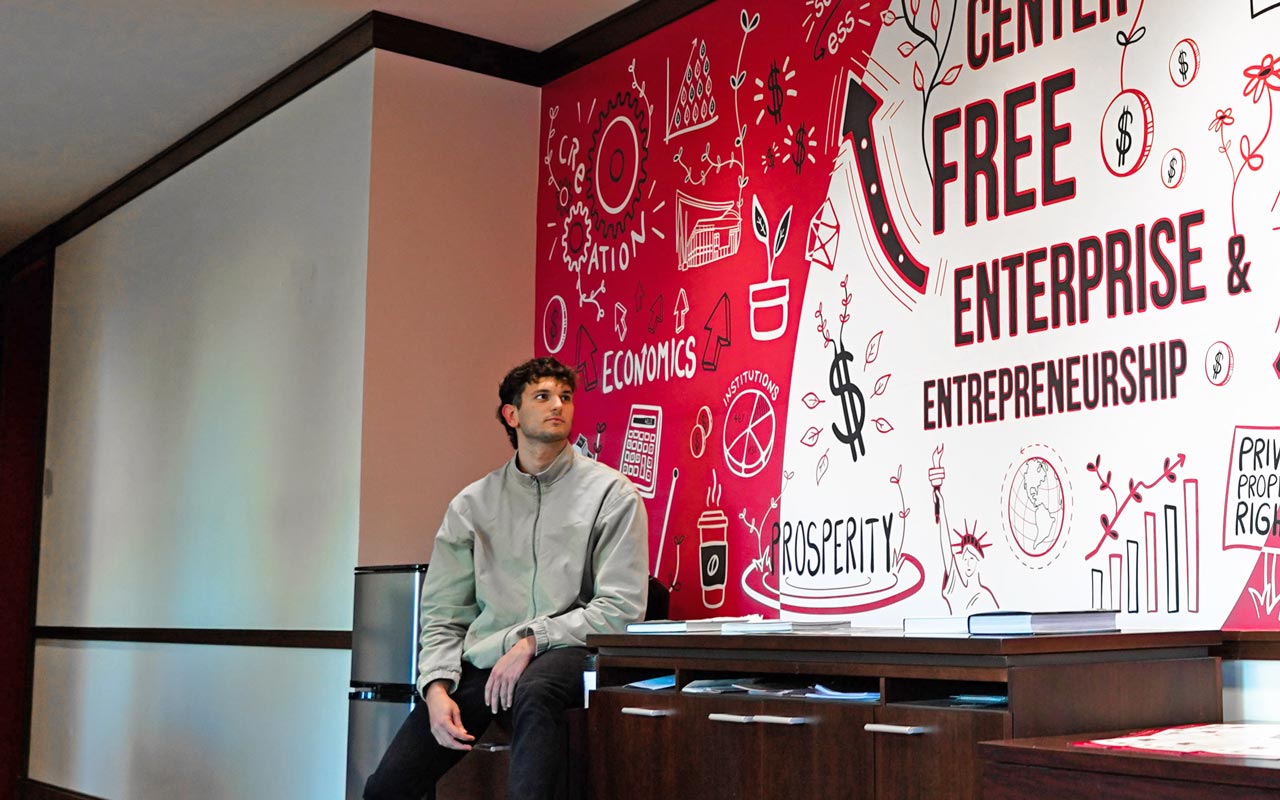 FSC Graphic Artist Inspires in Barney Barnett School of Business & Free Enterprise
Jan 19, 2022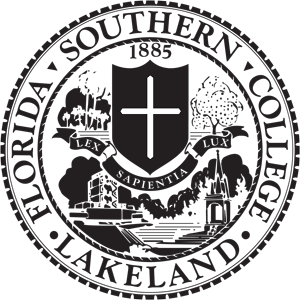 Matteo Zampese '23 has left his mark on the Barney Barnett School of Business and Free Enterprise – a 6 feet by 20 feet mark to be exact.
Zampese, a graphic design student at Florida Southern College, designed a mural as part of a wall art competition put on by the Barney Barnett Center of Free Enterprise and Entrepreneurship. Justin Heacock, director of the center and facilitator of the competition, knew at first look Zampese's piece would make an impact.
"We wanted to depict innovation and really make an impression on the space," Heacock said. "Matteo understood the assignment and created exactly what we wanted."
The Barney Barnett School of Business and Free Enterprise was named for Dr. Barney Barnett '65 and is the first named academic school in the College's history. Dr. Barnett was married to the late Dr. Carol Jenkins Barnett '79, whose late father, George W. Jenkins, was the founder of Publix Super Markets. In April 2011, Dr. Carol Barnett made a transformational gift to Florida Southern to establish the Barney Barnett School of Business and Free Enterprise.
The 43,000-square-foot building, designed by architect Robert A.M. Stern, is bright and bold on the outside and Heacock wanted a piece of art as eye-catching on the inside. Hence, the wall art competition was born, giving students the opportunity to have their art displayed for years to come.
The guidelines for the competition were simple: create a design that embodies free enterprise, entrepreneurship, innovation and success.
Nine students submitted their work and Zampese took home the top prize of $250 and having his work displayed for all to see. The second prize winner, Kayla Jordan '25, received $150 and third prize, Wendy Kiesewetter '24, received $50.
"The idea behind my design was the concept of growth, as personal growth and growth of a business," Zampese said.
With words like creation, economics, prosperity and opportunity surrounded by drawings of gears, graphs, coffee and the school itself, Zampese' s work encapsulates the entrepreneurial spirit of the business program.
Everything in the mural is hand drawn, with Zampese's signature hidden within. The longer you stop and stare, the more details you will discover.
"The piece is very impactful," Heacock said. "The goal is to inspire students and have them collaborate, innovate and show that entrepreneurship is here at Florida Southern College."
As for having his work displayed at his College, Zampese said it is an incredible honor.
"I'm glad I was able to leave my mark," he said.
Go Mocs!