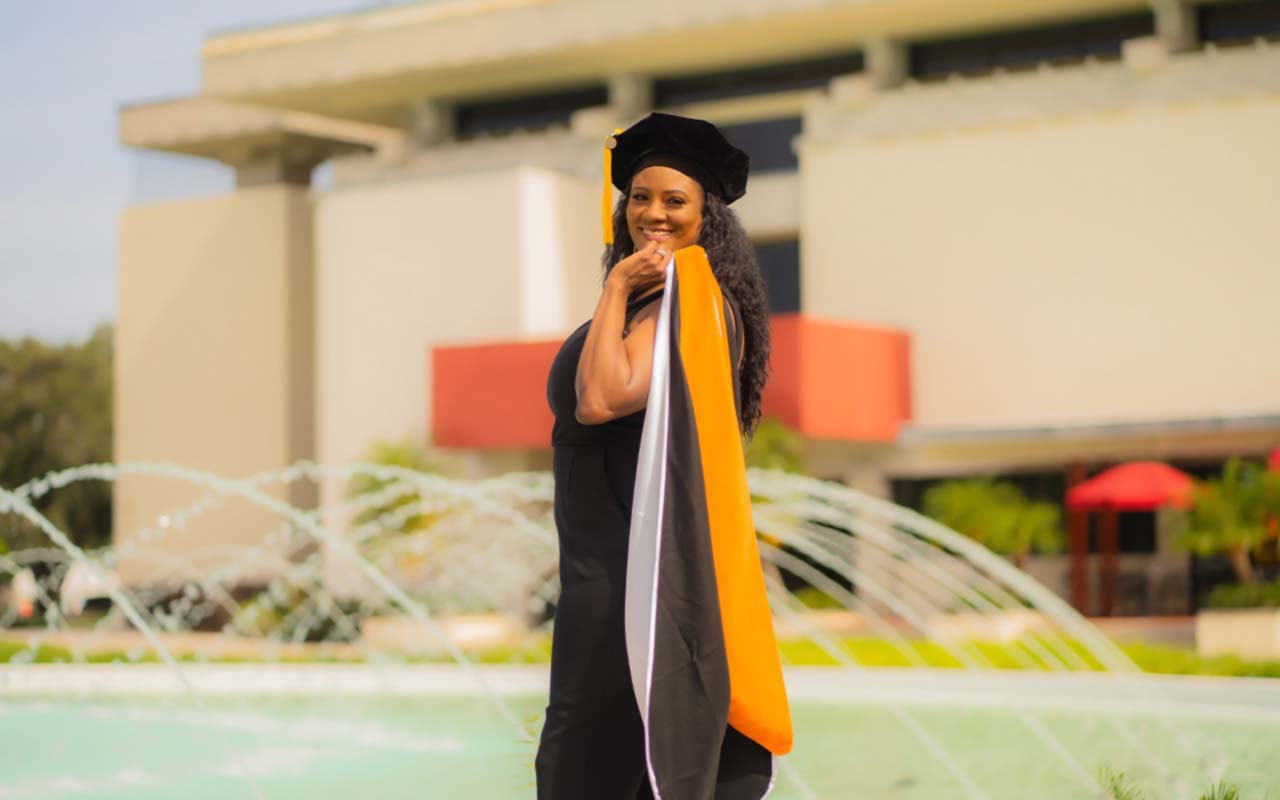 Dr. Dorothea Thompson DNP '22 Appreciates FSC's Commitment to Leadership-Focused Programs
Jul 3, 2023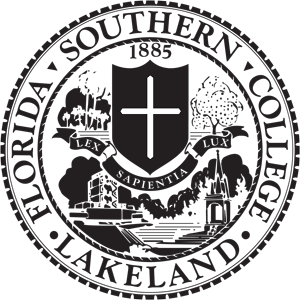 Dr. Dorothea Thompson, DNP, MSN, APRN, FNP-C, is currently using her Doctor of Nursing Practice degree from Florida Southern College in in her role as Director of Medical Surgical Nursing, Telemetry, and Orthopedics to solve problems at HCA Florida Highlands Hospital in Sebring.
Since graduating from FSC in 2022, Thompson has moved into a leadership role within the Hospital Corporation of America (HCA) health system. Founded in 1968, HCA is the largest network of doctors, nurses, and care sites in Florida.
Florida Southern College is What the Doctor Ordered
Dr. Thompson said Florida Southern offered what she needed to achieve her career goals.
"I chose FSC to advance my career in nursing due to the campus location and the engaged approach to learning," she said. "I thrive in environments where I can engage and collaborate with others. Therefore, after thoroughly reviewing FSC's nursing program, I was convinced it was a good fit to meet my higher-level learning needs."
After considering a career in law, Dr. Thompson listened to her inner voice and pursued a career in nursing, moving up the clinical ladder from a certified nursing assistant (CNA) to a licensed practical nurse (LPN), a registered nurse (RN), and ultimately an advanced practice registered nurse (APRN).
"I believe the nursing profession chose me; thus, I was called upon to do this work," Dr. Thompson said. "For more than three decades, I have had the honor of being a member of one of the most trusted professions conceivable. I was drawn to nursing. As a young girl, I recall being most gratified when I cared for those in need. During my initial college studies, I joined the healthcare profession at the most fundamental level as a certified nursing assistant in long-term care as a side job for extra money, or so I thought."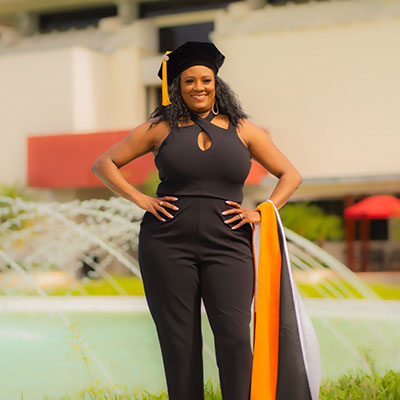 As a DNP graduate, Dr. Thompson learned several curricular cornerstones in various Florida Southern courses through engaged learning experiences. The program strategically integrated the eight core competencies, known as the "Essentials of Doctoral Education for Advanced Practice Nursing," into coursework. The courses that aligned with her goals and aspiration to pursue a leadership role in healthcare were Leadership and Professional Practice (NUR 7110), Practice Scholarship Evidenced-Based Practice, and Quality Improvement (NUR 7300), and Healthcare Business and Financial Management (NUR 7210).
The Leadership and Professional Practice course focused on interprofessional collaboration and equipped Thompson with essential leadership skills. As a nursing director for various service lines, she can translate these skills into practice at the departmental and systems levels at HCA's East Florida Division.
Practice Scholarship Evidenced-Based Practice and Quality Improvement elaborated on various evidence-based practice (EBP) paradigms to promote quality improvement initiatives and patient safety. Within weeks of employment with HCA, Thompson utilized improvement tools such as brainstorming techniques to engage and dialogue with her colleagues for a patient care initiative.
FSC's Healthcare Business and Financial Management course provided her with business and financial skills needed to develop and implement plans.
"I will say, frequently, I find myself utilizing a skill or applying some form of knowledge that I acquired from Florida Southern College in my professional role," Dr. Thompson said. "This validates FSC's commitment to providing a leadership-focused program of study to prepare me for organizational leadership."
Set Goals, Make Plans, Seek Alignment
Dr. Thompson said she would advise undergraduate students to always remain vigilant about their GPA, which she translates to identify goals, map out plans to achieve goals, and align with like-minded individuals.
"Having clear definitive goals provides a sense of direction," she said. "Once goals have been identified, the undergrad student must devise a plan of action to achieve the identified goals. At this stage, it is imperative for the student to make a realistic and individualized plan that will result in a win-win outcome. Consider achieving goals in small doses not to become overwhelmed. For example, rather than focusing on obtaining a four-year undergraduate degree, consider having a successful fall and spring semester to complete the first year. Keep in mind that small gains result in major wins. As stated by the wisest man to ever walk the earth, King Solomon, 'Iron sharpens Iron.' Building healthy, trusting relationships with like-minded individuals is essential. As a student, being amid others who are goal-driven, motivated, and committed will increase your chances of being successful."
"As an innovative and servant-leader, I am confident that the Florida Southern College DNP program has thoroughly prepared me for upward mobility and the tools to aid in shaping the future of healthcare," Dr. Thompson said.