The Wellness Center pool offers a great chance for you to mix up your workout from water jogging to swimming laps.
Branch Out From Normal Fitness Avenues and Experience a Low Impact Alternative.
Florida Southern Wellness Center is home to a 25 yard, 8 lane competition pool with an additional, shallow recreation area. Whether using the pool for fitness or for fun, our pool is open year round to provide participants a great swimming experience.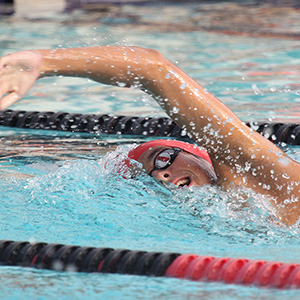 Private Swim Lessons
Adult swim lessons offered at the FSC pool are designed to offer one-on-one instruction to help participants reach varied and diverse goals. Lesson package includes four 45 minute lessons with a trained instructor. Private lessons are free for FSC students, faculty, and alumni, and are only available for those 15 years of age or older.
Sign Up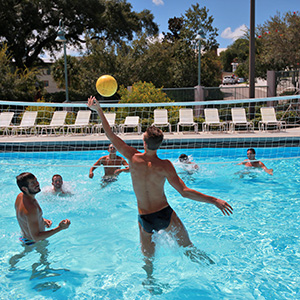 Water Games
The Wellness Center Swimming Pool is a great place to unwind and socialize with a game of water basketball, volleyball, or just relax on a float. Water basketball can be played anytime the shallow section is open. Equipment can be checked out for use in the pool by students, staff, faculty, and alumni.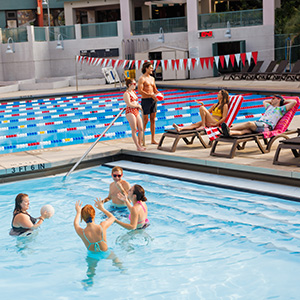 Group Pool Gatherings
For birthdays, special events, or just a fun time! The Wellness Center Pool allows students to reserve the pool for pool parties. Some fees may apply. Please contact Emily Walker for more information.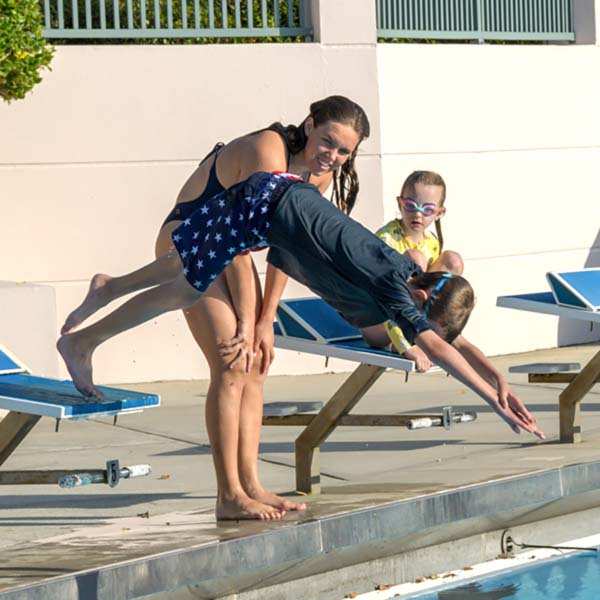 Summer Swim Lessons
Members of the FSC community, as well as the general public, are encouraged to bring their children to the HWC for summer swim lessons! The goals of our program are to enhance children's ability to participate in pool activities safely, increase swimming ability and confidence, and, of course, have fun!
Learn More
Pool Policies
Please read the following guidelines which are designed for the comfort and safety of all users. If you have questions, please contact the Lifeguard on duty.
Proper identification is required for access to the pool.
Patrons must obey all rules enforced by the aquatic staff. Failure to adhere by policies may result in the loss of pool usage.
All patrons are required to shower prior to entering the water.
Food, chewing gum and drinks are not allowed on the pool deck. Only Closed-top clear plastic water bottles are the exception. Glass containers are not permitted on the pool deck.
Smoking is not permitted on the pool deck or outside pavilions.
Disruptive and harmful behavior such as running, dunking, fighting, profanity, etc. will not be tolerated.
Do not swallow the pool water.
Please do not spit, blow nose, or discharge bodily waste in the pool. Anyone with body infections or open sores should not use the pool.
Please do not wear hairpins, barrettes, or hair clips in the pool. These items will result in rust of the pool surface.
Shoes must be worn while exiting the pool deck.
Diving is only permitted from the deep end sidewall where pool depths reach 12 feet 6 inches.
All entries into the pool must be forward facing.
Pool equipment is available for use, but must be treated with care. This includes the water basketball hoop and lanes lines. Damage to equipment may result in a fine.
All children must be either potty trained or in an appropriate swim diaper.
Only US Coast Guard approved lifejackets are permitted. If a child is wearing an approved lifejacket, an adult must be within arm's reach.
Children under the age of six must be accompanied by an adult in the water at all times.
The Nina B. Hollis Wellness Center staff is not responsible for lost, stolen or damaged items. Daily use lockers are available within the Wellness Center.
Pool hours are subject to change as a result of school breaks, holidays, and pool maintenance.
No animals in pool or on pool deck, unless assisting a disabled user.